Mandarana
(St Peter's Churchyard) Cemetery
---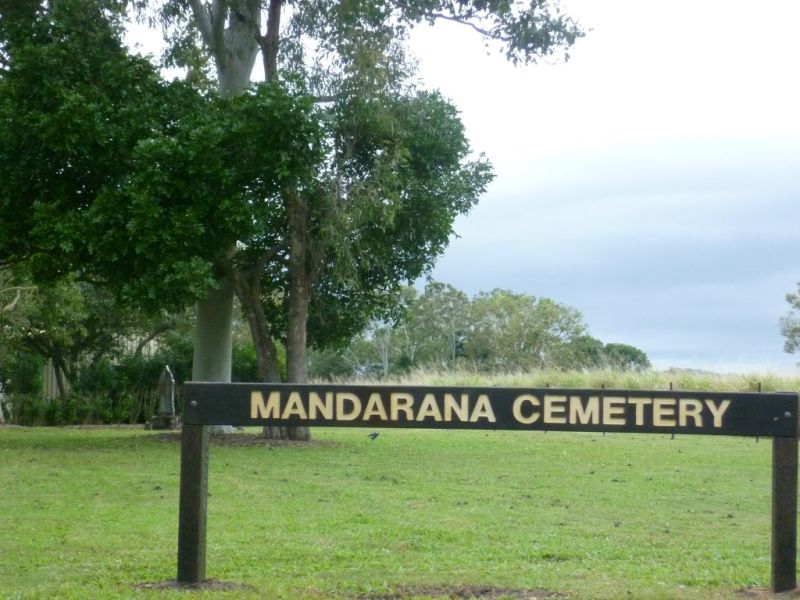 The New Sign correcting a historic mistake in the naming of the locality. (Chris Vaughan 2014)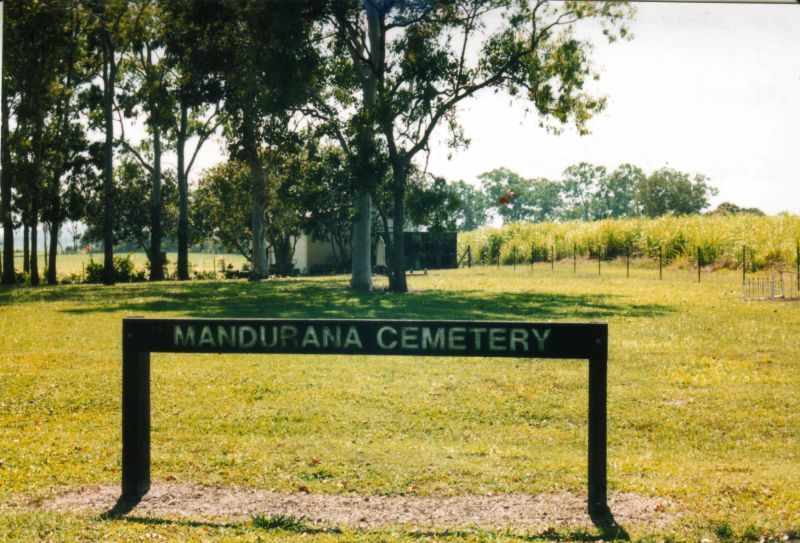 Mandarana Cemetery (the old sign with incorrect spelling).. (taken June 2003, Glen Hall Collection)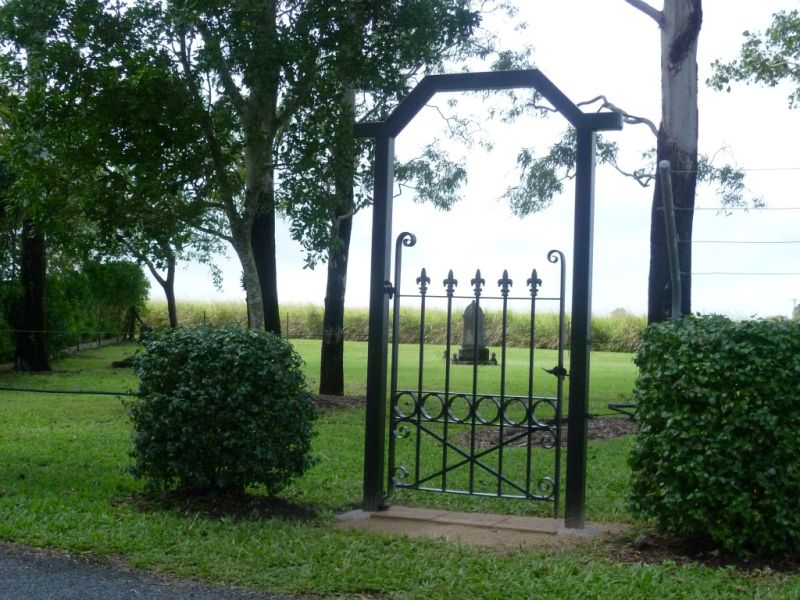 Historic Hand forged wrought Iron gate installed to entry of Cemetery. May 2014 (Chris Vaughan)
---
Location: Balnagowan-Mandarana Road, via Mackay, Queensland.
The Cemetery is located just a couple of hundred metres down on the left hand side of Mandarana road just off the Bruce Highway. There is a sign naming the "Mandurana [sic] Cemetery".
Local Government Authority: Mackay Regional Council
History:
The land was donated in 1882 by Mrs. Elizabeth Martin. The church was part of the Church of England Pioneer Parish and was opened on 13th April 1884 by the Revd. T. Worthington of the Christ Church, Walkerston. The area was also referred to in the early days as Bonson's Scrub.
Mrs Martin was earlier responsible for opening a Mission earlier for the South Sea Islanders (Kanakas) who were engaged to work on the various sugar plantations around Mackay. Mrs. Martin helped raised funds for the building of the church and one of her helpers was a young Nellie Mitchell who was the daughter of Mr. David Mitchell who built the first Marian Mill in 1882. Nellie later married a Mr. Charles Armstrong but the marriage was not to last and she moved back to Melbourne after 18 months. Nellie Mitchell sang in various benefit concerts held in Mackay to help raise funds. She later become "Dame Nellie Melba" of worldwide fame.
The Church was wrecked in 1898 by the effects of Cyclone "Eline". It was also badly damaged in the 1918 Cyclone. On both occasions Madame Melba responded generously towards the restoration.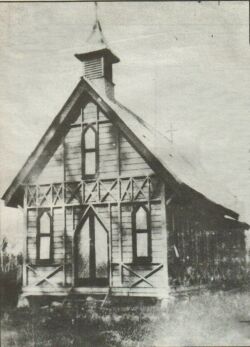 St Peter's Church at Mandarana built 1884. Courtesy Daily Mercury archives.
The church held its golden jubilee in 1934.
The church faced with falling attendances closed in 1962. The land was repurchased by Mr. K.M. Martin in 1967.
A fire took hold in the disused church on August 6, 1968 which totally destroyed the building.
One of the known burials in the cemetery is of Robert (Bob) Martin who settled in the area near Mirani then known as Hamilton in 1863. In 1878 Bob Martin moved to the Mandarana area. He died in 1898 of heart failure brought on by pneumonia he contracted during cyclone "Eline". In accordance with his wishes he was buried under a blue gum near the edge of the cemetery.
---
---
Number of Burials: 49 burials in 34 graves. Only 4 of the 5 headstones remain that can be identified. Those headstones are identified on the list below by the underlined Surname. Click to view photographs.
Burials: Only 36 listed on Mackay Courthouse Deaths Register
Surname
First Names
Death Date
Age
Notes
ANDREWS
Robert
16 February 1908
64 years
Mandarana
BARRY
Eugena Patrick
24 December 1897
7 mths.
Mandarana.
BOSSE
Christian
6 August 1913
79 yrs.
Mandarana Cemetery
BROOKS
Sarah Elizabeth
29 November 1890
28 yrs.
nee Mills, Mandarana.
BROOKS
William George
15 July 1895
10 wks.
Mandarana. Entry No. 6615.
CHRISTIANSEN
Louisa
28 December 1908
2 yrs. 2 mths. 6 days
Mandarana.
COX
Thomas
29 October 1897
11 days
Mandarana. Entry No. 7045.
EDMONDS
Arnold Redvers
26 January 1903
2 yrs. 11 mths. 30 days.
Mandarana. Entry No. 7891.
EVETTS
Eliza
24 April 1898
43 yrs.
Nee Aubrey, Mandarana. Entry No. 7123.
GIBSON
William Douglas Henry
14 September 1905
10 mths. 14 days.
Mandarana. Entry No. 8225.
HEBBARD
Edith
6 July 1906
6 mths.
Mandarana.
HOWE
Joseph
22 January 1909
54 yrs.
English Churchyard, Bonson's Scrub near Farleigh (Mandarana).
HUNTER
Charles
29 September 1903
58 yrs. 8 mths. 4 days.
Mandarana. Entry No. 7981.
JORDAN
Edward
20 November 1897
2 mths.
Mandarana. Entry No. 7055.
KARLSEN
Henrick Peter
6 September 1884
59 yrs.
Mandarana. Entry No. 3527.
son of Karl Friedrich KARLSEN and Bertha Begitta (nee BETLOFT).
MAKULA
Emily
20 June 1903
33 yrs.
Mandarana. Entry No. 7949.
MARTIN
Robert
25 March 1898
58 yrs.
Mandarana. Entry No. 7114.
MASON
John Henry
3 August 1889
2 yrs. 10 mths.
Mandarana.
son of Lucy MASON.
b. 1 Oct. 1886.
birth registered as John Henry Mordaunt MASON.
MURRAY
Dorothy Abigail
7 April 1900
2 mths. 23 days.
Mandarana. Entry No. 7453.
NATOKA
Elizabeth
7 September 1919
52 yrs.
Nee Motey, Mandarana.
PASS
Bertha Mary
12 May 1889
2 yrs.
Mandarana. Entry No. 5280.
daughter of Albert PASS and Annie (nee FLEMMING).
b. 2 Jun. 1886.
PATTERSON
Adam
10 December 1886
8 mths.
Mandarana. Entry No. 4679.
PEACH
Thomas
10 September 1891
11 mths.
Mandarana. Entry No. 5818.
RAYMOND
Edward Richard
29 October 1898
9 mths.
Mandarana.
RAYMOND
Emily
26 September 1898
9 yrs.
Mandarana. Entry No. 7215.
RULE
Edith May
4 September 1898
4 yrs.
Mandarana.
SIPPIE
Dora
16 August 1919
60 yrs.
Mandarana.
STAWELL
Jonas William Foster
1 October 1903
64 yrs.
Mandarana. Entry No. 7983.
STEWART
William
10 November 1897
1 yr.
Mandarana. Entry No. 7056.
TRELOAR
Kate
10 December 1873
33 yrs.
Nee Collins, Mandarana. Entry No. 6327.

TURNER
Mildred Mary
4 April 1885
16 yrs.
Mandarana. Entry No. 4081.
daughter of George Richard TURNER and Emily Murray (nee EDWARDS).
WALDON
Elizabeth Ann.
27 May 1890
25 yrs.
Nee Jeffery, Mandarana. Entry No. 5507.
WRIGHT
Unnamed Male
6 August 1898
4 wks.
Mandarana. Entry No. 7173.
WYATT
Charles
24 October 1926
41 yrs, 7 mths. 18 days.
Mandarana.
WYATT
George
About 13 September 1895
51 yrs.
Buried Raymonds Flat. Entry No. 6637
WYATT
Mary Ann
6 April 1907
64 yrs.
Nee Boyett, Mandarana Cemetery.
---
George Wyatt was born in Weston in Gordano, Portsbury, Somerset England on 17 Dec 1843, son of James and Maria (Twait). His wife Mary Ann was born in Itchington, Thornbury, Gloucester, England on 21 May 1843, daughter of William Boyett and Helen (Jones). George and his wife and three children ( Albert b. 1865, Emily Jane b. 1868 & Louis b. 1870) came to Australia on the ship Suffolk in 1874. Their four-year daughter Louisa died on the voyage. The ship also encountered a gale that destroyed all the masts, flooded the cabins and they lost everything on the deck. The Immigrants spent two months in Mauritius before the repairs were completed. Their son Charles, listed on the headstone, was born in Australia. He was the last of seven children for the Wyatts.
(Courtesy Sherry Harris via Email 15 May 2015)