One Man's Memories
Jack Heyn's visit to Mackay in 1942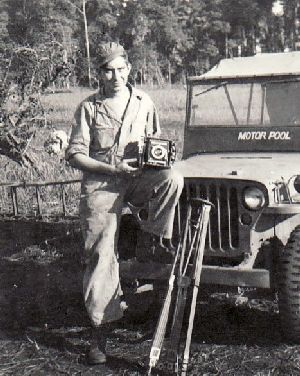 Jack Heyn about the time of his trip to Mackay in late 1942. He was based with the 13 Squadron Photographic Unit at the time.
Along about 1620 the Pilgrims landed at Plymouth Rock, Mass. in the New World. One year, after a bountiful harvest, they decided to give thanks to The Almighty. I expect wild turkeys were plentiful in those days and was probably their main course at their dinner. To this day it is celebrated in the USA as "Thanksgiving Day", and turkey (domesticated) is still the main course.
About 300 years later in Nov.,1942 the 13th Bomb. Sq. was stationed half a world away at Charters Towers in North East Queensland. The Mess Sgt. had made arrangements with a farmer near Mackay to get turkeys for our Thanksgiving dinner; just one catch, we had to pick them up.
About the second week in Nov. the Mess Sgt., an Asst., a driver and myself (Photographer) climbed aboard a G.I. 6x6 truck and headed for Mackay, a memorable trip with one of us always riding in the truck bed. The road to Townsville was hard surfaced, the road to Mackay (approx. 300 miles) was what we called a "cow path". There were times when we were not sure we were on the right path. But eventually we arrived in Mackay. Don't know why but it took almost a week to close the deal, load the turkeys and head back to Charters Towers.
That week was a very pleasurable week for us. We put up in a hotel and thoroughly enjoyed ourselves. It was before they had set Mackay up as an R&R destination for the Air Force ground crews. We were the only G.I.s in town at the time. I was only 19 and hadn't got into drinking, so didn't spend any time in the local Pubs. Spent my time visiting with the locals and taking photographs.
Being a Photographer one of my first stops was a local Portrait Studio. Don't ask me names, my memory isn't that good. It was before regular use of Colour Film. If you wanted a colour portrait it was shot in B&W, sepia toned, and coloured by a colourist. Photo 1 is the receptionist, Photo 2 is the Colourist. Photo 3 is a chamber maid at the hotel we stayed at - I was trying to be creative. Photos 4, 5 & 6 are Mackay's Main Street as it appeared 67 years ago. Photo 7 is your Botanical Gardens. Don't recall whether we were there on a Sunday or not, but I did locate the local Catholic Church, Photo 8. I really don't remember what Photos 9 & 10 are of, or why I took them. But they may have had some significance at the time.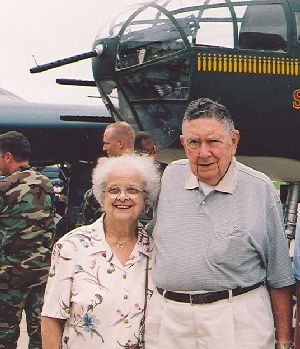 Jack and Mrs. Heyn. Photograph taken at the
Reactivation Ceremony of the 13th Bomb. Squadron. in 2005.
P.S. About that Thanksgiving turkey dinner - I never did partake of it. I was in the local hospital with my first bout of Dengue Fever. They told me I would be immune for 2 years. Thanksgiving Day, 1944 I was in the Hospital on Leyte Is., Phillipines with my second bout of Dengue Fever. They should be so damned accurate.
---
Many Thanks to Jack for sharing his story and giving permission to reproduce the photographs. Thanks to Peter Dunn of www.ozatwar.com for his assistance.
---
Follow this link for a CD of all of Jack's wartime photos put together by Peter Dunn and Jack Heyn. Jack did the hard work over 60 years ago taking all the photos and Peter had the easy job of putting them altogether on a CD.
For More stories from Jack of his time in Australia during the Second World War go to the following link.
If anyone can identify the studio or the ladies in photographs 1.2 and 3. Please Email us.
Jacks' Photographs. Click on Image for a larger resolution.