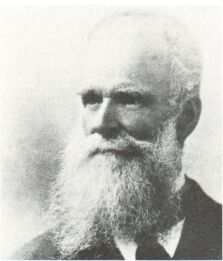 Born: 1825 (St. Austell, Cornwall, England)
Died: 31 May 1912, Brisbane, Queensland, Australia aged 87 years.
Buried: 1 June 1912 (Toowong Cemetery, Port. 10, Sect. No. 16, Grave 25)
Parents:
Marriage: December 1852 (Cornwall, England) to Eliza Underwood.
Religion: Church of England
---
Thomas Pearce J. P. , Draper, was born in 1825 in Cornwall and brought up to agricultural pursuits and, later on, the drapery business.
He married in December 1852 to Eliza Underwood in Liskeard, Cornwall prior to emigrating to Australia. He arrived in 1853 in Sydney, and remained for a few years in a good position in one of the leading drapery houses. He afterwards visited the goldfields, and eventually accepted a situation in Bathurst with the well-known firm of Webbs of which drapery establishment he became the manager.
In 1860 he visited Rockhampton and opened a business in conjunction with Mr. Nesbitt settling three years later in Mackay where he became an employee in one of the business houses.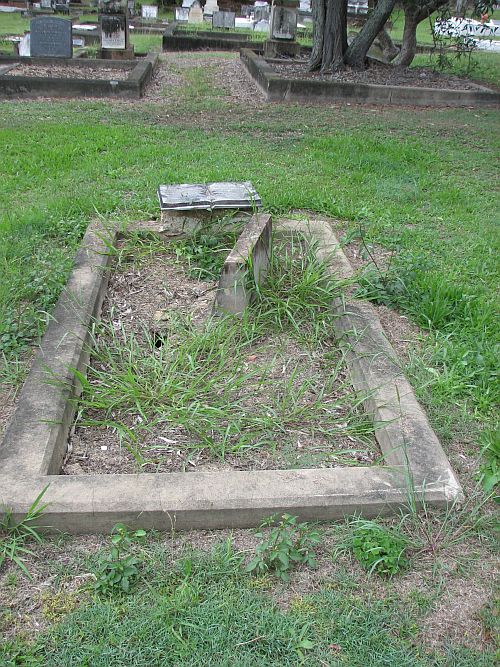 The final resting place of one of the founding fathers of the modern Sugar Industry. Thomas Pearce's grave in Toowong Cemetery Brisbane.
(Glen Hall Collection. taken December 2007)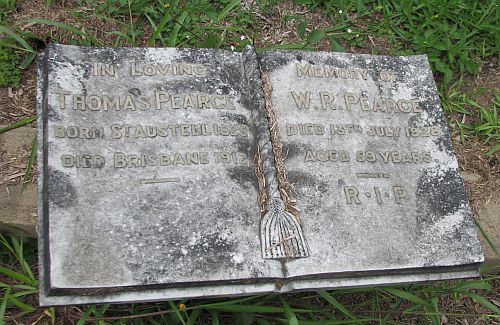 Thomas Pearce's headstone in Toowong Cemetery Brisbane.
(Glen Hall Collection. taken December 2007)
Having a fondness for agriculture, he leased at a later period a property, and commenced to cultivate arrowroot and tobacco. This he continued to do for about five years, when a disasterous flood inundated his lands and compelled him to abandon the industry.
In 1880 he again went into business as a storekeeper and this proved the foundation of the drapery house of Pearce and Marryatt.
Mr Pearce for four years held the position of Alderman ands was Mayor in 1883-1884. He had always taken a lively interest in public matters and established by the aid of the Government the Central Sugar Mills - a monument which is sufficient to perpetuate his memory.
His wife Eliza died on 12 December 1889 and was buried in the Church of England Section in the old Mackay Cemetery.
He was also engaged agitating for a scheme of irrigation and actively worked for any good movement. He was the President of the Anti-Chinese League and a magistrate of many years standing.
He later moved to Brisbane in the early 1890's where he resided until his death on 31 May 1912. He is buried in the Toowong Cemetery in a grave with his son William Richard Pearce.
---
Information Sources:

Kerr, John. (1988). A Century of Sugar. Mackay, QLD: Mackay Co-operative Sugar Association Limited. p. 12,33,37,38,45,47,59-60.

Mackay Historical Society and Museum Incorporated, record No. 87-137.

The Daily Mercury. (1912). The Jubilee of Mackay, 1862-1912 Fifty Years, Mackay QLD: The Daily Mercury.

p. 16.

Queensland Births Deaths and Marriages, Registry of Births, Deaths and Marriages, Brisbane; Deaths 1910-1914, Microfische Sheet No. 005, Page No. 1081, Registration No. 12 / B 015889.

Toowong Cemetery Monumental Inscriptions.

Brisbane City Council Online Services - Grave Location Search, https://online.brisbane.qld.gov.au

Queensland Pioneers Index, 1829-1889

Queensland Federation Index 1890-1914.
---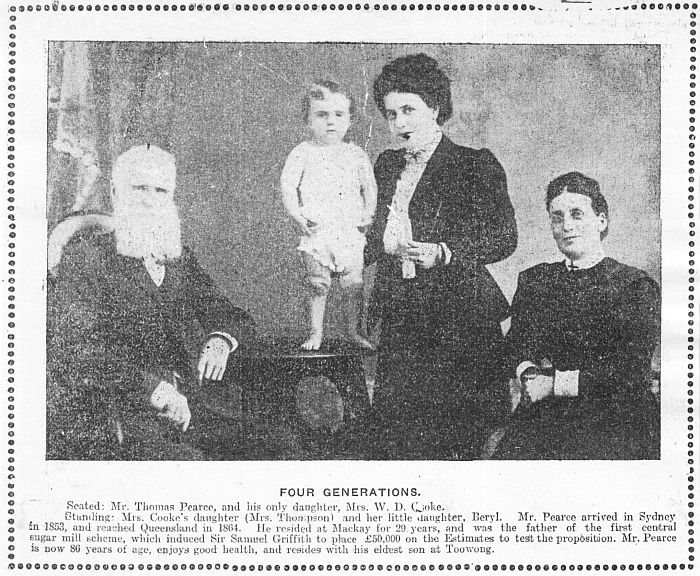 Four Generations of Thomas Pearce's Family (unknown Source, circa 1911)