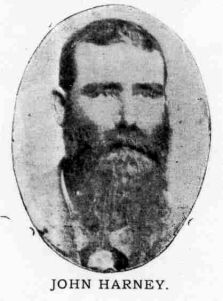 Born: Abt. 1840? (County Cork, Ireland)
Died: 8 September 1889 (Mackay, Queensland) aged 49 years.
Buried: Aft. 8 Sept. 1889, (Mackay Cemetery, R.C. Sect. 1, Row 14, Plot No. 28)
Parents: John HARNEY and Mary FLANNIGAN
Marriage: 25 June 1865 (County Cork, Ireland) to Anne O'REGAN
Religion: Roman Catholic

---
Messrs. C. Wade Brown and John Harney
(of the firm Wade Browne and Harney) arrived in Mackay in 1868, taking over Bolingbroke Station, where they resided for about 12 years, when the property was disposed of to the present owner, Mr. Graham Turner.
Mr. Wade Browne left for England in 1880, remaining there for six years. On his return to Mackay he followed up agricultural pursuits, was a director and shareholder in the Racecourse Central Mill, and took an active interest in all local concerns.
Mr Wade Browne's name has always been remembered in Mackay as a staunch supporter of every charitable and deserving movement. He is at present living at Medlow, New South Wales.
Mr. John Harney was a resident of Mackay until his death in 1889. He followed up stock and agricultural pursuits, holding properties in the Plane Creek district previous to the Central Mill being erected there.
Mr Harney took a keen interest in everything connected with Mackay, and was for a number of years a member of the Town Council, occupying the Mayoral chair in 1885; also member of several local public bodies. Some of his family are at present residing in this district.
Source:
The Jubilee of Mackay, 1862-1912 Fifty Years, Published 1912 by the Daily Mercury, Mackay QLD, pp 15.
---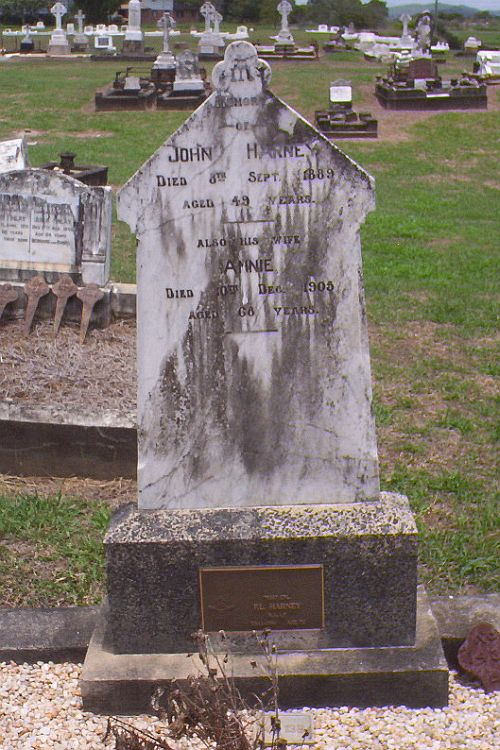 John Harney's Headstone at Mackay Cemetery
(Glen Hall Collection, October 2004)
It is with feelings of regret that we have to record the death of Mr. John Harney which took place in town yesterday afternoon.
Mr. Harney had been for some time in failing health, and recently came to town in order to be able to have medical advice, which however was unavailing to stay the progress of his malady.
For some days past he was in a critical condition, and he finally succumbed yesterday afternoon.
In Mr. Harney's death, the district loses one of the pioneers of Mackay, and a gentleman who was for many years associated with the progress of the place.
He was for a considerable period a member of the Minicipal Council and passed the Mayoral chair, and subsequently to this he took up his residence at his property near Plane Creek, since which time he became a member of the Pioneer Divisional Board, a proof that in his later years he was by no means inclined to retire from the duty of taking his part in local public affairs.
It was during the time when he was in the Council that the Central Mill movement was inititated and he took an active share in it, becoming one of the shareholders and a director of the Racecourse Central Mill.
In his public capacity he made few, if any enemies, his genial temperament causing his strongest opponents to feel friendly towards him while differing from him on points of public policy, and privately he was highly esteemed by a large circle of friends and acquaintances who will sympathise sincerely with his bereaved widow and family on the loss which they have sustained.
Source:
The Mackay Standard, Monday Evening, September 9, 1889.
---
Bolingbroke Station was purchased in 1868 from Mr. A. T. Ball who first settled the property in the early 1860's.
Messrs Brown and Harney stocked the station with cattle of the short-horn class and lived on the place until about 1879 when they disposed of it to Mr. Graham Turner.
John Harney came with his family to Mackay to live and took up a block of land in the Plane Creek area, which he stocked with cattle. He took a great interest in public affairs and was for a time a mayor of this city. His family of four sons and one daughter spent most of their lives here in Mackay.
Mr Wade Brown paid a visit to England and on returning took up his residence at Medlow Bath, NSW, where at a ripe old age he died in 1922.

Source:
James Perry Remembers Mackay, compiled by Vyvian Mengler, published 2000.pp48 (article appeared in the Daily Mercury, July 17, 1944.)
---
John Harney prepared an application on behalf of Racecourse farmers when the Queensland Government announced loans for farmers to erect their own Sugar Mills. He also topped the ballot to be selected as a provisional Director of the Racecourse Central Sugar Company Limited in 1886.
Source:
A Century of Sugar, by John Kerr, published 1988 by Mackay Co-operative Sugar Association Limited, Mackay;
pp 35,36.
---
Information Sources:
Queensland Births Deaths and Marriages, Registry of Births, Deaths and Marriages, Brisbane; Deaths 1885-1889, Microfische Sheet No. 002, Page No. 486, Registration No. 89 / 003147.
Mackay Branch Genealogical Society of Qld. Mackay Cemetery Burial Register.
Mackay Branch Genealogical Society of Qld. Mackay Cemetery Monumental Inscriptions.
Queensland Pioneers Index, 1829-1889
Queensland Federation Index 1890-1914.
---
If you can supply any further information or photographs on the above please contact us by EMAIL
Glen Hall
---
---
© Glen Hall 2001-2017.
last updated 17 July 2017 .
Site maintained by Glen Hall.