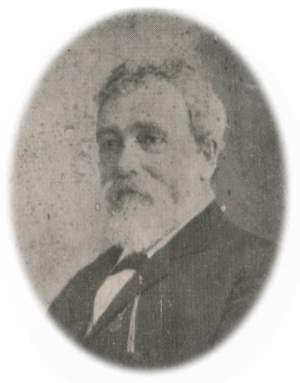 Born: 1845, (Lough Crew, Meath, Ireland.)
Died: 20 August 1919, (Glenrowan Hospital, Brisbane, Queensland, Australia)
aged 74 years.
Buried: 21 August 1919, (Toowong Cemetery, Brisbane, Port. 2A, Sect. 18,
Grave No. 25)
Parents: James NEILL and Maria HOBSON
Marriage: 17 June 1872 (at the residence of Mr Donald Ross, Calrossie, Nebo Road,
Mackay.) to Rebecca McMULLEN
Religion:

---
Richard Neill was born in Lough Crew, Meath, Ireland to James Neill and Maria nee Hobson.
Richard Neill came to Australia about 1862 with his older brother John. They spent about 12 months in W.A. before moving to Melbourne, Victoria where they purchased cattle and horses which they drove to Brisbane.
John settled in Brisbane where he built a blacksmith's shop and livery stable at Annerley and had a sandstone quarry at Moorooka. He later built the Junction Hotel at Annerley at where he was the publican for many years.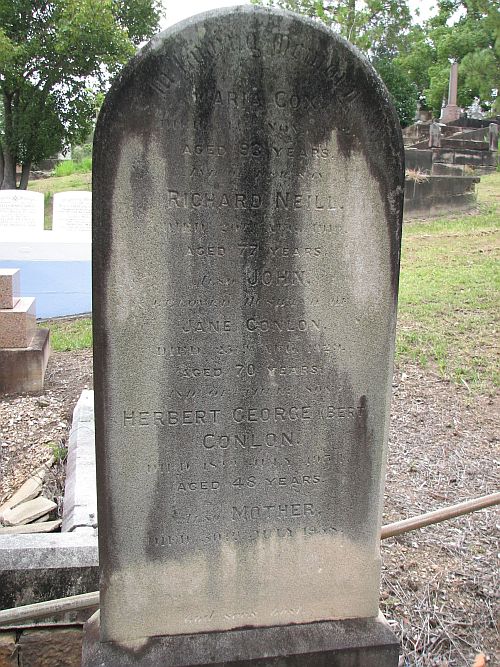 Richard Neills's Headstone in Toowong Cemetery, December 2007.
(Glen Hall Collection)
Richard travelled on droving his stock to the Mackay district. He obtained 300 acres of 1st class (agricultural) land and 332 acres of 2d class (pastoral) land in the parish of Hampden about 15 miles north of the Mackay township. The land was boundered in the north by the sea and a lovely sandy beach still known as "Neill's" beach. he named the holdings "Greenvale".
Richard married Rebecca McMullen in the home of Mr. and Mrs. Donald Ross at "Calrossie" on the Nebo Road on 17h June 1872.
When they went to live on "Greenvale" in 1874, Richard established a dairy herd which he built up top 250 milking cows. He was the first in the district to install milking machines. The property grew to 2400 acres. Richard was involved in the establishment of the Mackay Butter Factory.
Richard Neill also planted 200 acres of cane and was one of the first plantations started in the area. He ceased cane production when the abolition of Islander Labour meant that he could not employ cheap labour. Greenvale reverted to being only a dairy and cattle property.
He bought the Imperial Hotel in Mackay and served as the licensee from about 1889 to 1904. Close attention to the business turned the hotel into a first class establishment. He later built the Grand Hotel on the corner of Victoria and Brisbane Streets in 1907. This hotel was sold and Richard bought 10 acres on Beach Road (now Evan Street) where he built a house near the corner.
Sources:

Kerr, John. (1980). Pioneer Pageant. Mackay, QLD: Pioneer Shire Council.
Morrison, Janet, (n.d.) unpublished history of the Neill family from 1863.
---
If you can supply any further information or photographs on the above please contact us by EMAIL.
Glen Hall
---
---
© Glen Hall 2001-2017.
page created 24 May 2004.
last updated 19 July 2017 .
Site maintained by Glen Hall