---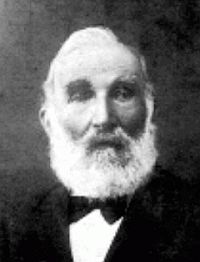 WENTZEL, Peter
Born: 1835 (Hess Casel, Germany)
Died: 25 April 1917. (Mackay, Queensland)
Buried: 26 April 1917, (Roman Catholic Section, Mackay Cemetery, QLD)
Parents: John WENTZEL and Catherine Elizabeth VOFT
Marriage: (1) 3 February 1872, Mary KEARNEY, (Roman Catholic Chapel, Mackay, QLD)
Children: 4 sons, 3 daughters.
Marriage: (2) 17 November 1885, Eliza JACKSON, (, Mackay, QLD)
Children: 1 sons, 4 daughters.
Religion: Roman Catholic
Education:
Notes:
Peter Wentzel was publican of the Sandringham Hotel and employed a tutor to teach his children with first wife Mary. Mary died on 3 May 1884. His second wife Eliza became his housekeeper after his first wife Mary died and they were later married in 1885. Peter and Eliza's daughter Agnes (b. 23 January 1887) died on 3 February 1887 and is buried next to the site of the former hotel and the grave was formed by turned up bottles. It is unknown what the fate of the hotel was and nothing exists on the former site.

| Hotel | Location | Start | | End | |
| --- | --- | --- | --- | --- | --- |
| Sandringham | Mackay-Sarina Road, near Sandringham Creek. | 1892 | | 1901 | |
| | | | | | |
Emails from Margaret Robinson 2005
Mackay Cemetery Burial Register
Queensland Pioneers Index, 1829-1889
Queensland Federation Index, 1890-1914
---
If you can supply any further information or photographs on the above please contact us by Email.
Glen Hall
---

---
© Glen Hall 2001-2017.
page created 28 February 2008.
last updated 19 July 2017 .
Site maintained by Glen Hall