Queensland Government Railways in the Mackay District
Railway Stations and Sidings
MACKAY
The Station was located in Tennyson Street when the Pioneer Valley Railway was built in 1884-1885. The new station was constructed in 1924 in Boddington Street and the Tennyson Street complex became the freight yards and Workshops. The new railway station at Connors Road, Paget was opened in 1994.
---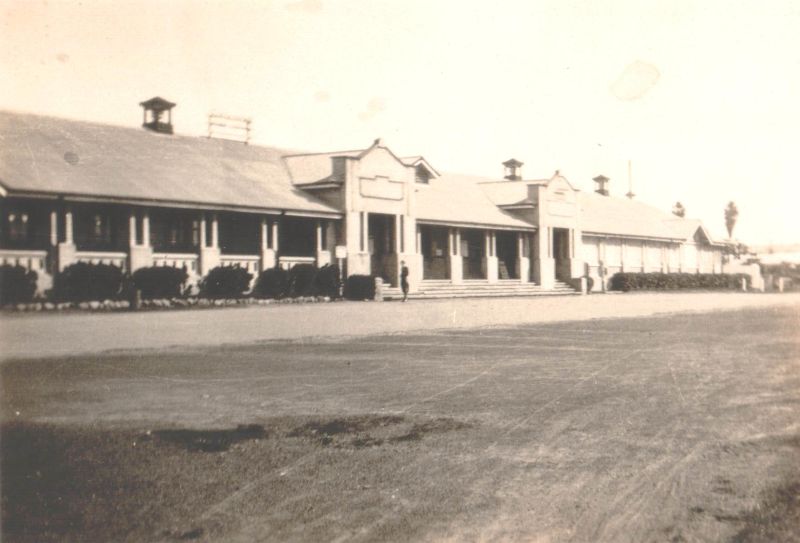 Mackay Railway Station Boddington Street, Mackay c. 1930's. (Mackay Historical Society, Bob Cameron Collection)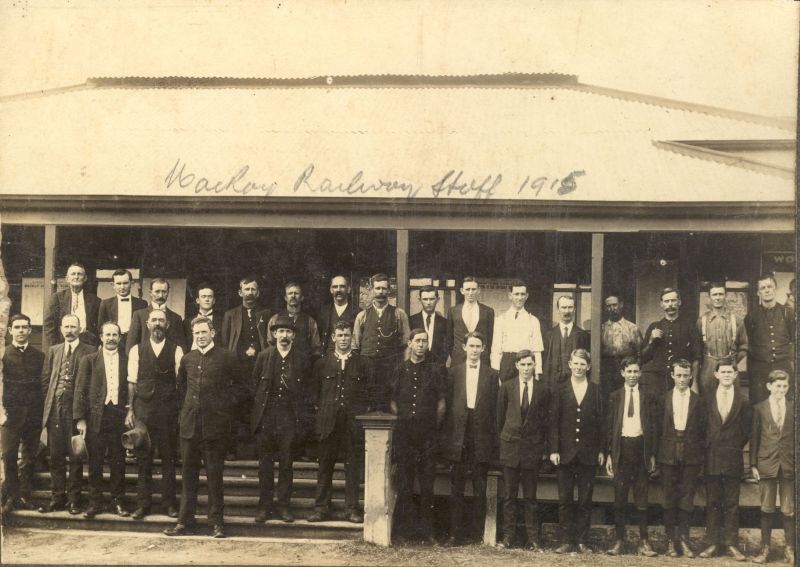 Mackay Railway Station Staff c. 1915 (courtesy of Paul Crewe Collection)
I thought you may be interested in the attached photo I found in my mother's document box after she passed. She has labelled it (by writing on the front of it unfortunately) with "Mackay Railway Staff 1915" which would fit with her Grandfather (my G Grandfather), Robert Whiteford, being the Stationmaster at Mackay in 1915. I believe he would be the person standing on the bottom step on his own, one step forward of the others (probably indicating rank I expect).
Robert landed in Mackay on 10 November 1883 with his wife Jessie Mathieson and their four youngest children on the "Duke of Buccleuch". He had married Jessie at Baillieston, Lanarkshire Scotland on 31 December 1874. Robert went to work for the railways after he arrived and worked as a Ganger helping to build the railway. The family lived in tents along the line as it was being built, as well as at Drapers Siding, Eton, Mia Mia and Benholme. One of their daughters, Agnes, was actually born in a tent beside the railway line in 1891.
Robert died at the Ormond Hospital in Mackay on 16 April 1924.
From Email of Paul Crewe, 28 November 2008.
If anyone can identify any of the Staff please Email me.
---
If you can supply any further information or photographs on the above please contact us by EMAIL
Glen Hall
---
---
© Glen Hall 2001-2017.
Page created 24 November 2008
last updated 19 July 2017 .
Site maintained by Glen Hall.