Harrup Brothers - Mackay
c. 1931-1993
---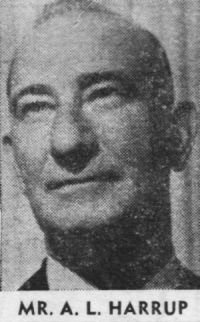 "Toss" Harrup (Source: Daily Mercury Centenary Edition, Friday April 6, 1962.)
Harrups is one of the oldest names connected with soft drinks in central Queensland.
The late J.W. Harrup learned the soft drink business from Peter Olsen, who employed him for several years in the 1890's in his Clermont factory. J.W. Harrup moved to Muttaburra near Hughenden to conduct his own business in about 1898, before buying a factory in Mt. Morgan near Rockhampton in 1901.
He conducted this business with the help of his three sons before handing it over to them in 1910. He bought Murphy's softdrink factory in Rockhampton in 1918.
The Harrup brothers took over Roberts Drinks in Mackay on July 14, 1931. At that time it was run by Mr. Roberts on lease from Barney McGuire.
The factory was housed in a large galvanised iron building in Wood Street opposite the Masonic Hall. It was run by Mick Barron before Roberts Drinks acquired it.
Harrup Brothers, with A.L. (Toss) Harrup as manager bought the premises from Barney McGuire a couple of years later, then moved to the western end of Victoria Street opposite Fields Motors in 1938. The factory at the time was located at the in a building presently occupied by Dick Smith Electronics (2005).
Toss Harrup started off in Mackay with one employee but soon built the business up to a regular staff of 12 to 14, with up to 35 employed during the Christmas period.
Toss Harrup has said that when he first came to Mackay no brewed drinks were available, so the Double "H" (Harrups Horehound) was launched. The drink reached its peak of popularity during World War II.
Harrup Park in South Mackay was named after Toss in honour of his efforts whilst President of the Mackay Cricket Association. Harrup Park was officially opened on September 11, 1948. He had also been president of the Suburban Bowls Club in 1956 and 1957 and also served a term as an alderman on the Mackay City Council. Toss Harrup and his wife left Mackay and retired to Brisbane in 1968. Toss died in Brisbane in July 1991.
Mr. Max Petersen, who bought Harrups in 1967 opted to return to farming sold the business to the Rogers family in 1968. Because of a lack of sufficient space the factory was relocated to the corner of Alfred and Gregory Streets in 1970. Harrups purchased Waghorns Cordials in 1980 and operated both business' from the Alfred Street factory.
The building on the corner of Alfred and Gregory streets was sold to Millens Electrical and Hire and the manufacturing plant and warehouse commenced operating from new premises at 1 Victoria Street in 1984.
Mr Allan Dunn purchased the business around 1989 and continued the business from the Victoria Street premises.
Rising costs of producing softdrink in glass bottles and the rapid introduction of using the PET plastic bottles meant that it was not economically feasible to purchase new equipment.
The business ceased operations on March 12, 1993 and the buildings used as a Schweppes distribution facility.
Sources:
The Daily Mercury, (1962, April 6), City of Mackay Centenary Edition. p. 60
The Daily Mercury, (1984, January 27), Name "Harrups" long connected with soft drinks.
The Daily Mercury, (1984, January 27), Harrups cordials opens new plant.
The Daily Mercury, (1992, May 25), Obituary - Mrs. Emily Harrup
The Daily Mercury, (1993, March 11), Drink firm shuts after 60 years.
---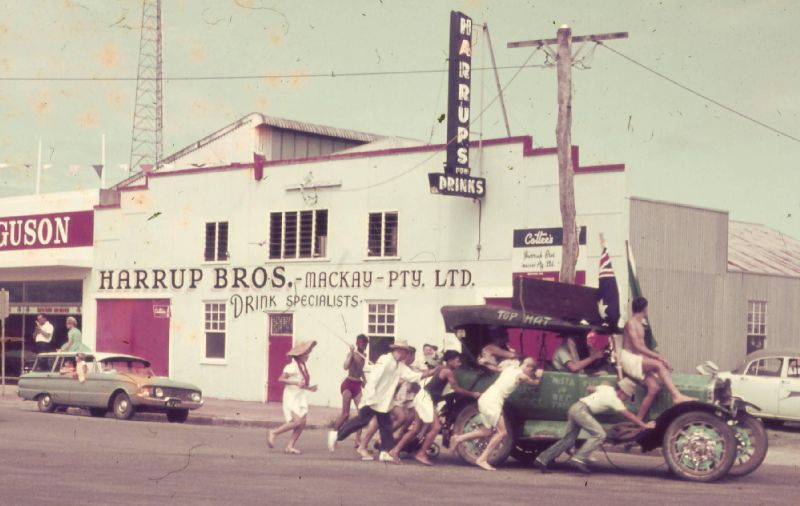 The Harrup Brothers Factory in Victoria Street in 1963. A Sugar festival parade float passes by.