Reginald Spratt - Eton 1911-1917
Walkerston 1913-1921
Walter Spratt - Walkerston 1918-1926
Mackay 1927-1938
---
Reg Spratt started an Aerated water and Cordial factory located in Eton however this did not last long apparently due to a lack of water due to drought during this period. He was also operating a factory in Walkerston by at least 1915. The factory in Walkerston was located on the corner of Creek and Anne Streets. The land is presently used as a car park for the St John's Catholic Church which is situated over the road. Walter Spratt was his brother and appears to have taken over the business and late operated in Mackay at an unknown address.
Sources:
Hamilton, Pat. (1994). Sugar from the Scrub. Moorooka, QLD: Boolarong Press.
Rolleston, Frank. (1987). The Defiance – The story of North Eton Co-operative Sugar Milling Association Limited, 1888-1987. North Eton, QLD: North Eton Co-operative Milling Association Limited. pp6.
Emails: Sue Short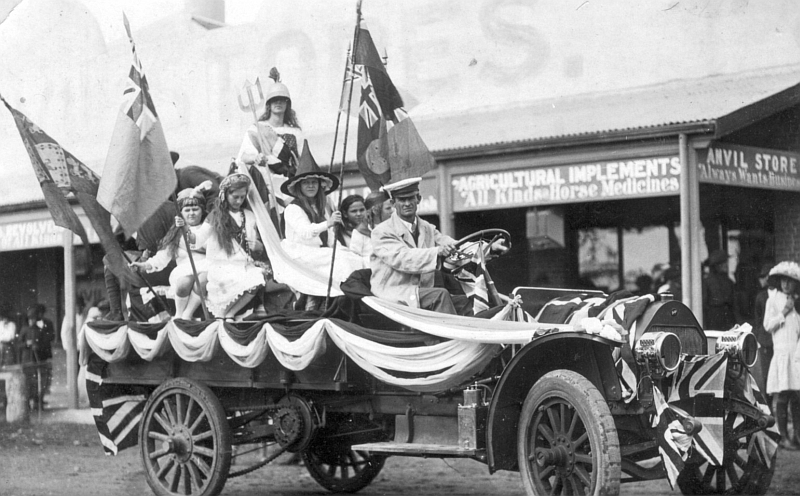 Reg Spratt driving a float in a procession along River Street. Possibly 1918 to celebrate the Armistice.
(Source: Sue Short Collection)
---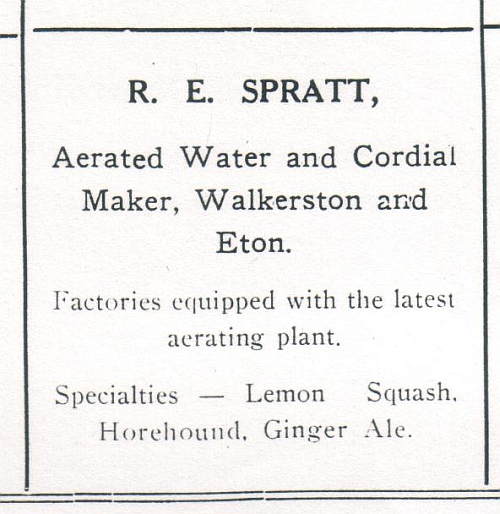 Advertisement from the Mackay Panoramas and War Views. C. 1915
---
If you can supply any further information or photographs on the above please contact us by EMAIL
Glen Hall
---
---
© Glen Hall 2001-2017.
created 09 June 2008.
last updated 19 July, 2017 .
Site maintained by Glen Hall.