Barrie Sugar Mill
1872 - 1886
---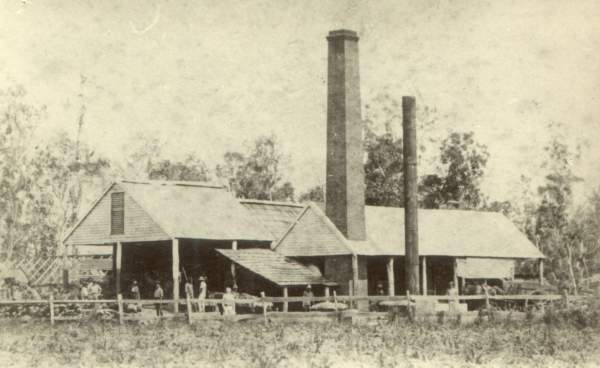 David Jack's Barrie Sugar Mill c. 1870's (Mackay Historical Society Archive No. 85-318w)
---
Barrie plantation was on almost two square miles of land on Sandy Creek near Eton. David Jack, who was a butcher in Sydney Street at the time, selected the land on 18th October 1870. He used mostly aboriginal labour. He purchased a mill from Walkers at Maryborough, and after it had been brought out from Mackay by bullocks, it was erected in two weeks.

Crushing began on 22 October 1872. There was a plentiful supply of timber on Barrie, and in 1873 Jack erected a circular saw and began supplying Mackay with sawn timber. The only other sawn timber available at this time was pine, shipped from Maryborough, which was expensive and easily attacked by white ants.

By 1879 there was at least 120 hectares under cultivation and the mill and plantation must have worked reasonably well to last that time.

In 1883 David Jack was having financial problems in repaying money borrowed from the A.J.S. Bank. A southern investor, Thomas Baker entered into a partnership with Jack.

In 1884, with further financial problems the bank appointed Richard Dempsey Dunne as manager with the idea of putting up the mill for sale but they could not find a buyer.

In 1887 Dunne met with Commissioner for Railways about getting an extension to the railway line which was completed. Previously the sugar was transported by road teams.

It proved more profitable to have the cane on the estate crushed by the bigger mills than to crush it themselves. The 1887 crop of 100 tons was sold to Homebush mill and after the The North Eton mill opened in 1888 they took over the crushing of the cane that would normally have been crushed by the Barrie Mill and soon after Barrie mill closed down.

References -

Rolleston, Frank. (1987). The Defiance – The story of North Eton Co-operative Sugar Milling Association Limited, 1888-1987. North Eton, QLD: North Eton Co-operative Milling Association Limited.

p.33, 34, 36.

Kerr, John. (1988). A Century of Sugar. Mackay, QLD: Mackay Sugar Co-operative Association Limited. p. 56, 62-63 .

Kerr, John. (1980). Pioneer Pageant. Mackay, QLD: Pioneer Shire Council.

p. 49, 99.
---
If you can supply any further information or photographs on the above please contact us by EMAIL
Glen Hall.
---
---
© Glen Hall 2001-2017.
created 27 October 2003.
last updated 18 July, 2017 .
Site maintained by Glen Hall.