Beaconsfield Sugar Mill
1883 - 1893
---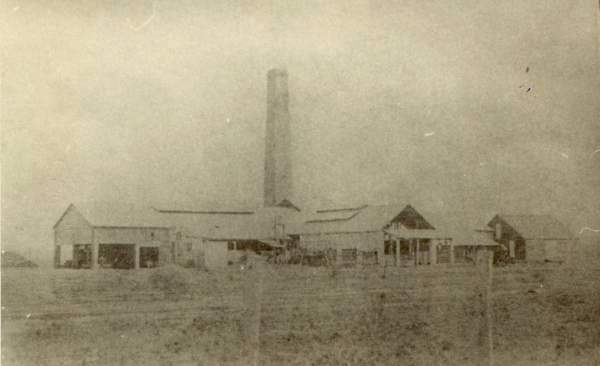 Beaconsfield Sugar Mill (Mackay Historical Society Archive No. 85-318v)
---
Beaconsfield plantation was established by Andrew Henderson on 800 acres of forest land, of which only 360 acres were planted with cane. The mill began crushing late in 1883. It had one set of 42 inch by 22 inch triple rollers, sulphur box, steam clarifiers with copper coils, 500 gallon cleaning pans, an 800 gallon steam concentrator four 1000 gallon subsiders, one 3 ton vacuum pan and three suspended centrifugals. Two 12 foot by 6 foot boilers powered an 18 inch cylinder steam engine and the mill could produce 500 tons of sugar per year. The mill was housed in a building 158 by 32 feet. Henderson had his residence 1/2 mile from the mill in large grounds.
By 1888 there was 284 acres ready for cane but the 1888 crop had only made 45 tons of sugar from 114 acres.
Ten years earlier it would have been considered a big mill but in the 1880's it was relatively small.
In 1892 the mill had made 400 tons of sugar and then it seems Henderson ceased both cultivation and crushing. When the mill closed in 1893, there were 55 Melanesians and 30 white men employed. Henderson had intended installing a second set of rollers and had extra land lying fallow trying to encourage farmers to become involved in a small central mill complex, however due to economics the plantation never re-opened.
---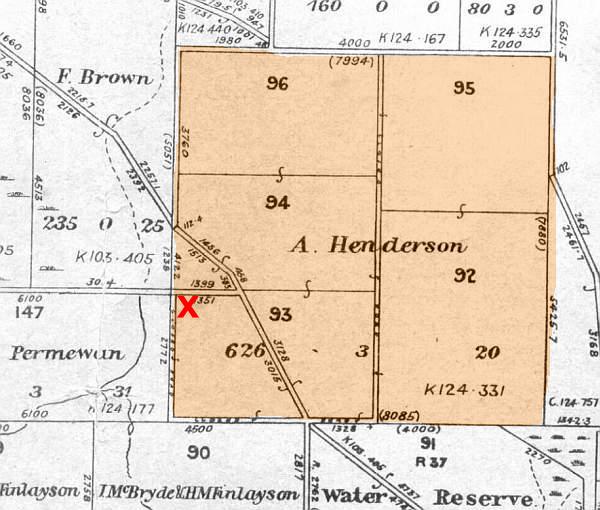 Andrew Hendersons original selection which nowadays incorporates the suburb known as Beaconsfield. The northern boundary is now Eaglemount Road. The eastern boundary ran beside what is now Bedford Road. The road on the north-western boundary is now known as Harvey's Road. Beaconsfield Road runs diagonally through the estate. The mill itself was located on Holt's Road approximately in the spot marked by the red "X".
---
References -

Kerr, John. (1980). Pioneer Pageant. Mackay, QLD: Pioneer Shire Council.

p. 77, 102.

Manning, K.W. (1983). In Their Own Hands. Farleigh, QLD: Farleigh Co-op Milling Association Ltd.

p. 84, 87, 117-121, 124.
---
If you can supply any further information or photographs on the above please contact us by EMAIL
Mackay Historical Society
---
---
© Mackay Historical Society and Museum Incorporated 2001-2006.
created 27 October 2003.
last updated 09 August, 2006 .
Site maintained by Glen Hall.