Inverness Sugar Mill
1873 - 1884
---
---
James MacDonald applied to select Selection 151 in the parish of Bassett of 641 acres beside what was to be "the Cedars", on 11th July 1870. He lived there for two years clearing the land and planting cane, and then his brothers Donald and Alexander took over the property after it was freeholded on 24th February 1872.
In 1873 Donald McDonald ordered a mill from Brisbane, with rollers 30 inches wide and 21 inches in diameter, run by a 12 hp engine, and open pans. Built by Smellie and Co. in Brisbane it arrived in May that year. Crushing began later the same year however the mill did not operate very satisfactorily.
In 1875, 33 acres of Bourbon cane was so badly affected by rust it was hardly worth crushing and the estate went into insolvency.
McDonald's major creditors, George Raff & Co. of Brisbane, took over Inverness in 1877. By then Inverness consisted of 876 acres, 248 of which were under cane. That year the crop only produced 150 tons of sugar, mainly because the Meera variety of cane had been neglected during the change of ownership and the plantation was generally run down.
Ownership changed again in 1883 with McBryde and Finlayson taking over. As they also owned the nearby Richmond mill, Inverness mill was dismantled and parts used in the other mill as needed.
In 1899 the plantation was split up into seven farms by William Begg Fordyce.
---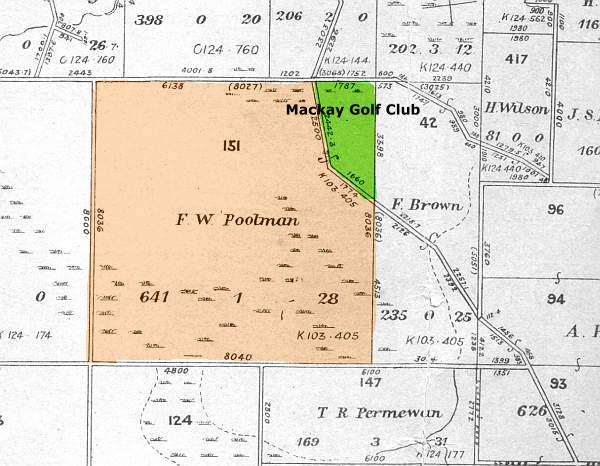 Portion 151 in the Parish of Bassett, the original selection known as Inverness plantation. The North-Eastern part of the selection is now part of the Mackay Golf Club indicated by the green shaded area. The northern boundary is the Mackay-Habana Road and the southern boundary is Holt's Road. The western boundary is Glenella-Richmond Road.
---
References -

Kerr, John. (1980). Pioneer Pageant. Mackay, QLD: Pioneer Shire Council.

p. 50, 53, 84, 85, 100.

Manning, K.W. (1983). In Their Own Hands. Farleigh, QLD: Farleigh Co-op Milling Association Ltd.

p. 19, 84, 93-96, 107, 142.
---
If you can supply any further information or photographs on the above please contact us by EMAIL
Mackay Historical Society
---
---
© Mackay Historical Society and Museum Incorporated 2001-2006.
created 27 October 2003.
last updated 09 August, 2006 .
Site maintained by Glen Hall.