Palmyra Sugar Mill
1883 - 1905
---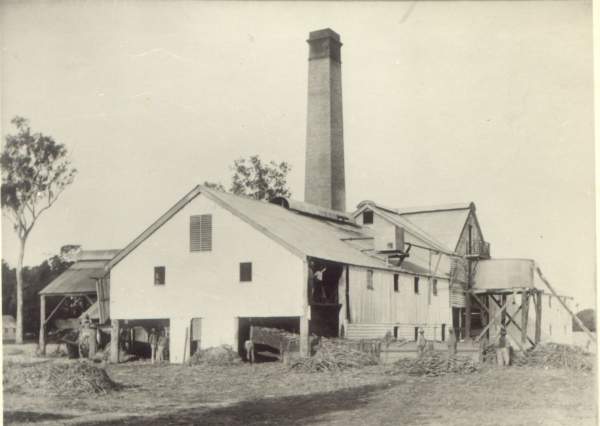 Palmyra Sugar Mill (Source: Mackay Historical Society Archive No. 85-318h)
---
Hugh McCready established Palmyra plantation in 1879 on 550 acres on Bakers Creek that he had purchased from Charles Keeley. More land was bought and the plantation doubled in size. In 1881, McCready began importing machinery, from A. & W. Smith of Glasgow, for a single crushing mill. It included a carrier, bagasse elevator and cast iron vacuum pan. The mill began crushing in 1883.
By 1887, the Palmyra mill had an output of 500 tons of sugar in a season.
By the early 1890's it had a 5 foot and a 3 foot mill and in 1895 boasted the districts only 5-roller mill. It was placed No. 1 in the milling train and could handle 14 tons of cane per hour.
McCready was one of the pioneers of irrigation for sugar cane. In 1892 he irrigated 6 acres a day with an 8 inch centrifugal pump. That year he cut 400 acres of cane at an average of 18 to 20 tons per acre. A ton of sugar was recovered from 13 tons of cane. By 1895 this was reduced to 8½ tons of cane for 1 ton of sugar.
After the 1897 harvest, McCready began more improvements to his mill including installation of effet vessels. He also began trialling the use of fertilizer in association with the State Nursery. However, Cyclone 'Eline' in 1898, combined with the dry years that followed, dealt a financial blow, from which the plantation never fully recovered.
Despite a big crop in 1905, this was the last year Palmyra mill crushed. McCready blamed labour problems, as much as anything for the closure of the mill. He had brought lads out from Scotland orphanages and planned to extend this to an apprenticeship system, but was frustrated by officialdom and the apprenticeship scheme never eventuated.
---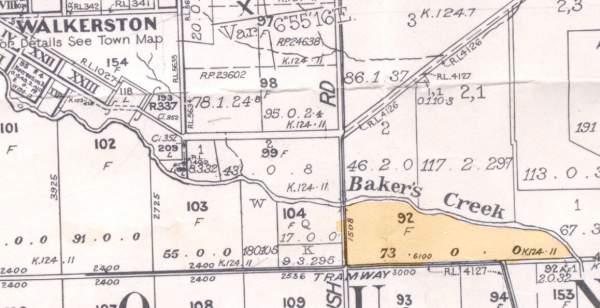 Parish of Greenmount map showing portion 92 which was part of McCready's selection for the Palmyra plantation. The Palmyra mill was located towards the eastern section of this portion. The rest of the plantation extended to the south of portion 92.
---
References -

Hamilton, Pat. (1994). Sugar from the Scrub. Moorooka, QLD: Boolarong Press.

p. 32-34.

Kerr, John. (1988). A Century of Sugar. Mackay, QLD: Mackay Sugar Co-operative Association Limited. p. 18, 62.

Kerr, John. (1980). Pioneer Pageant. Mackay, QLD: Pioneer Shire Council. p. 78, 156, 171.

Manning, K.W. (1983). In Their Own Hands. Farleigh, QLD: Farleigh Co-op Milling Association Ltd.

p. 104, 105, 112, 122, 132.
---
If you can supply any further information or photographs on the above please contact us by EMAIL
Mackay Historical Society
---
---
© Mackay Historical Society and Museum Incorporated 2001-2006.
created 28 October 2003.
last updated 09 August 2006 .
Site maintained by Glen Hall.