Richmond Sugar Mill
1874 - 1895
---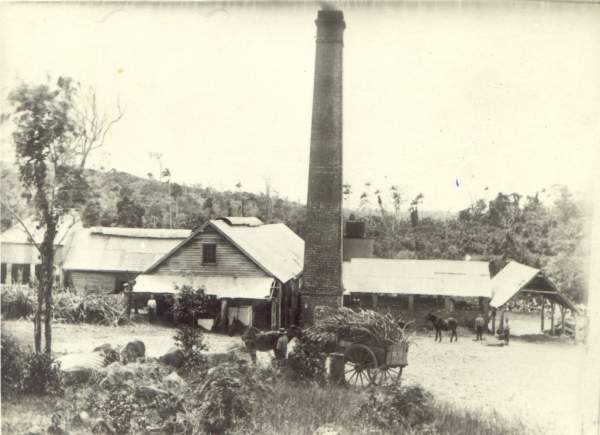 Richmond Sugar Mill (Mackay Historical Society Archive No. 85-318j)
---
The land on which the Richmond lands were located were originally a complex of various estates at one time owned by Andrew Cumming (who named Richmond) , Hugh McCready who later became his partner in 1870, and latterly John McBryde and Hector McKenzie Finlayson and their partner F.W. Poolman.
Andrew Cumming named the estate after one he had owned at St. Vincents in the West Indies in partnership with a cousin named McPherson. The Richmond Sugar Company was formed in 1880.
John McBryde and Hector McKenzie Finlayson entered into a partnership in 1872 and farmed the Glenalbyn estate where they had intended to build a mill but their plans were foiled by the rust outbreak in 1875. They purchased the Richmond estate in 1881 and built the district's first central mill on 10 acres of land. The owners had decided to rely entirely on the cane grown by surrounding farms and plantations to support their mill.
The mill was imported from A. & W. Smith of Glasgow and had rollers 3 foot 10 inches long and 22 inches in diameter driven by a 50 horsepower horizontal engine. It also included three 500 gallon clarifiers and two subsiders of hardwood lined with galvanised iron. Aspinall pans replaced the old style evaporating pans and although open pan boiling was practised in the first year a large vacuum pan was ordered for the 1882 season. The Mill plant itself was housed in a building of cathedral form, 145 foot long and 300 foot wide with wings of 30 foot by 20 foot. William Robertson of the Victoria Foundry erected a 44 foot high chimney stack 3 foot square.
In 1882 at apparently the request of their bankers Commercial Banking Company of Sydney for McBryde and Finlayson , offered the mill for sale but it did not change hands. They installed a vacuum pan and used charcoal filters built by Smellie & Co. in Brisbane to produce white sugar besides golden syrup to rival Foulden which until that time was the only mill in the district to offer that product.
Due to its location it was not able to survive as a Central Mill and the owners decided to combine the mill and surrounding land under the more usual plantation concept.
The old Inverness plantation lands had been acquired by the Richmond owners in about 1883. Some of the old Inverness mill machinery was used in the Richmond mill.
1888 was a disastrous year for sugar production with the mill only producing 75 tons of sugar and 2,500 gallons of molasses from 220 acres of cane.
In 1889, McBryde told the 1889 Royal Commission that both plantations area totalled 1070 acres, only 330 were planted with cane.
In 1894 the mills mortgagees stepped in and both the plantation and mill were put on to the market, however after a few weeks were withdrawn from sale after a report of good prospects for enlarging the mill. However 1894 was the year of the last crushing and the land was acquired by William Begg Fordyce.
It is interesting to note that the old stack of the Richmond Mill is the sole surviving stack of the 39 mills that were built in the Mackay district in the 1800's. The current Tourist Information Centre on Nebo road has a replica of the Richmond Mill stack built beside it. Besides the stack other relics that have survived include the concrete foundations, the boiler, belt driven fugals, a mill roller and a 40 foot deep well with a 15 foot diameter.
---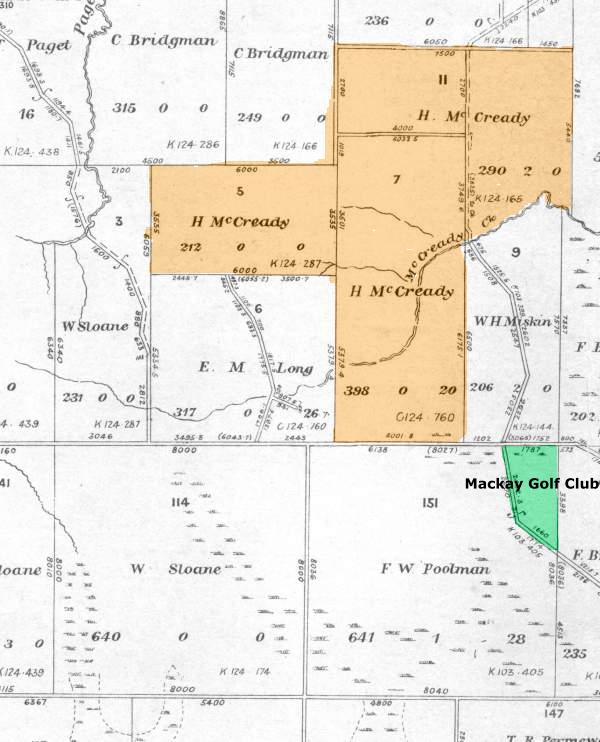 Location of Hugh McCready's original selections which made up the bulk of the Richmond land's from a 1908 Bassett Parish map. The present location of the Mackay Golf Club is shown in relation to the original Richmond lands.
---
References -

Kerr, John. (1988). A Century of Sugar. Mackay, QLD: Mackay Sugar Co-operative Association Limited. p. 47.

Kerr, John. (1980). Pioneer Pageant. Mackay, QLD: Pioneer Shire Council.

p. 51, 69-70, 100.

Manning, K.W. (1983). In Their Own Hands. Farleigh, QLD: Farleigh Co-op Milling Association Ltd.

p. 19, 29, 95, 103-111, 124, 144, 169.
---
If you can supply any further information or photographs on the above please contact us by EMAIL
Mackay Historical Society
---
---
© Mackay Historical Society and Museum Incorporated 2001-2006.
created 17 November 2003.
last updated 09 August, 2006 .
Site maintained by Glen Hall.