---
James Robb owned a farm beside the Lagoons in the vicinity of the present Alexandra Street where he erected a small horse-powered mill to crush his own twenty acres of cane. It first began crushing in August 1871. The mill had vertical wooden rollers and was capable of manufacturing half a ton of sugar daily.
After the first crushing Robb improved and rebuilt his mill with two clarifiers, three battery pans and a centrifugal. The mill was housed in a building of bush timber with a thatched roof. Disaster struck soon after noon on 8th October 1872 when burning bagasse from the furnace set fire to the building. Fortunately the clarifiers, pans, furnace and brick chimney were unharmed and the mill and centrifugal were repairable. A new weatherboard building was erected and within two weeks crushing had resumed. "Robbsleigh" was advertised for sale in the Mackay Mercury on 24th May 1873 and the mill never crushed again.
---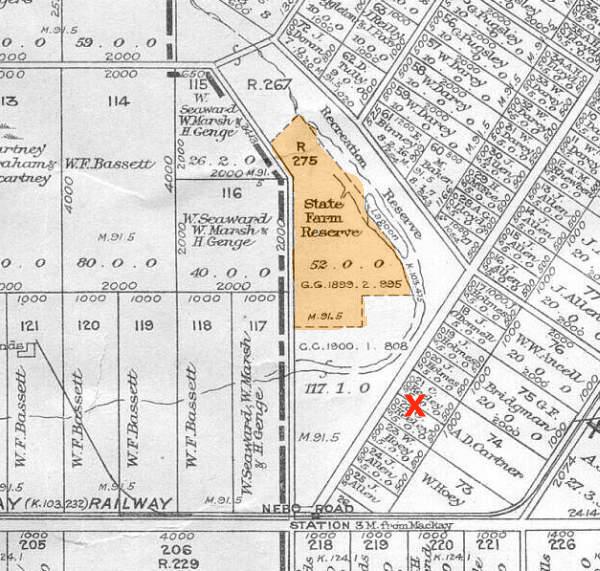 The shaded area is the selection of the State Farm Reserve. It is very likely however unconfirmed that Robb's mill was located somewhere in this selection. There was a small bridge constructed over the Lagoons in 1871-1872 linking Robb's mill to William Hyne's Balmoral mill (approximate location shown by the red "X") which was located on the site of the present day Sugar Research Institute.
---
References -

Kerr, John. (1988). A Century of Sugar. Mackay, QLD: Mackay Sugar Co-operative Association Limited. p. 14, 38, 57 .

Kerr, John. (1980). Pioneer Pageant. Mackay, QLD: Pioneer Shire Council.

p. 22-23, 45-46, 97.
---
If you can supply any further information or photographs on the above please contact us by EMAIL
Glen Hall
---
---
© Glen Hall 2001-2017.
created 27 October 2003.
last updated 18 July 2017 .
Site maintained by Glen Hall.