Carmila Avenue of Trees and Plaques
Location:
Music Street, Carmila.
Local Government Authority:
Isaac Regional Council.
Year Constructed:
post 1945
Type of Construction:
Appear to be of Cast iron construction on two metal stakes.
War:
1939-1945, Vietnam
Names:
There are five existing plaques recording the names of 3 servicemen killed in 1939-1945 war and 2 servicemen from Vietnam War.
History:

The five plaques were original placed along the southern footpath in Music Street.
In 2007 a project was undertaken by the Sarina Army Reunion Club members as well as some members of the general public.

The project included shifting the plaques from their original positions to a new area in front of the Carmila Memorial Hall. New stainless steel frames were fabricated and the plaques themselves were refurbished as well. The unveiling of the plaques occurred on Anzac Day 2007. Amongst the attendees were the members of the soldiers families.

Information Sources:
Special thanks to Brendan Maguire, 2008
Australian Involvement in Vietnam Website, http://www.hotkey.net.au/~marshalle/advn/adinx.htm, downloaded 3 January 2009.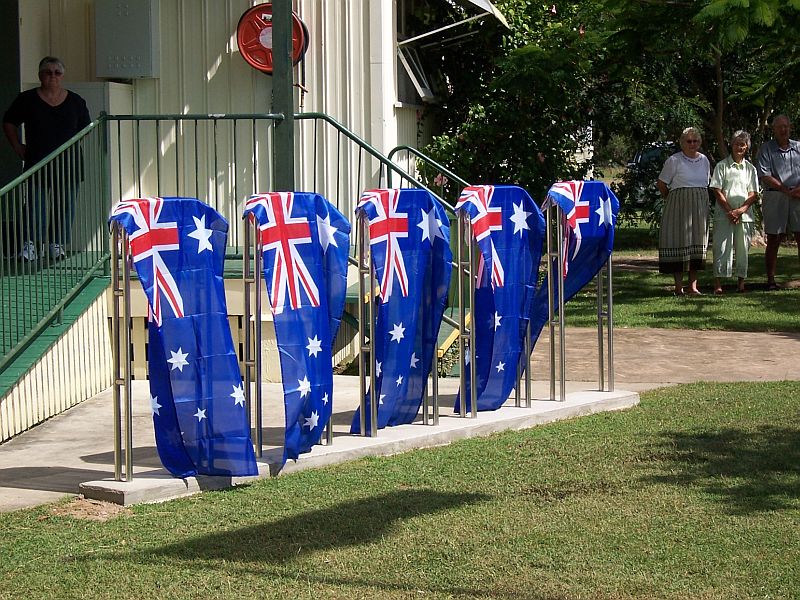 The Plaques draped with Australian Flags before the official unvealing, Anzac Day 2007
(photo courtesy of Brendan Maguire)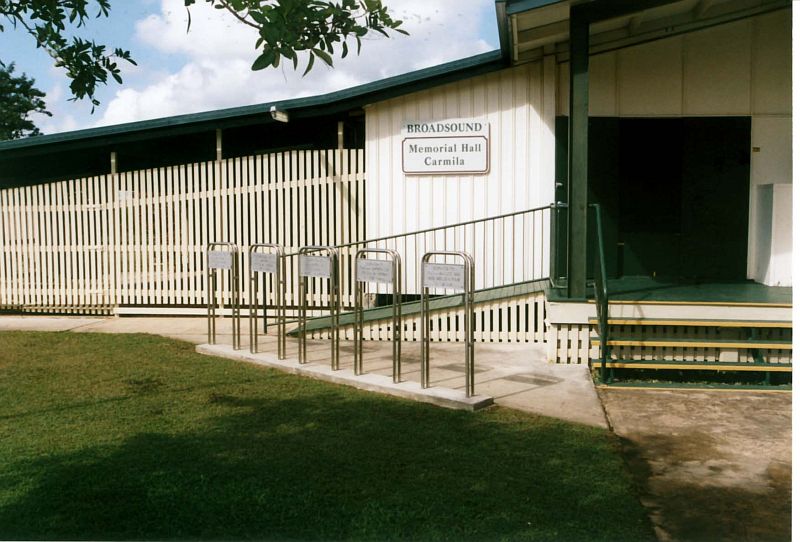 The Plaques in position outside the memorial hall
(photo courtesy of Brendan Maguire)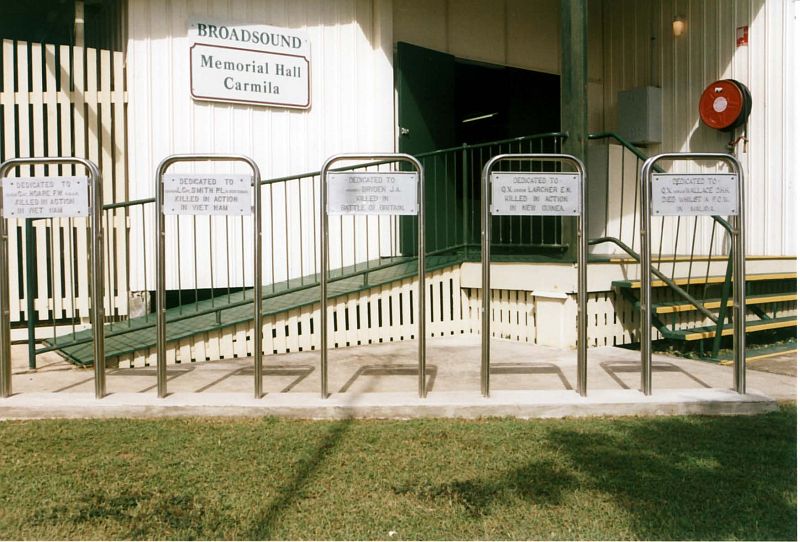 From left to right: Frederick Hoare, Paul Smith, John Bryden, Eric Larcher and Donald Wallace.
(photo courtesy of Brendan Maguire)
Maps Showing original location of Plaques prior to 2007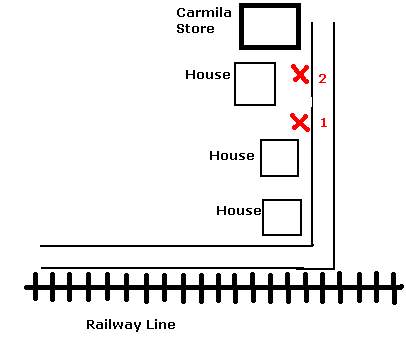 1. J.A. BRYDEN
( John Alexander BRYDEN, 404601, R.A.A.F., 460 Squadron, Killed in Flying Battle over Germany, 11 September 1942. buried in Rheinberg War Cemetry, Germany.) Was killed in a bombing raid to Dusseldorf in Germany. Was flying in a Wellington bomber Serial no: Z1216.

2. D.H.H. WALLACE
(Donald Hamilton Hore WALLACE, QX18636, 2/10 Field Regiment, Died whilst a Prisoner of War in Thailand, 12 October 1943. buried in Thanbyuzayat War Cemetery, Thailand.)
3. E.N. LARCHER
(Edward Norman LARCHER, QX25926, 49th Inf. Battalion, KIA, 7 December 1942, Papua New Guinea)

4. P.L. SMITH
(Paul Leslie SMITH, 135494, 5th Bn. R.A.R., Died of Wounds, 5 July 1969, Vietnam, buried at Mount Bassett Lawn Cemetery, Mackay.) He suffered wounds from an enemy mine during a land-clearing and night ambush patrol operation on American Independence Day July 4 1969. He died in 24 US Evac. Hospital.

5. F.W. HOARE
(Frederick William HOARE, 15705, 6th Bn. R.A.R., Died of Wounds, 4 August 1969, Vietnam, buried at Mount Bassett Lawn Cemetery, Mackay.) The corporal assault pioneer with 6RAR died at 24 US Evac. Hospital, Long Binh, August 4 1969 from a mine blast he received the previous day.