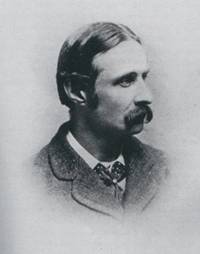 Harold Heneage Finch-Hatton was born on August 23rd 1856 to the third wife of George William Finch-Hatton, the 10th Earl of Winchilsea and 5th Earl of Nottingham. His father, who was 64 at the time, died only a year and a half later. Harold had two older brothers, Murray (b. 1851) and Henry (b. 1852), an older sister Evelyn (b. 185?), and a much older half-brother, George James (b. 1815) born to his father's first wife.

Harold and his brothers and sister grew up at the Haverholme Priory in the small village of Ewerby in Lincolnshire. He was tutored at home as a boy, and later attended Eton and Balliol College at Oxford. Probably he did not graduate, as he left England in January 1875 at the age of 18 to join his brother Henry, who was a co-owner of a cattle station near Mackay, in Queensland. Harold worked there for some years, then from 1881 to 1883 mined for gold at nearby Mount Britton, the site of a short-lived gold rush. Harold and his partners found a promising reef of gold which ultimately proved unprofitable.

In 1883 he returned from Australia to pursue a political career. In 1884 he stood as a Conservative for a seat in Yorkshire and failed to be elected but still (somehow, according to Gostick) managed to become the member of Parliament for the Nottingham Easter Division. His book Advance Australia!, recounting his experiences in Australia, was published in 1885. An article North Queensland Separation, advocating separation of the north of Queensland into a separate state, was published in 1886. He maintained his interest in Australia, and was a member of London's Queensland Club, which used to have an annual "Queensland Dinner". In 1895 he was elected as the Unionist member for the Newark division, but resigned his seat in 1898 in protest against his party's policies. In 1903 he was appointed High Sheriff of Merionethshire in Wales.

He died in London on May 16th, 1904 aged 47, and was buried at Ewerby. He had never married or had children. According to his entry in Who's Who, he was the 'only white man who could throw a boomerang like the Australian aborigine' (although I doubt that Who's Who was in any position to verify this claim). His estate was worth £19,000, and was left to an Elizabeth Inglis Davis, wife of a settler living in Mount Carmel, Victoria (probably an interesting story there...) and to his nephew Denys Finch-Hatton. As the settler's wife had already died however, the bulk of the estate went to his brother Henry.

Harold was also a founding father of the Royal St. David's Golf Club in Harlech, Wales (a brief history of the club). Harold, an excellent golfer, came third in the first tournament held at the course.

When he was 6 or 7 years old, Harold's portrait was painted by the famous English artist Sir John Everett Millais. I suspect this pallid, effeminate-looking image is not one he was fond of in later life!
---
The following obituary appeared in The Times of London on Wednesday May 18th, 1904:
Mr. Harold Finch-Hatton

The Hon. Harold Heneage Finch-Hatton died suddenly of heart failure on Monday morning at his house in London. Mr. Finch-Hatton, who was born at Eastwellpark, Kent, in 1856, was the fourth son of the tenth Earl of Winchilsea and Nottingham and of his wife, Fanny, daughter of Mr. Edward Royd Rice, of Dane-court, Kent, and was the younger brother of the present earl. He was educated at Eton and Balliol College, Oxford. At the age of 19 Mr. Finch-Hatton went out to Queensland as a squatter, and remained until 1883. He was at first engaged in pastoral pursuits in the Mackay district, and later as a practical miner in the Nebo goldfields. Since his return he had been engaged in financial work in the City, and he was High Sheriff of Merionethshire last year. Mr. Finch-Hatton three times contested East Nottingham as a Conservative against Mr. Arnold Morley, in 1885, 1886, and 1892; and in 1895 he was returned as the Conservative member for Newark. He was, however, always an independent Conservative, and in 1898 he found himself so much in disagreement with the Government that he resigned his seat. In a letter to Lord Newark, published in The Times of May 13, 1898, giving the reasons leading him to resign, he wrote:--"I find it impossible to support the present Government any longer, since it has now become quite apparent that both their foreign policy and their domestic legislation are entirely opposed to the traditions and to the principles of the Conservative party, to which I have always belonged, and are, in my opinion, injurious to the best interests of the nation. . . . I consider that the present Government sought for and obtained the suffrages of the electors at the last election under false pretences. Their legislation at home consists for the most part of attacks upon capitalists and owners of property as a class, and their conduct of foreign affairs may rank with the most effete and pusillanimous era of Radical administration." He was especially opposed to the Government's attitude towards the Irish landlords, and Mr. Chamberlain's policy in South Africa, which in his view warranted the assumption by other Powers that England would submit to any insult rather than resort to force for the protection of British subjects.

Mr. Finch-Hatton left an interesting record of his colonial experiences in his book "Advance, Australia," which has gone through two editions. He was an ardent upholder of the integrity of the Empire, and was one of the founders of the Imperial Federation League, of which he was treasurer. He was a strong advocate of the development of the Pacific route to Australia and the East, and was secretary to the Pacific Telegraph company for the formation of the line from Vancouver Island to Australia. As late as March 16 of the present year a letter written by him appeared in these columns on the treatment of the native peoples of Australia at the hands of the Government and the squatters.

In the world of sport Mr. Finch-Hatton was best known as a golfer. For some years before his death he was a fairly regular competitor in the tournaments of the Royal and Ancient Club, and in the amateur championship, while when he sat in the House of Commons he was a scratch player in the Parliamentary handicap. In the amateur championship of 1900, which was played at Sandwich, he showed particularly good form, and, after drawing a bye in the first round, he beat Mr. R. Graham-Murray by 4 holes up and 3 to play and Mr. H. E. Meek by 2 and 1, thus getting into the fourth round. Therein he met Mr. C. E. Hambro, and in the first half of the round the match was close. Mr. Finch-Hatton was 1 down at the turn; but Mr. Hambro came home in 36 strokes--a record for the championship course--and won by 4 up and 3 to play. In other years, Mr. Finch-Hatton never got beyond the second round, although it should be stated that he always had difficult opponents to meet. He and his brother, Lord Winchilsea, have had much to do with the prominent place which the Royal St. David's Club (Harlech) has taken in golf during recent years. With the rifle Mr. Finch-Hatton could hold his own with most men, and he was a keen follower of the hounds. It was his boast that, when in Australia, he learned to throw a boomerang in the exact manner of the natives.
---
See also:
Finch-Hatton History, for more information about the Finch-Hatton family.
Wikipedia: Harold Finch-Hatton
---

Jim Foley ||
Email me