Born: 10 January 1840 (Liverpool, Lancashire, England)
Died: 17 September 1890 (Mackay, Queensland, Australia) aged 50 years.
Buried: 18 September 1890 (Mackay Cemetery, C. of E. Sect. 2, Row 2, Plot 6.)
Parents: George SMITH and Jessie McLAUCHLAN.
Marriage: Jane MORRISON at Knockbreda, County Down, Ireland.
Religion: Church of England

---
George Smith of Liverpool, England and Jane Morrison of Belfast, Ireland, were married at Knockbreda, County Down, Ireland and came to Australia by sailing ship in the 1850's to settle in Maryborough, where Robert, Leila (Mrs. Gemmell Smith), Cecil and George were born.
The family moved to Mackay about 1870 and lived in what has since been described as "a lovely old cottage next to Marsh and Websters."
It was here that Juanita (Mrs. Westbrook), Helen (wife of Dr. George Tyndale Lloyd of Mackay), Harry and Sidney were born.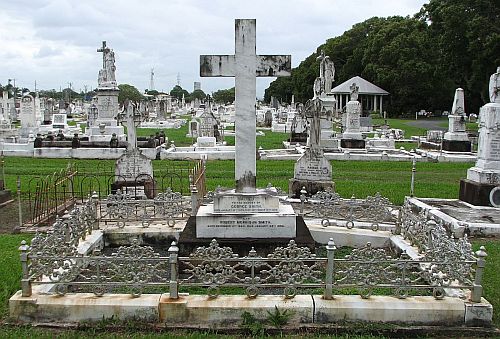 Ornate Wrought Iron Boundary is a feature of the Smith Family Grave in the Mackay Cemetery.
(Glen Hall Collection, March 2008)

Grave Inscription for George Smith.
(Glen Hall Collection, March 2008)

The names Robert and Lee which appear in this and succeeding generations originated from the American General Robert E. Lee. Jane Morrison was taken prisoner with her brothers in New Orleans during the war of this famous general's time.

George Smith was well known in the early days of Mackay, being the mayor for some years (to be followed in this office by his son, Cecil). An auctioneer, he was Queensland agent for Lloyds of London and local agent for Howard Smith, the Orient Line, McIlwraith, McEachran, and an owner of Marian Mill which was built in partnership with this latter firm.

Sir Malcolm McEachran was a close personal friend. Other interests were in timber and island trading.

A bold venture which turned out disastrously was a voyage to Western Australia in a sailing ship called the "Isabella" owned by George Smith.

The trip was sponsored by the offer of a land grant by Mr. Forrest (afterwards Lord Forrest) Premier of W.A. as a sugar growing proposition.

The party, consisting of Queensland cane planters, headed by George Smith, landed safely in Cambridge Gulf, but the region was considered unsuitable for cane growing. The "Isabella" was wrecked on the return voyage to Mackay and became a complete loss.

A large transaction for those days, in the sale of Habana Mill, was conducted by George Smith.

A new house known as "The Folly" was built, and it was here that Madam Melba, a close friend of the family was a frequent visitor. This house was opposite what was known as George Smith's Wharf, in those days the first wharf on coming up the river.

Sources:

The Daily Mercury, 23 February 1960, (obituary on the death of Harry Lee Smith - son of George Smith).

The Daily Mercury. (1912). The Jubilee of Mackay, 1862-1912 Fifty Years, Mackay QLD: The Daily Mercury.

p.7

Mackay Branch Genealogical Society of Qld. Mackay Cemetery Burial Register.

Mackay Branch Genealogical Society of Qld. Mackay Cemetery Monumental Inscriptions,

Queensland Births Deaths and Marriages, Deaths 1890-1894, Microfische Sheet No. 004, Page No. 1041, Registration No. 90 / 002835

Queensland Pioneers Index, 1829-1889

Queensland Federation Index 1890-1914.
---
Death of Mr. George Smith
Death has removed from our midst one of the best known and one of the oldest residents in Mackay.
Mr George Smith was a Northerner pure and simple, and his name will be remembered for many a day as one of the pioneer business men of this part of the colony.
He was born in Liverpool. of which town his father was Mayor, in 1840, and came to this colony in 1863.
He entered a merchant's office in Maryborough and soon after started business in Bowen. By reference to our old files we find that he opened in Mackay as an auctioneer and general commission agent in October 1869, from which time he has been closely identified with the growth politically and industrially of the town and district. Almost from the time he started here he has been connected with the shipping interests, having successively controlled the agencies of the B.I.S.N. co., the A.U.S.N. co., and latterly of Wm. Howard Smith and Sons.
He assisted to found the School of Arts and has ever been an active participator in the government of our local institutions. He has several times held the position of mayor, and at his death was a member of the committees of the School of Arts and Hospital, of the Chamber of Commerce, and of lesser local bodies. In all public movements he was a leader, and it was to his energy and enterprise that the establishment of the Victoria and Marian mills, as central mills, was due.
Mr Smith had been ill for some weeks, but was considered a few days ago to be on the high road to recovery. He was, however, very weak and we understand, congestion of the lungs made itself apparent. Shortly before 3.30 p.m. yesterday he was found to be rapidly sinking, and before medical assistance could be called in he breathed his last. Dr. G. T. Lloyd attended him during his illness, and had visited him constantly during the last few days. Every member of the community will join us in expressing sincere sorrow at his death and heart-felt sympathy for those who are left to mourn his decease.
Source:
The Mackay Mercury, Thursday, September 18, 1890.
---
If you can supply any further information or photographs on the above please contact us by EMAIL
Glen Hall
---
---
© Glen Hall 2001-2017.
last updated 17 July 2017 .
Site maintained by Glen Hall.