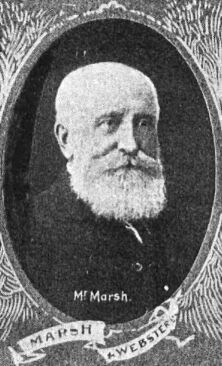 Born: 1837 (Crewkerne, Somerset, England)
Died: 28 June 1909 (Mackay, Queensland) aged 72 years
Buried: 30 June 1909 (Mackay Cemetery, C. of E. Sect. 1, Row 1, Plots 23/24)
Parents: William MARSH and Susanna HOSKINS
Marriage: (1) 8 August 1866 to Elizabeth SEAWARD
(2) 1881? to Mary SEAWARD
Religion: Church of England
---
The streets of East Mackay, eastwards of Victoria Park were developed in the 1960s. As a tribute to the city's early forefathers, the streets in this area were named in honour of the city's previous mayors.

One of the most influential of the city's early businessmen in the late 19th century was William Marsh. He was born in 1837 in Crewkerne, Somerset, England.

In December 1862, he left England for Queensland on the ship "Golden City", which arrived in Brisbane.

He travelled to Australia with two close friends named Seaward and Genge. The three had been employed in a London firm, Leaf Sons and Co.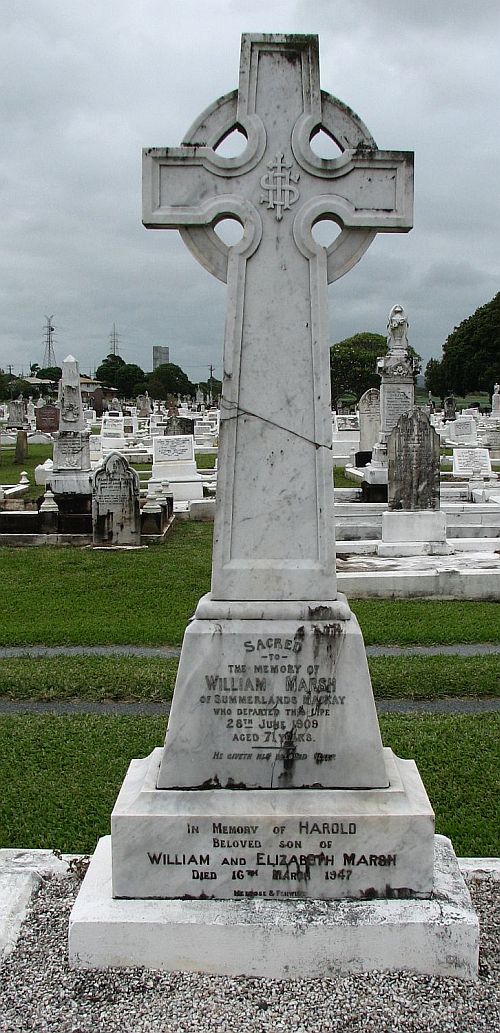 Headstone of William Marsh in Mackay Cemetery.
(Glen Hall Collection, March 2008)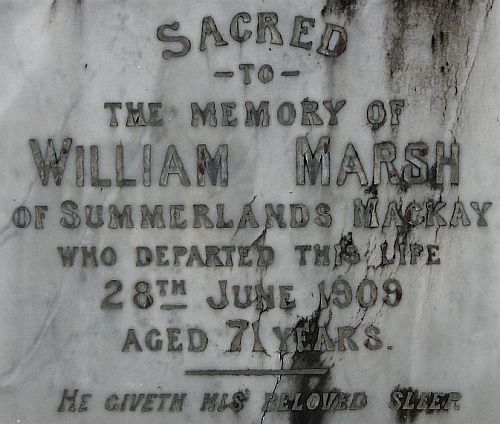 Monumental Inscription of William Marsh in Mackay Cemetery.
(Glen Hall Collection, March 2008)
After arriving in Brisbane in early 1963, they proceeded from Brisbane to Bowen when the settlement was only two years old. They purchased a small building from a Mr Warry hoping to develop their business. There was a large scope for developing a business then as Bowen served the vast pastoral districts of North Queensland. Before long, the business of Seaward, Marsh, and Genge grew to the extent of necessitating branches in neighbouring areas.

In 1865, Mr Genge disappeared presumed killed by the Aboriginals while travelling on "Burdekin Downs" station.

In 1866, the two remaining partners opened a branch on the banks of Ross Creek in Townsville, which was operated under the name of Clifton and Aplin. Mr Aplin had previously worked for the partners in Bowen.

William married Elizabeth Seaward, the daughter of William and Mary Seaward of Devonshire in 1866. They had a family of two sons and four daughters. Tragically, the two eldest died in Bowen.

In 1869, Mr Seaward left the partnership and proceeded to Sydney.

At this time, the firm was reconstructed under the title of Marsh and Warry and a branch was opened in Mackay and managed by a Mr Charles Webster.

In 1873, William Marsh sold his interest in the business to Mr Warry, left Australia and went to England where he remained for two years before returning to live in Mackay in 1875.

Upon his return, he formed a partnership with Mr Webster, who purchased Marsh and Warry's firm prior to Marsh leaving for England.

Thus, started a long business relationship and a business that survived to become one of Mackay's best known businesses.

Being a community-minded man, William Marsh served on the Mackay Town Council and was elected as the Mayor in 1878 and again in 1880.

He also served on the Harbour Board for a period.

In 1879, his wife Elizabeth Marsh died, he later remarried her sister Mary Seaward in 1881. There were no children from this marriage.

Charles Webster died in 1895 and as a result, a limited liability company was formed with William Marsh as General Manager and Chairman of Directors.

He continued to serve in this capacity until his 70th birthday.

William Marsh died on June 28, 1909, after a short illness and is buried in the old Mackay Cemetery.

His elaborate gravestone is included in the Mackay City Council's Cemetery Heritage Walk.

The company of Marsh and Webster continued to operate on the corner of Sydney and Victoria Streets until taken over by the large firm of David Jones in the 1960's.

That building was later demolished and the site of the original Marsh and Webster store is the present site of the National Australia Bank.
Sources:
Lees, Wm. (1907). Mackay Illustrated, Special Issue of Queensland Country Life. Brisbane, QLD: Outridge Printing Co. Ltd. p.17.
Heritage Walk, Mackay Cemetery; published 2000?; by Mackay City Council; pp10.
Queensland Births Deaths and Marriages, Registry of Births, Deaths and Marriages, Brisbane; Deaths 1905-1909, Microfische Sheet No. 003, Page No. 711, Registration No. 09 / 002293.
Mackay Cemetery Burial Register, Mackay Branch Genealogical Society of Qld.
Mackay Cemetery Monumental Inscriptions, Mackay Branch Genealogical Society of Qld.
Queensland Pioneers Index, 1829-1889
Queensland Federation Index 1890-1914.
---
Death of Mr. William Marsh
It is with regret that we have to record the death of Mr. William Marsh, of the firm of Marsh and Websters Limited, which took place yesterday afternoon about 5.30. The deceased gentleman who was in his seventy-second year, was only taken ill about a fortnight ago, suffering from hemorrhage (sic) of the stomach. About a week ago his life was first despaired of, and his son, Dr. Harold Marsh, was summoned from Sydney, reaching here on Sunday.
The late Mr. Marsh had resided in Mackay since 1875, but he was previously at Bowen in business early in 1863, the firm's name being Seaward, Marsh and Genge. These three young men had come out from London - from the old firm of Leaf Sons & Co. of Old Change - at the instance of the late Mr. Henry Jordan (father of Mr. H. Jordan, of the local A.J.S. Bank), who at that time was Agent-General for the Colony in London. They bought out the business of Mr. Warry, , in Bowen. Genge in 1865 was lost on Burdekin Downs, and it is supposed that he was murdered by blacks, who at that time were very bad. A few years afterwards Mr. Seaward went to Sydney, and when he died a few years ago he was a big shareholder in the firm of Farmer & Co.
The business of Clifton & Aplin (from which the later firms of Aplin, Brown & Co. and Aplin, Brown and Crayshaw, have sprung) was started by the firm in Townsville in 1866. In 1869, the late Mr. Charles Webster started the Mackay business at a branch of the Bowen business. In 1873, Mr. Marsh sold out his interest in the business at Bowen to Mr. Warry and went to England.
It was on his return in 1875 that he joined Mr. Webster at Mackay, and this was the start of the firm of Marsh and Webster, which now is known as Marsh and Websters Limited.
Mr. Marsh was born at Crewkerne, Somerset, and at the time of his death was 71 years and ten months old. He leaves three daughters and one son, one of the former being the wife of Mr. J.V. Brown. He was twice married, his second wife pre-deceasing him only three years ago. Mr. Marsh always took an active interest in public affairs, though of late years he has been allowing the younger men of the community to take a hand. He was one of the moving spirits in the establishment of the Chamber of Commerce, and every public movement for the good of the place had in him an ardent worker. He was always a cheerful man, and liked by all. Indeed it could be said that Mr. William Marsh had not an enemy in the whole district. He was an old member of the Mackay Masonic Lodge and also of the Kennedy Royal Arch Chapter. The funeral taking place this afternoon, and Masonic Brethren will take part in the last sad rites.
Source:
The Daily Mercury, Tuesday, June 29, 1909
---
If you can supply any further information or photographs on the above please contact us by EMAIL
Glen Hall
---
---
© Glen Hall 2001-2017.
last updated 17 July 2017 .
Site maintained by Glen Hall