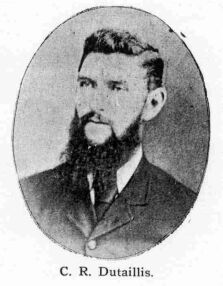 Born: Abt. June 1849, St George Hanover Square, London, Middlesex, England.
Died: 13 October 1910, Queensland, Australia, aged 61 years.
Buried: 14 October 1910 (Mackay Cemetery, C. of E. Sect. 1, Row 5, Plot 7)
Parents: Henry DUTAILLIS and Mary CRICKMORE
Marriage: 20 August 1870 to Frances Annie FANNING
Religion: Church of England
---
Charles Dutaillis was a hotel-keeper and operated Wills' Hotel on the corner of Victoria and Sydney Streets from 1874 to 1879.

He led a group of businessmen and farmers in forming the Mackay Central Sugar Manufacturing Company in 1877. He was a provisional director of this company.

He was also a director of the Mount Orange Copper Mining Company. He lit the smelting furnace at the mine for the first time on 24 March 1879. This mine however closed down later that year when the smelting became unprofitable.

Sources:

Kerr, John. (1980). Pioneer Pageant. Mackay, QLD: Pioneer Shire Council.

p. 56.

Manning, K.W. (1983). In Their Own Hands. Farleigh, QLD: Farleigh Co-op Milling Association Ltd.

p. 28.

Norris, Merle. (1996) Queensland Hotels and Publicans Index (1843-1900) (1996) Queensland Hotels and Publicans Index (1843-1900).[Microfiche]. Brisbane, QLD: Qld Family History Society.

Queensland Births Deaths and Marriages, Registry of Births, Deaths and Marriages, Brisbane; Deaths 1910-1914, Microfiche Sheet No. 002, Page No. 378, Registration No. 10 / 002291.

Mackay Branch Genealogical Society of Qld. Mackay Cemetery Burial Register,

Mackay Branch Genealogical Society of Qld. Mackay Cemetery Monumental Inscriptions.

Queensland Pioneers Index, 1829-1889

Queensland Federation Index 1890-1914.
---
PERSONAL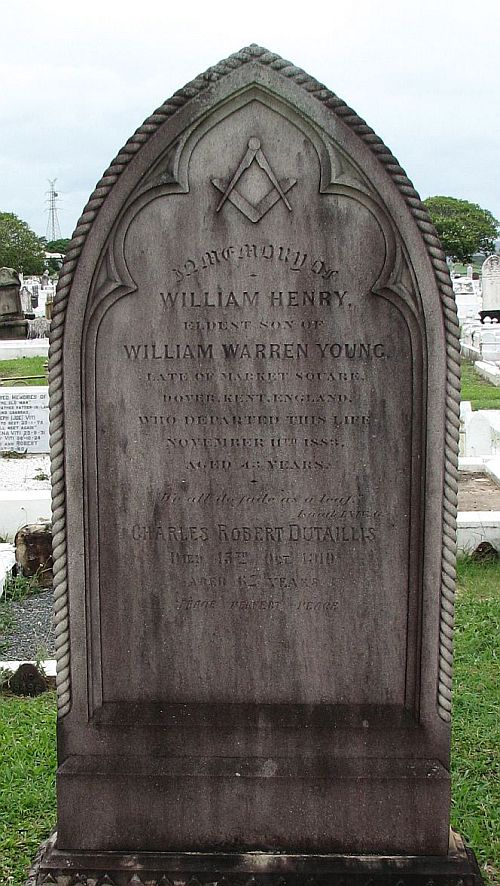 Headstone with Inscription for Charles Dutaillis.
(Glen Hall Collection, March 2008)
In the death of Mr. Charles Robert Dutaillis, which we regret to have to chronicle this morning,
Mackay has lost one of its earliest residents in the district, and one who has watched its development for over 36 years.
The sad event, which was not entirely unexpected, occurred yesterday afternoon at 3 o'clock, at the family residence, on the Nebo Road. In the early days the late Mr. Dutaillis was the proprietor of the old Wills' Hotel, the structure that was subsequently destroyed by fire during the nineties. Later on he and Mr. Fred Black went into partnership, and conducted a store at the corner of Gregory and Victoria Streets, under the style of Dutaillis and Black. Some time later he went into business on his own account as auctioneer and general commission agent, a calling he followed up to but a few years ago.
In the early days the late Mr. Dutaillis was a prominent Oddfellow, his name figuring amongst the list of presiding officers in the Mackay Lodge during the years 1871-76. In later years, however, he withdrew from the Order. He was closely associated with the mining interests of Mackay, retaining up to his death the position of secretary of the Mt. Orange Copper Company.
Of a genial disposition was "Charlie," as he was more familiarly termed by his associates, and many were the humorous experiences he could relate of the early life on the banks f the Pioneer. He leaves a wife and two sons, Mr. Robert Dutaillis, now employed by Mr. F. Black and Mr. Charles Dutaillis, of Lamberts Ltd., also a married daughter residing in the south. The deceased gentleman had not reached the allotted span, his age being only 63 years. We feel sure we are voicing the sentiments of the whole community in extending our sympathy to the relatives of deceased. The funeral takes place this afternoon, at which the Masonic fraternity - of which he was a member - will attend.
Source:
The Daily Mercury, Friday, October 14, 1910.
---
Other Sources:
Email from Patricia Blundell 15 May 2009.
---
If you can supply any further information or photographs on the above please contact us by EMAIL
Glen Hall
---
---
© Glen Hall 2001-2017.
last updated 17 July 2017 .
Site maintained by Glen Hall.