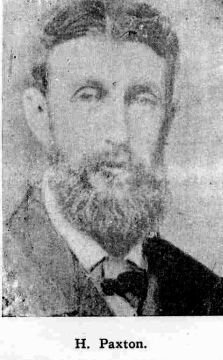 Born: Abt. 1844.
Died: 19? August 1887 (Collingwood, Melbourne, Victoria) aged 43 years
Buried: 22 August 1887, Melbourne General Cemetery.
Parents:
Marriage: 1 November 1876 to Mary Ann CROSS
Religion:
---
William Paxton originally settled in Mackay in 1874 as the manager of W.H. Sloan and Co. He formed own company of W.H. Paxton and Co. and took over the company of W.H. Sloan of Melbourne and Sydney in 1876. Paxtons were well known wholesale merchants, shippers, insurance, stock and and station and general agents. The company was an important link in the development of Mackay especially in the sugar boom of the 1880's.
He was also a director of the Mount Orange Copper Mining Company formed in 1877. This mine opened smelting in 1879 however closed down later that year when the smelting became unprofitable.
Was a shareholder in the Mount Britten (Britton) Goldfield Company Limited which was registered as a company in 1882.
---
Death Notice
Death - Paxton on the 19th? instant at Collingwood, Melbourne, William Henry Paxton aged 43 years.
Source:
Mackay Mercury , August 23, 1887.
---
Death of Mr. Paxton
Many of the Mackay residents will hear with surprise and regret at the death of W.H. Paxton of the firm of Paxton & Co., Mackay.
This gentleman has for sometime been associated with this town and district, having originally come here in 1874 as the manager for Messrs Sloan & Co.
During his long residence here he made many friends both as a private gentleman and as a business man.
The flags over the A.U.S.N. Coy's offices and on the steam tenders in the port were hung half mast yesterday out of respect to the deceased gentleman.
Source:
The Mackay Mercury, Tuesday, August 23, 1887.
---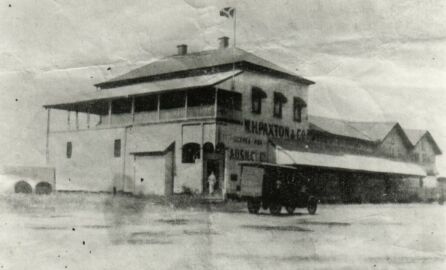 Paxton's Warehouse on the banks of the Pioneer River built circa 1899. This building still exists today.
---
Sources:

The Daily Mercury. (1912). The Jubilee of Mackay, 1862-1912 Fifty Years, Mackay QLD: The Daily Mercury.

p.5.

Kerr, John. (1980). Pioneer Pageant. Mackay, QLD: Pioneer Shire Council.

p. 55, 56, 66, 103, 110, 115.