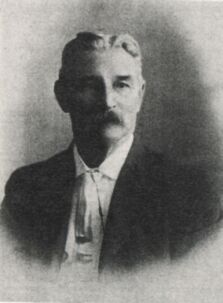 Born: 1847 (Leuchars, Fife, Scotland)
Died: 26 October 1926 (Mackay, Queensland) aged 79 years.
Buried: 27 October 1926 (Mackay Cemetery, C. of E. Sect. 1, Row 3, Plot 20)
Parents: John Young BLACK and Sarah Elisabeth HARRISON
Marriage: 26 April 1882(Queensland) to Jean Fleming MYDDLETON.
Religion: Church of England

---
Henry Lindesay Black was born in 1847 in Fife, Scotland and after receiving his education emigrated to Australia in 1863.
He settled on a station near Rockhampton where he gained experience and stayed 7 years.
He then moved to the Mackay region where he settled in 1874 and took charge of Hamilton Station.
He remained connected with pastoral pursuits until 1881 when he became a commission agent and auctioneer, a business he continued to follow for the rest of his life.
He took an active interest in local affairs and was first elected Alderman in 1886 and Mayor in 1888.
He was gazetted a Magistrate of the Colony in 1869.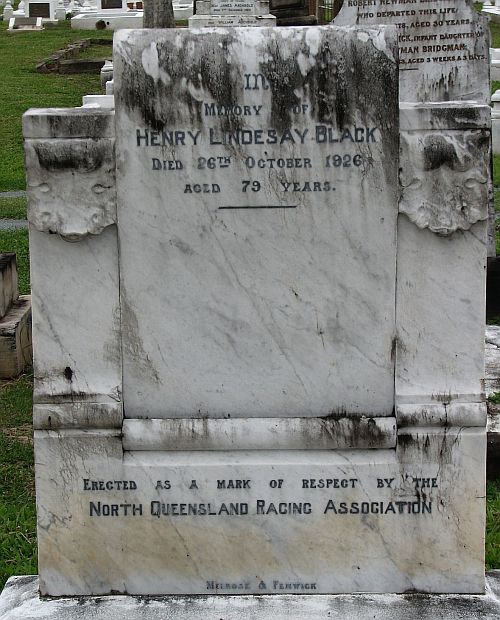 Henry Lindesay Black's Headstone at Mackay Cemetery.
(Glen Hall Collection, March 2008)
Henry Lindesay Black was on the Hospital Committee and in 1883 became secretary of the Mackay Turf Club.
Hew was also on the Separation committee and School of Arts committee, and was connected with any public movement of any consequence.
In 1882 he married Jean Flemming MYDDLETON, the eldest daughter of Mr. Frank MYDDLETON and Christine FRASER of Victoria. Their eldest child and only daughter, Elizabeth Lindesay Black (Nellie) was born on 5 March 1883. Four sons followed, Francis Henry Lindesay Black (Frank) on 5 January 1885 , Archie Lindesay Black on 18 May 1887, George Harrison Lindesay Black on 16 February 1891 and Hugh Lindesay Black on 19 April 1894.
Mrs. Jean Black died on 7th May 1894 aged 38 years and her only daughter Nellie, cared for the family at the family home, "Fryerne", on the Pioneer River near the Racecourse Mill.
Miss Nellie Black married Mr Lionel Denman. Their son and daughter-in-law, Lionel and Barbara Denman, were still living at the family home at "Fryerne" in 1981.
In the late 1870's, Mr Henry James Wallace, Henry Lindesay Black's brother-in-law, commenced an auctioneers and commission agents business in conjunction with "Livery Stables and a Horse Bazaar". Mr Wallace was soon joined by Henry Lindesay Black and another brother-in-law, Mr Frank Myddleton.
Mr Wallace inaugurated a daily coach service between Mackay and Walkerston in 1881. In July 1885 Mr Wallace withdrew his partnership. Henry Lindesay Black continued the auctioneer's agency, with the livery stable being discontinued in 1915. Regular livestock auction sales were conducted at the rear of the premises at 75 Victoria Street until a municipal saleyard was established at the western end of Victoria Street.
In 1912, Mr Black re-built the family home "Fryerne" , after the previous home had burnt down the year before.
Henry Lindesay Black died at the age of 79 in 1926. He was buried next to his wife in the Mackay cemetery on 27th October 1926.
Mr Ian Lindesay Black, son of "Chubb" Henry Lindesay Black, who in turn was the son of Archie Lindesay Black is currently a director of Blacks Real Estate in Mackay. Emma Lindesay Black, the daughter of Ian is the fifth generation of the Black Family to be associated with Blacks Real Estate in Mackay.
Sources:
The Daily Mercury, Monday, July 20, 1981.

Genie Gossip; Mackay of Genealogical Society of Queensland; Issue no. 76, September 1995.

Mackay Cemetery Burial Register, Mackay Branch Genealogical Society of Qld.

Mackay Cemetery Monumental Inscriptions, Mackay Branch Genealogical Society of Qld.

Queensland Births Deaths and Marriages, Registry of Births, Deaths and Marriages, Brisbane; Deaths 1925-1929, Microfische Sheet No. 001, Page No. 137, Registration No. 1926 / 004393.

International Genealogical Index ; www.familysearch.org
Queensland Pioneers Index, 1829-1889
Queensland Federation Index 1890-1914
---
If you can supply any further information or photographs on the above please contact us by EMAIL
Glen Hall
---
---
© Glen Hall 2001-2017.
created 09 January 2003.
last updated 17 July 2017 .
Site maintained by Glen Hall