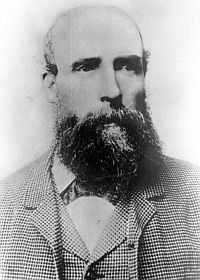 Born: 22 July 1845 (Elgin, Moray, Scotland)
Died: 17 February 1929 (Townsville, Queensland) aged 83 years.
Buried: aft 17 February 1929 (West End Cemetery, Townsville, Queensland)
Parents:
Marriage: 1867, Mary Ann Mainland (1832-1915)
Religion: Presbyterian

---
Early-Day Citizen
Celebrates his 83rd Birthday
Mr. William Robertson, who reached his 83rd birthday on Sunday last (says Townsville "star" of July 24) is one of Townsville's identities, whose erect figure and powerfully built frame have long been familiar to business men and others in the city.
Born in Elgin, Scotland, the son of a mill-owner and millwright, he spent his early years of his youth following the engineering trade in some of the chief cities of Scotland and also spent some time in Belfast, finally finishing in the well-known works of Bertrams Ltd., Edinburgh.
Deciding to come out to Australia, he, with Mrs Robertson and child - now Mrs. McKay - Brisbane, sailed with the ship called the Light Brigade and landed in Brisbane in 1869. Continuing his journey to Rockhampton, he worked for a short time at Gracemere, but one day, strolling down to Rockhampton wharves, he saw some machinery lying there, and a talk with the owner led to his being engaged to go out to the Barcoo to a station called Ennisskillen, then owned by Mr. Allen, who was the second man to settle in that far Western country. To reach his destination, he had to ride for eleven days on horseback. Some time later Mrs. Robertson and her baby followed, they being the first woman and child to make the trip. Their means of conveyance was a bullock dray, and as a result of the trying experience they had to spend some time in the hospital at Springsure.
Returning to the coast, Mr. Robertson next went to Maryborough, and for a time was in the works of Walker and Co. Ltd. During this period, Mr. Robertson with the aid of a lad only, built a mill on Tinana Creek, working night and day to have it ready for the crushing.
This partnership having been dissolved, Mr. Robertson next came to Mackay, where he opened the Victoria Foundry, and while there he built several bridges, among others being one over Sandfly Creek, one over Barnes Creek, and the two ends of the Sydney street bridge.
Having decided to come still further north, he removed his plant to Townsville, 400 tons being shipped in the Dove and a small schooner, several trips being taken to convey the plant. These cargoes were land at a wharf in Ross Creek adjacent to what was to be the site of the third venture, and is now the well-known Victoria Foundry. This was in 1892. Mr. Robertson is here served by a loyal body of workmen, who recognise the fairness and goodness of their head, anfd the best of relationships have always existed in the works.
Although Mr. Robertson has suffered a good deal lately from bodily weakness, his mind is wonderfully clear and his rememberance of early days very vivid. The gleam of his eye assures the listener that they were strenuous and crowded days. He is happy in the society of his second daughter, Mrs. Whitson, whose care and attention have been constant during his late times of illness, while his son-in-law, grandson, and nephew are engaged in the business. In many unobstructive ways he has always been a keen supporter of many philanthropic and religious movements, and is a senior elder in the local Presbyterian Church.
Source:
The Daily Mercury, August 1928
---
WILLIAM ROBERTSON, Proprietor of the Victoria Foundry, Victoria street was born in Elgin, Morayshire, Scotland, in 1845, and there received his education and business training. For some time he worked in several large establishments in his native place, and was for three years prior to his departure for the colonies foreman in the business house of John Stewart and Sons, Irvine, Ayrshire. He arrived in 1869 in Australia and landed in Brisbane. Proceeding to Maryborough, and thence to Rockhampton, he became a carpenter and worked at various occupations enduring great hardships. In 1871 he secured employment with John Walker and Co. of Maryborough and some time afterwards started as the leading partner in Bowden and Co., the Vulcan foundry of that town. In 1871 he sold out his interest in this, and settled in Mackay to lay the foundation of his present large business. In this he started in the smallest way, and with very little capital except skill and perserverance. Mr Robertson's works give employment at times to as many as fifty hands, while at the present moment, notwithstanding the general depression, twenty-five to thirty men are employed. He has been thrice elected an alderman and is a member of the Chamber of Commerce. He is a committeeman of the Caledonian Association, of which he has been Vice-President.
Morrison, W. Frederic, (1888). The Aldine History of Queensland Illustrated, Volume 2. Sydney, NSW: The Aldine Publishing Company.
---
William Robertson & Company Limited, Victoria Foundry
William Robertson was born in Elgin, Scotland on the 22nd of July 1845.
The son of a mill owner and mill-wright, he naturally became involved in the engineering business. He worked in some of the main engineering works in Scotland including Bertram's Ltd., Edinburgh, and for some time in Belfast, Ireland. In 1867 he married Mary Ann, a native of Eynhallow, Orkney Isles.
In 1869, he emigrated to Australia, arriving with his wife and daughter on the ship "Light Brigade" and disembarking at Brisbane. He proceeded to Rockhampton and worked at Gracemere. He soon travelled to the newly settled Barcoo district and here he erected a woolworking machinery plant for Mr. Allen of Inniskillen Station. These were pioneering times and it took him eleven days to ride there. His wife and child arrived by bullock waggon later.
From here he went to Maryborough where he worked for Walker & Co. Ltd. and at the Vulcan foundry.
In 1872, he moved with his family to Mackay where he opened his own engineering and foundry works in Victoria street. He worked for 20 years doing important work in the sugar and other industries.
In 1892, he moved his works to Townsville. This was no mean feat as it took the steamer "Dove" and a small schooner, several trips to shift his 400 tons of plant. He landed at the mouth of Ross River, (now South Townsville) and erected his plant there. Operating as William Robertson & Co. Ltd. VICTORIA FOUNDRY, he carried out a lot of work for the Queensland Government Railways. He also catered for the cattle, mining, sugar, timber, and marine industries of North Queensland. The company's engineers, boilermakers, blacksmiths, and iron and brass founders, built rolling stock, bridges, boilers and steam engines etc. By being directly connected to the railway network and situated on the Ross River, he had a savings advantage in cartage over his competitors.
In 1905 he became a Justice of the Peace. On 28th July 1915 his wife Mary died, aged 78 years. The mother of their two daughters, she was remembered as a deeply religious and charitable woman. He continued working and was known to have a cordial relationship with his employees. He was a senior elder in the Presbyterian Church and a philanthropist. He was a tall bearded man, and even in old age with his head stooped, he still towered over the average man. His son-in-law Mr. J. Witson, a grandson, and a nephew all worked in his business. In 1926 he underwent a serious operation and after this his health deteriorated. At 9pm. on Sunday 17th February 1929, he died of Pneumonia aged 83 years. He must have been one of Australia's oldest working engineers.
Pughs Almanac 1911 & 1926.
Queensland Post Office Directory 1889-1945
North Queensland Herald 7/1/1907 p.1 Advertisement
The Townsville Daily Bulletin 30/7/1915. Mary Robertson Obituary
The Townsville Daily Bulletin 18/2/1929 p 6,7 Funeral notice.
The Townsville Daily Bulletin 19/2/1929 p. 7 Obituary / photo
The Townsville Daily Bulletin 22/2/1929 Notice of probate re will
Gwen Price (Atherton Library)
John Weir (Family History Assoc. Townsville)
Duncan Ray (1996) unpublished.
---
Queensland Pioneers Index, 1829-1889
Queensland Federation Index 1890-1914.
Townsville Headstones, Queensland, Australia , http://www.myrasplace.net/hstones/htowns14/htm , downloaded 8 March 2008
---
If you can supply any further information or photographs on the above please contact us by EMAIL
Glen Hall
---
---
© Glen Hall 2001-2017.
created 07 July 2004.
last updated 17 July 2017 .
Site maintained by Glen Hall