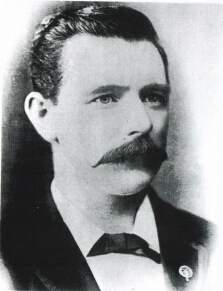 Born: Abt. 1854, Roscommon, Ireland
Died: 21 June 1899 (Queensland, Australia) aged 45 years.
Buried:
Parents: James HYNES and Elizabeth MOYLAND
Marriage: 4 June 1881 (Queensland) to Catharine Agnes READY
Religion: Roman Catholic

---
Patrick Hynes was born in Roe Common, Ireland where his family had interests in the local newspaper and hotels. Patrick often told of his experience as a schoolboy, being frequently caned by his School teacher, who had a dislike for Catholics and Publicans, and with each stroke of the cane, the teacher would spell out the word P.U.B.S.
Patrick was an accountant with the Farleigh Mill. He next entered the hotel business and they owned the River View Hotel (later known as the Leichhardt) from 1881 to 1885 and then the Cosmopolitan Hotel (later Molloy's) from 1885-1892.
In 1895 he was successful in becoming the Mayor of Mackay for one term.
He later owned a bakery in Carlyle Street from 1896-1897.
Patrick died on 21st June 1899 at the young age of 45 years, leaving his wife Kate with six children to rear, the youngest being only 4 months old.
One of Patrick's sons Maurice Patrick ( known as "Mossy") Hynes became a member of the Queensland Parliament.
---
Information Sources:
Queensland Births Deaths and Marriages, Deaths 1895-1899, Page No. 559, Registration No. 99/003970.
Queensland Pioneers Index 1829-1889
McDonald, Carmel .(1994). Shamrocks among the Gumtrees, Mackay, QLD: Carmel McDonald. p 76-79.
Queensland Pioneers Index, 1829-1889
Queensland Federation Index 1890-1914.
---
If you can supply any further information or photographs on the above please contact us by EMAIL
---
---
© Glen Hall 2001-2017.
page created 07 July 2004.
last updated 17 July 2017 .
Site maintained by Glen Hall.