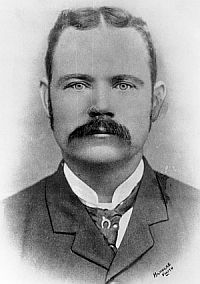 Born: 1855 (Hammel, Aarhus, Denmark)
Died:
Buried:
Parents: David Seidelin Mortensen & Karen Nielsen
Marriage: 8 October 1881 to August Wilhemina BANKIE
Religion: Lutheran
Education:
---
Niels Christian Mortensen migrated from his family home in the village Hammel, county of Aarhus in Denmark in 1855. He came to Bowen Queensland 12 July 1873 as passenger no 254 on the three mast Hamburg (German) ironship Herschel, (Sloman & c o 814t). Capt E.A. Freiderichs, and Surgeon Superintendant was none other than Dr Axel Kortüm, later famous doctor at the Palmer River goldfield.

He had previously been engaged in farming pursuits and learned from his father the art of cabinetmaking. He settled and worked hard and entered the cordial-making business in Bowen not long after his arrival. He served two and a half years with F. Merce, and at the end of that time purchased that gentleman's business, which he carried on for two years.
He then settled in Mackay, and bought the business of Patrick McCluskey, who was the Proprietor of a Steam Aerated Water and Cordial and Soap Factory in Peel Street, Mackay. He increased the business by the addition of a new branch in Walkerston.
In 1882 he imported a complete plant for making ice by the ether process. He then added to his works a saw-bench and circular-saw for cutting firewood, and in 1887 commenced the manufacture of soap, for which he has now established a fair demand. when he was interviewed for the Aldine history of Queensland in 1888.

Niels Christian Mortensen was elected an alderman in 1886, and became Mayor of Mackay in 1893. He became a Freemason, Temple Lodge 318 IC Mackay 18 May 1881, he was for many years on the Hospital Committee, and, in addition to being a mason he was also a Trustee of the I.O.O.F., M.U. (Independent Order of Oddfellows, Manchester Unity).
Niels was joined in Queensland by at least two siblings Victor Emanuel Mortensen (born 11 NOV 1860, Storring parish, Aarhus, Denmark he died in Queensland in 1936) and a sister Pandora Mathilde Mortensen (b 4 Jul 1869 Hammel parish, Skanderborg county, Denmark. died in Qld 1893)
Sources:
Hamburg departure lists (Hamburg City Historical Archives) and
Queensland arrival list (QSA) from Hamburg and English ports.
Jensen , Robert Orsted, Email, 8 April 2005, 30 November 2009.
John Oxley Library Image No. 15038r
Morrison, W. Frederic, (1888). The Aldine History of Queensland Illustrated, Volume 2. Sydney, NSW: The Aldine Publishing Company.
Queensland Pioneers Index, 1829-1889
Queensland Federation Index 1890-1914.
---
If you can supply any further information or photographs on the above please contact us by EMAIL
Glen Hall
---
---
© Glen Hall 2001-2017.
page created 3 August 2003.
last updated 17 July 2017 .
Site maintained by Glen Hall.