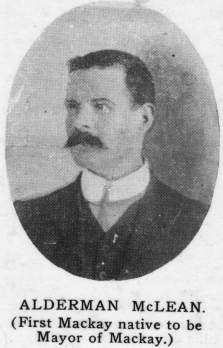 Born: 1867 (Mackay, Queensland)
Died: 17 January 1949 (Mackay, Queensland)
Buried: 18 January 1949 (Mackay Cemetery, Presbyterian Section)
Parents: John McLEAN & Mary BROWN
Marriage: 17 June 1891 (Queensland) to Margaret Angus ANGUS
Religion: Presbyterian
---
Alexander McLean held the distinction of being the first local born Mayor of Mackay. The McLean family also resided in Sarina and managed the National Hotel in Sarina between 1914 and 1916.

Information Sources:

The Daily Mercury. (1912). The Jubilee of Mackay, 1862-1912 Fifty Years, Mackay QLD: The Daily Mercury.

p.43.

The Daily Mercury, Wednesday, November 28, 2007.
---
If you can supply any further information or photographs on the above please contact us by EMAIL
Glen Hall
---
---
© Glen Hall 2001-2017.
page created 08 July 2004.
last updated 17 July 2017 .
Site maintained by Glen Hall.