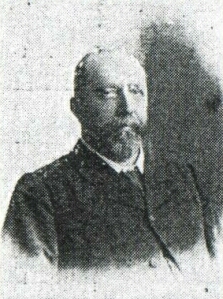 Born: 20 December 1850 (London, England)
Died: 23 December 1910 (Mackay, Queensland) aged 60 years.
Buried: 24 December 1910 (Mackay Cemetery, C. of E. Sect. 2, Row 1, Plot 1)
Parents:
Marriage: 1 December 1880 (Queensland) to Sarah Kingdom TOZER
Religion: Church of England

---
OBITUARY
In the death of Mr. Charles Reader Klugh, which took place last Friday evening at his residence, Park View, Mackay has lost one of its best and most highly respected citizens. Although it is only about eight years ago that he came to this district to take over the management of Messrs. W. H. Paxton & Co., he succeeded in making his mark in business and social circles in so favourable manner that his name will long be remembered among those who have deserved the esteem of the community in which his lot was cast.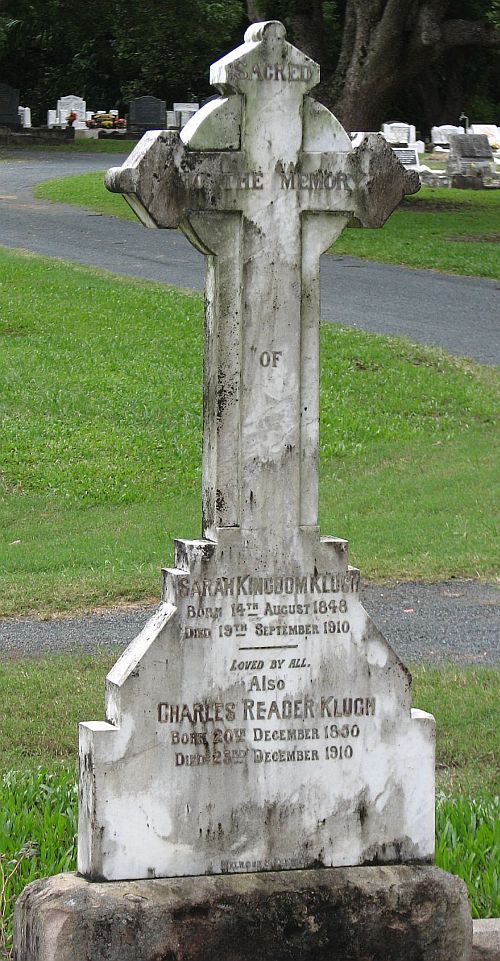 Charles Klugh's Headstone at Mackay Cemetery.
(Source: Glen Hall Collection, March 2008)
The deceased gentleman and his wife, who passed away only a few weeks ago, were intimately associated with the work of the District Hospital, Mr. Klugh, as its President, having, in conjunction with his wife, always shown an active and constant interest in the working of that institution.
The deceased gentleman, who was an Alderman of the Town Council, and had also occupied the position of Mayor and President of the Chamber of Commerce, was sixty-two years of age, and had been a resident in the State for nearly forty years, during which time he was occupied in commercial and pastoral pursuits.
He was born in London, and educated at Christ's Hospital, generally known as the Blue Coat School.
On Friday last he did not go to his office, feeling somewhat indisposed, and during the afternoon his medical attendant was summoned, and though he appeared to rally for a time he gradually sank and passed away at about ten o'clock at night.
The funeral took place on Saturday afternoon, and was attended by a large number of friends. Messrs. H. Klugh and St. C. Bernard acted as chief mourners, with Messrs. J. Michelmore, C. Gadsby, F.H. Smith, J.E. Joseph, J.C. Penney and H.L. Black as pallbearers, and the Rev. F. de M. Tubman performed the services at the grave side, where the Masonic burial service was also read by Mr. W.G. Hodges.
Source:
The Mackay Standard, 26 December 1910.
---
Other Sources:
Mackay Branch Genealogical Society of Qld. Mackay Cemetery Burial Register.

Mackay Branch Genealogical Society of Qld. Mackay Cemetery Monumental Inscriptions.

Queensland Births Deaths and Marriages, Registry of Births, Deaths and Marriages, Brisbane; Deaths 1910-1914, Microfische Sheet No. 003, Page No. 745, Registration No. 11 / 002480.
Queensland Pioneers Index, 1829-1889
Queensland Federation Index 1890-1914.
---
If you can supply any further information or photographs on the above please contact us by EMAIL
Glen Hall
---
---
© Glen Hall 2001-2017.
page created 01 August 2003.
last updated 17 July 2017 .
Site maintained by Glen Hall.