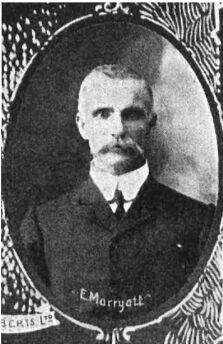 Born:
Died: 25 October 1948
Buried: Aft. 25 October 1948 (Cooroy Cemetery, Queensland)
Parents:
Marriage: 18 July 1888 (Queensland) to Lydia Elizabeth NORRIS
Religion:

---
It is not clear when Edward James Marryatt came to the Mackay area but he was living on the Mount Britton goldfields after the rush to the diggings started there in 1881.
"A small suburb of the main settlement had sprung up near the mines at the head of Nuggety Gully. Mr. Dick Absolon had built a hotel there and Mr. E. J. Marryatt (later the Managing Director of Lamberts in Mackay) had built a store and Post Office. Bert remembered an incident which occurred one when there was a plague of fleas on the field. Mr Marryatt could not get to sleep so he made a large calico bag with ties at the rope end. He took all his clothes off, climbed inside and tied it over his head thus enjoying a good night's rest. When the mailman, Mr James Perry, called the next morning at daylight he knocked on the door and waited some minutes without response. At last he heard a muffled voice and found that Mr. Marryatt was not able to free himself from the bag It took him a long time to live down that incident".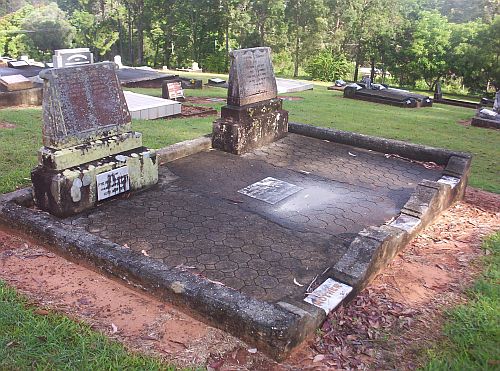 The Marryatt Family Plot, Cooroy Cemetery, Queensland.
(Source: Carol Stanley, 2006)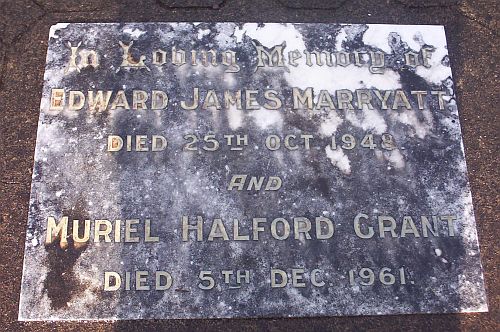 Close-up of the Monumental Inscription
(Source: Carol Stanley, 2006)
E.J. Marryatt started off business in Mackay with Thomas Pearce in a firm called "Pearce and Marryatt" that traded till about 1890. Following sale of James Thornber's business to Samuel Lambert in 1890 he bought a 15% share in the company. By 1896 he had a 25% share in Lamberts. In 1905 the partnership of Lambert and Marryatt was dissolved with Samuel Lambert forming a company called Lamberts Limited. Mr Marryatt became managing director of the company until he left in 1916.
He was residing in Stanley Terrace, Taringa, Brisbane at the time after son Halford William James Marryatt was killed in the Great War in 1917.
Sources:

Ford, Lyall R. (1984) Below These Mountains - A History of the Mills Family of Mount Britton, Mackay, 1984. page 21.
Hamilton, Ian. (2003). Lamberts - The Economic Stores. Mackay, QLD: Ian Hamilton. p. 18, 32, 47.
Australian War Memorial, Roll of Honour Submissions, AWM 131
Commonwealth War Graves Commission, Memorial Register No. 29, The Ypres (Menin Gate) Memorial. (record for son ).
Registrar General, Registry of Births, Deaths and Marriages, Department of Justice and Attorney General, Queensland Government. Queensland Births Deaths and Marriages; Deaths 1890-1894, Microfische Sheet No. 007, Page No. 1877, Registration No. 91 / 00799, (birth registration of son Halford William James Marryatt).
Registrar General, Registry of Births, Deaths and Marriages, Department of Justice and Attorney General, Queensland Government. (2000) Queensland Pioneers Index 1829-1889 – Index to Births, deaths and Marriages in Queensland 1829-1889. [Computer Program]. Brisbane, QLD: Queensland Government.
Internment.Net, Cemetery Transcription Library. Cooroy Cemetery - Queensland, Australia. http://www.internment.net/data/aus/qld/noosa/cooroy/cooroy.htm , downloaded 19 November 2004.
Queensland Pioneers Index, 1829-1889
Queensland Federation Index 1890-1914.
---
If you can supply any further information or photographs on the above please contact us by EMAIL
Glen Hall
---
---
1708.
page created 11 August 2003.
last updated 17 July 2017 .
Site maintained by Glen Hall.