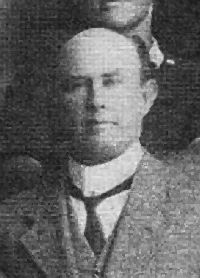 Born: 23 October 1879 (Mackay, Queensland)
Died: 29 September 1936 (Mackay, Queensland) aged 56 years.
Buried: 30 September 1936, (Mackay Cemetery, R.C. Sect.18, Row. 18, Plot 27)
Parents: Michael Joseph FAY and Bridget Cecilia CRAMPTON.
Marriage: 30 April 1917 to Eva Nancy THORNBER daughter of James Henry THORNBER and Elizabeth Annie HESS
Religion: Roman Catholic

---
Obituary
Mr George Bergin Fay
After an ailment extending over about two years Mr. George Bergin Fay passed away in a private hospital in Mackay yesterday afternoon, at the age of 56 years. Probably one of the best-known identities of the city during the last half century, the late Mr. Fay was Mayor for two years, and a municipal member for six, while he was particularly well known in all branches of local sport.
A native of Mackay, the late Mr. Fay became known early in the commercial community when he established an auctioneering business and commission agency in Victoria Street in Messrs. Wright & Wright's buildings.
At that time his sister, the late Miss Annie Fay, was licensee of the Metropolitan hotel, which was built originally for their father, the late Mr. Michael Joseph Fay, and the licence of which remained with the family after his death.
After a few years in business the late Mr. Fay became associated with his sister, Miss Catherine Fay, who still resides in Mackay, in conducting Wills' hotel. Prior to selling this business some years later, Mr Fay married Miss Eva Nancy Thornber, who with their son, George, are left to mourn their loss.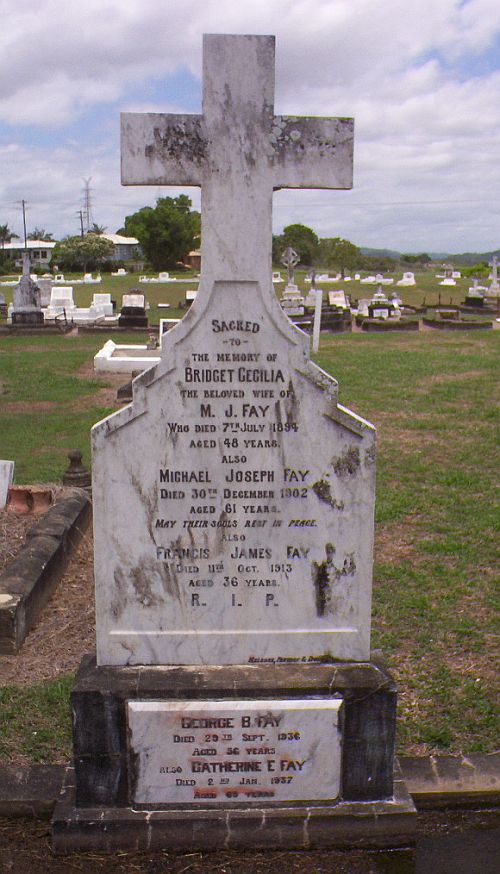 The Headstone in Mackay Cemetery with two Mayors, Michael Fay and his son George Fay.
(Glen Hall Collection, October 2004)
Having disposed of Wills' hotel, Mr. and Mrs. Fay went to live in Sydney, residing at Mosman. Five or six years ago, however, on the expiry of Mr. Fred Haywood's lease of the Metropolitan hotel, they returned to Mackay and took over the hotel, which had remained in the possession of the family since its construction. Mr. Fay remained as holder of the licence until the time of his death.
The deceased gentleman was a man of exceptional talent and personality. His was a particularly happy disposition at all times, and his scrupulous honesty in all dealings earned for him an enviable reputation in business.
Of the Roman Catholic faith, he was always a practising churchman, and was only too willing to lend a helping hand when the church required it. For some time he was secretary of Mackay branch of the H.A.C.B. Society, and took an active part in Hibernian turf meetings.
While a young man, the late Mr. Fay was particularly well known in practically every branch of sport locally. He was a prominent cricketer, having represented Mackay in several inter-city matches against Rockhampton and Townsville, and a footballer of some merit. His flair for tennis was encouraged by his father who had a court constructed between the Metropolitan hotel and the present Vacuum Oil Co. depot. It was on this court that the old Metropolitan club was established. Besides being a swimmer of no mean note, he was formerley a member of Mackay Turf Club committee and one of the trustees of the racecourse, and was judge at the Hibernian Club meetings for a number of years.
In later years he took up bowling and besides being a familiar figure on Mackay greens, he was the winner of numerous trophies during his period of residence in Sydney. He was a great sailing enthusiast and in early years was a prominent member of Mackay Regatta Club, holding office at various times as vice-commodore and rear-commodore respectively.
Since his return from Sydney he had expressed the intention of laying down a private bowling green on the site where his father had constructed the tennis court, alongside the hotel. However failing health caused the postponement of this objective, and his demise came without his intention having been fulfilled.
In addition to his sporting activities the late Mr. Fay also was a keen townsman, and took an active part in local government matters. First elected to Mackay Municipal Council as East Ward representative in 1911, he held aldermanic office continuously until and including the year 1916, while for two years - in 1914 and 1915 - he was Mayor of the city.
As stated, the late Mr Fay was born in Mackay. His father, when building the Metropolitan hotel, had a house built adjacent to the inn for the family use and George Fay was born in the house. His widow was also born in Mackay. Mr. Fay's father, the late Mr. M.J. Fay, was Mackay's first town clerk, and coincidentally Mrs. Fay's father was a subsequent town clerk. Strangely enough Mr. M.J. Fay and Mr. Thornber died within a day of each other; it was often referred to as a strange coincidence that both Mr. and Mrs. Fay's fathers, the first and subsequent town clerk, should pass away within a few hours of eachother.
Besides the widow and son who are left to mourn their loss, the late Mr. George Fay is survived by a sister in Mackay, Miss Catherine Fay, another sister in Brisbane, Mrs. Mary Bruce, a brother , Joseph, in Brisbane, and another brother, William in Sydney.
Source:
The Mackay Daily Mercury; Wednesday September 30, 1936
---
Information Sources:
Mackay Cemetery Burial Register, Mackay Branch Genealogical Society of Qld.
Mackay Cemetery Monumental Inscriptions, Mackay Branch Genealogical Society of Qld.
Mackay Family History Society Archives
Queensland Pioneers Index, 1829-1889
Queensland Federation Index 1890-1914.
---
If you can supply any further information or photographs on the above please contact us by EMAIL
Glen Hall
---
---
© Glen Hall 2001-2017.
Page created 15 July 2003.
last updated 17 July 2017 .
Site maintained by Glen Hall