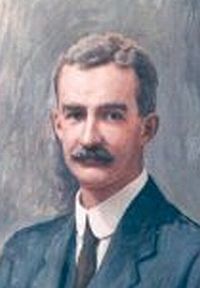 Born: 15 June 1883 (Queensland).
Died: 27 December 1969 (Brisbane, Queensland)
Buried: 27 December 1969 (Nudgee Catholic Cemetery, Brisbane)
Parents: Son of John Murtagh MACROSSAN and Bridget QUEELY.
Marriage: ? to Dorothy Josephine BROWN
Religion: Roman Catholic

---
Vincent Macrossan came from a distinguished family with a long standing in Queensland's legal history. His father John Murtagh Macrossan was the State member for the seat of Kennedy and later Townsville from 1873 to his death in 1891. He was one of the men who greatly supported the North Queensland Separation movement in the late 1800's. Vincent Macrossan had 2 brothers, Hugh and Neale who were Chief Justices of Queensland. His son John Murtagh Macrossan was also a Chief Justice of Queensland until his retirement.
Vince attended Nudgee College in Brisbane and graduated in 1899. After graduation he was appointed clerk to Crown Solicitor Charles Powers.
After being admitted as a solicitor on 5 December 1905, Vincent Macrossan commenced practice in Mackay, joining Fred Macnish in founding Macnish & Macrossan. Fred MacNish started his legal practice in Mackay in 1895. A short time later, MacNish & Macrossan moved into new premises on the site of what was, until recently the Capitol Cafe in Sydney Street. In 1906, Fred MacNish left the firm.
Vincent Macrossan became Mayor of Mackay for a one year term in 1916.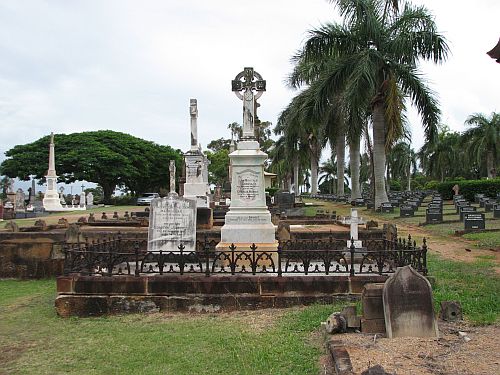 The Macrossan family plot in Nudgee Catholic cemetery, Brisbane.
(Glen Hall Collection, December 2007)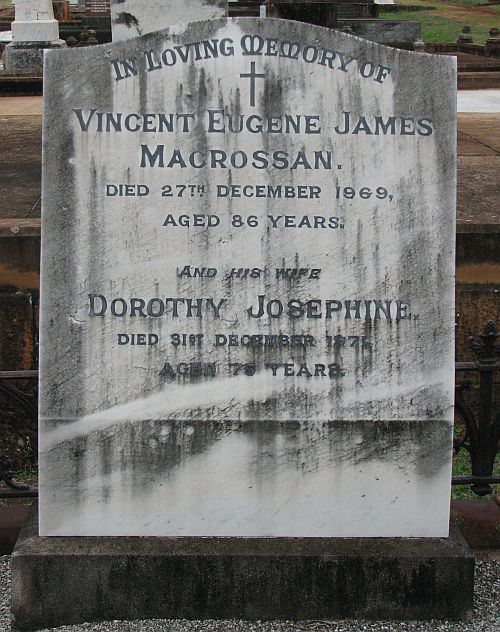 Headstone of Vince Macrossan
(Glen Hall collection, December 2007)
Bill Amiet, a returned soldier from the Great War, joined Vince Macrossan in the practice and before long the company name was changed to what it is today, Macrossan & Amiet.
Vincent left the partnership in the early 1920s and relocated to Brisbane as a partner in Macnish, Macrossan and Dowling.
In 1953, Vincent began practice under the name Macrossan & Co, which became Macrossan, Byrne & Co in 1960. Vincent was closely involved with the Queensland Law Society and was repeatedly nominated by the judges to serve on the Solicitors' Board.
Vincent Macrossan died on 27 December 1969.
Macrossan Street in East Mackay was named in his memory.
---
Information Sources:
http://www.courts.qld.gov.au/library/exhibition/shapingqld/Macrossan/Mac_13.htm
Queensland Pioneers Index, 1829-1889
Queensland Federation Index 1890-1914.
---
If you can supply any further information or photographs on the above please contact us by EMAIL
---
---
© Glen Hall 2001-2017.
page created 08 July 2004.
last updated 17 July 2017 .
Site maintained by Glen Hall.