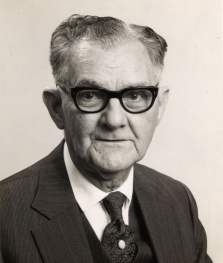 Born: 31 January 1901 in Mackay, Queensland, Australia
Died: Tuesday, January 7,1992 (Mackay, Queensland) aged 90 years.
Buried: Friday, January 10, 1992 (Mount Bassett Cemetery, Mackay)
Parents: John WOOD and Annie CHRISTIE
Marriage: Never Married
Religion: Uniting

---
Ian Wood will be remembered in Mackay for being one of the most influential of Mackay's forefathers who was a very well liked man who stood by his principles.
Ian Wood was born in Mackay on January 31, 1901. His childhood was a difficult one being brought up by his single mother after his father had deserted the family which included his sister Pansy, later a well known pianist in Mackay. To many of his friends and acquaintances he was known as "Boydie" Wood, a nickname he was given during his school years.
Ian left school and started work aged 12 as an office boy with the legal firm of S.B. Wright and Wright on December 2, 1913 for 10 shillings a week. He left his first job after seven months to earn 15 shillings a week in the Racecourse Mill office but left that job after three months to work with the firm of James Croker and Sons in Victoria Street. He rose to become paymaster and assistant shipping agent with that firm.
Later business interests included entering a partnership with George Wood (no relation) and later opened his own travel agency, the Ian Wood Travel Service, which operated until his death.
Ian Wood first entered public life when he was elected to Mackay City Council as an alderman on April 12, 1927 representing the West Ward (the city council ceased to have a ward system about 1930). Three years later on April 17, 1930, he was elected as the youngest Mayor in Australia. He would serve in all 15 years as Mackay's Mayor.
He lost office by four votes in the 1933 election but returned to the council as an alderman in the 1939 election. In 1943 he again won the Mayoralty until he was defeated in 1952. He regained a seat as an alderman in 1955 but retired in 1958. He once again stood and was elected Mayor in 1967 and held the job until 1970. He remained as an alderman on council again from 1970 to 1973.
Ian Wood was also a member of the Mackay Harbour Board for eight years as well as a member of the Mackay Chamber of Commerce for 50 years serving ten years as President.
He was elected to the Australian Senate in 1949 when the Liberal-Country Party defeated the Chifley Labor government. He went on to serve as a Senator for 28 years.
He was fondly known as the "Cycling Senator" as his bicycle was his preferred mode of transport around the city. He gained the name in the early 1960's when he opposed an increase in the government tax on cars by his own government headed by Sir Robert Menzies. His stand on the tax, and the fact that he had never owned or even driven a car, resulted in the press giving him the nickname.
He also earnt another nickname by the press of the "Rebel Senator" during his term in Federal politics because on occasions he crossed the floor and voted with the Labor opposition on matters which he considered were of principle.
Mr Wood always boasted of never having been a "yes man", a fact which he says kept him as a backbencher for the 28 years he served in the Senate.
He had an early interest in attracting visitors to the Mackay district. One of his first tasks as Mayor was the creation of garden plots in the main city streets to make the city beautiful and help attract visitors. The plan met bitter opposition from storekeepers who argued that the gardens would take away customer parking.
He was also instrumental along with Mr. George Milton the Mayor at the time in having the Town Common site nominated to become Mackay's airport. He was also instrumental in the establishment of a resort at Lindeman Island.
His greatest achievement however was the work he did in having 48,000 hectares of Eungella declared a national park in about 1940.
In 1953 he purchased "Bona Vista" estate overlooking Mount Pleasant, which belonged to his former employers, the Croker Family. The "Bona Vista" homestead was fondly remembered for its use as a reception centre, restaurant and a church over the years. The building was sold by Mr. Wood in 1990 and demolished in 1991. Ian Wood donated land to the Pioneer Shire Council between Norris Road and Annie Wood Avenue to be retained as the "Annie Wood Park" in memory of his mother.
---
Information Sources:
The Daily Mercury, Saturday, January 30, 1988.
The Daily Mercury, January 11, 1991.
The Daily Mercury, Thursday, January 9, 1992.
Queensland Federation Index 1890-1914.
---
If you can supply any further information or photographs on the above please contact us by EMAIL
Glen Hall
---
---
© Glen Halled 2001-2017.
page created 08 July 2004.
last updated 17 July 2017 .
Site maintained by Glen Hall.