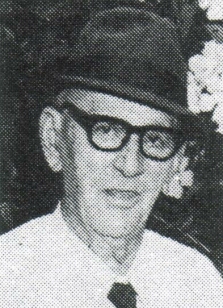 Born: 18 December 1891 (The Palms, Walkerston, Queensland)
Died: 18 November 1981 (Mackay, Queensland) aged 89 years.
Buried: (Mount Bassett, Cemetery, Mackay)
Parents: George MILTON and Ellen DICK
Marriage: 25 February 1914 (Queensland) to Christina Mary Allan HAMILTON
Religion: Uniting Church

---
Death of former Mackay Mayor
GEORGE Albert Milton, the mayor who was responsible for Mackay's town common becoming the city's airport, died in Mackay yesterday.
Mr Milton, who would have been 90 in a month, was Mayor of Mackay from 1927 to 1930.
Prior to that he had acted as mayor for two years after the resignation of the then mayor, Dr. L. W. Nott.
In all, Mr. Milton served as alderman, acting mayor and mayor between 1921 and 1930.
A friend and fellow alderman of the day, Mr. Ian Wood, recalled yesterday how the council of the day was divided on the question of whether the Mackay town common should be handed over to the Civil Aviation Department for an aerodrome.
Mr Wood said the council was divided four-all on a motion moved by himself and it was left for Mr. Milton's casting vote to decide the matter in favour of the aerodrome being established.
Mr. Wood yesterday described Mr. Milton as one of the most popular mayors Mackay has had.
"He had an excellent personality. As long as he would have wanted to stand for mayor he would have held the position."
George Albert Milton was born at The Palms, Walkerston, on December 18, 1891.
He attended the Walkerston school until 1901 and when his family moved to Mackay he attended the Boys State School, where the Central School now stands.
In 1905, when he was 14, he went to work for Lamberts Store in Mackay.
Manager
He worked for Paxton and Co. and People's Cash Store until his appointment as manager of Lamberts Country Store at Marian in 1916.
He started his own grocery store in Evan Street after the 1918 cyclone and continued in business there for nine years.
He was then employed by the Mackay City Council as time keeper and wages clerk and was engaged in the costing of the city's new sewerage system.
He remained a council employee until his retirement 23 years ago.
Mr. Milton was elected a city council alderman in 1921 during the mayoral term of Mr. A. F. Williams.
He was re-elected an alderman in 1924 when Dr. L. W. Nott was mayor.
Dr. Nott contested the Federal seat of Herbert against former State Premier Mr. Theodore, and resigned as mayor to take up the position.
Mr. Milton took over as mayor until the 1927 elections when he was elected to the position.
In 1929, he unsuccessfully opposed Mr. W. Forgan Smith in the state election.
Recently, Mr. Milton recalled that during his first term as a Mackay City Council alderman the Mackay Electric Light Undertaking was opened.
The 1921-1924 council had been instrumental in securing the electricity scheme for the city, but not before a petition had been taken up by some people who were opposed to electric light
As mayor, Mr. Milton was chairman of a committee set up to raise finance for the erection of the town's war memorial and he performed the opening ceremony when it was erected at a site in the small park near the Forgan Bridge.
The memorial was later moved to Jubilee Park.
Mr. Milton was also chairman of the Mackay Fire Brigade Board when the first motor fire engine was purchased for the city.
He performed the official opening of the first Mackay golf course on the town common, the Diggers Rifle Club at the Rifle Range near Harbour Road and the first CWA rooms in a cottage near the present CWA rooms in Gordon Street.
George Milton Street in West Mackay is named after Mr. Milton.
Up until his death in the Mater Hospital early yesterday, Mr. Milton had been living at his home in Canberra Street.
His wife, Christina, died in 1977.
Mr. Milton is survived by two sisters, Miss Jessie Milton of Wellington Street and Mrs. Ivy Stewart of Brisbane and a brother, Cecil Milton of Norris Street, Mackay.
He was pre-deceased by brothers William and Arthur Milton.
He leaves two daughters, Mrs Dorothy McCarthy of Brisbane Street and Mrs. Helen Callinan of Tweed Heads and two sons, James Milton of Sydney and Alan Milton of Ipswich.
Another daughter, Mrs. Gladys Garner of McIntyre Street, Mackay, pre-deceased him in 1978.
He had 16 grand children and 23 great grand children.
Mr. Milton's funeral will take place tomorrow at St. Paul's Uniting Church, Macalister Street.
Source:
The Daily Mercury; Thursday, November 19, 1981; Page 5.
---
Email received from Jim Milton 10 January 2012
My name is Jim Milton, son youngest (born 31 May 1931) and only surviving child of George Albert and Christina Mary Allan Milton.
I am very interest in the information I Googled up about my Dad and am very proud you have committed this information about his achievements to the internet.
Dad worked for the Mackay Harbour Board as Timekeeper/Paymaster for several years I would think in the mid to late 1930s prior to joining the Mackay City Council - sorry to be so vague about timing but I was quite young then.
Whilst he was an Alderman or Mayor I beleive he had some influence on the installation of garden plots in Wood, Victoria and Gordon Streets - not the jungles I saw on my last visit to Mackay but well proportioned evergreens and small palm trees.
He was a keen lawn bowler and was a Member in turn at City, Mackay and Suburban Bowling Clubs where he bowled with some success at each of them with such notables as Drs Gallagher and Grant.
He was a keen fisherman firstly off the rocks on the southern breakwater at the Mackay Harbour and later on as a founding Memer of the Mackay Fishing Club which was a light gear club fishing at beaches and estuaries around Mackay. I had great delight in joining him in this sport.
He was a great supporter (and maybe Patron) of the Mackay City Brass Band of which my elder brother Alan and I were members and attended contests in other Queensland cities - Maryborough, Bundaberg, Ipswich and Toowoomba - in support of the Band.
I left Mackay in 1951 and have been resident in Sydney everr since other than for a short period in 1954-55 when I was acountant at the then newly opened branch of Hasting Deering marketing and servicing Caterpillar and John Deere equipment.
I was fortunate to see my Dad in good spirits and apparen good health at Mackay during a business trip to North Queensland a few weeks before he died.
---
Other Sources:
Queensland Births Deaths and Marriages, Registry of Births, Deaths and Marriages, Brisbane; Births 1890-1894, Microfische Sheet No. 008, Page No. 2073, Registration No. 92 / 007892.
Mrs Helen Callinan, North Mackay, phone interview, 20 August 2004.
Queensland Pioneers Index, 1829-1889
Queensland Federation Index 1890-1914.
---
If you can supply any further information or photographs on the above please contact us by EMAIL
Glen Hall
---
---
© Glen Hall 2001-2017.
page created 1 August 2003.
last updated 17 July 2017 .
Site maintained by Glen Hall.