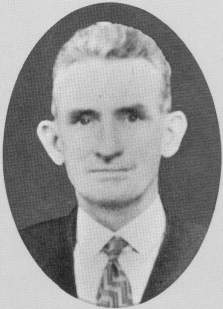 Born: 9 August 1891 (Farleigh, via Mackay, Queensland)
Died: 3 August 1957 (Mackay, Queensland) aged 65 years.
Buried: 4 August 1957 (Mount Bassett Cemetery, RC Sect. 1.b., Row 6, Plot 13)
Parents: Patrick MULHERIN and Ellen GRIFFIN.
Marriage: 7 July 1914 (Queensland) to Honora O'Shea
Religion: Roman Catholic

---
Death of Mr. J.M. Mulherin at 66
A Prime instigator for the construction of Mackay harbour and one of the district's best known public men, Mr. John Martin Mulherin, died on Saturday at the age of 66.
His death came as a surprise a week after he was admitted to hospital. His funeral yesterday afternoon from St. Patrick's Catholic Church to the Mt. Bassett cemetery was one of the largest seen in the city.
Mr. Mulherin was particularly well known for his work in advocating a deep-water port for Mackay and the development of hinterland coal and agricultural resources.
He was born in the Farleigh district of Irish parents who were well known sugar pioneers. He carried on cane farming for many years before moving to Mackay to conduct a carrying business.
He was elected chairman of the harbour board in 1927 and when his term as chairman finished in 1930 he retained his seat at the board's table until his death.
During his chairmanship and the immediate following years, he laboured strenuously to obtain recognition of the fact that the Mackay district could finance a £1 million harbour scheme.
As a member of the board, Mr. Mulherin saw the harbour constructed and gradually develop. But, he was admitted to hospital in the early hours of July 27, and was unable to attend the official opening of the bulk sugar terminal.
Mr. Mulherin had also to forfeit an invitation to give an address on the development of Mackay at the opening of the Captain John Mackay memorial clock.
Mr. Mulherin was elected mayor of Mackay on a Labour ticket about 1933 but later when the council was dissolved, he contested the mayoralty as an independent and was defeated.
He also served as chairman of the Mackay Rugby League and president of the Catholic Club. He was a crack rifle shot and was regarded as an outstanding orator.
For a period he was secretary of the Mackay Blair Athol Railway League, a forerunner of the Hinterland Development League. When the Hinterland Development League was formed about 1947, he became secretary and remained in that position until his death.
He several times accompanied cabinet ministers on tours of the district and hinterland where he was able to assist them in gauging agricultural and coal producing possibilities.
At the time of his death he was a member of the North Mackay Bowling Club and an honorary member of the Catholic Legion of Mary.
He is survived by his widow, five sons, Jack, Henry, James, Desmond, and Kevin, three daughters, Mrs. H. Edmonds, Mrs. A. West and Effie, brothers Tom, Henry, and Joe and sisters Mesdames H. Gillman, of Melbourne, and C. Goodhew of Brisbane.
A large congregation attended the funeral service at St. Patrick's Church at which Rev. Fathers W. McAlister and R. Benjamin officiated. Prayers were recited by members of the Legion of Mary. Four priests, Rev. Fathers McAlister, Benjamin, M.F. Quinn and A.P. Healion officiated at the graveside.
Pall bearers were Dr. H.J. Taylor (Hinterland League), Dr. E.L. Leggett (Harbour Board), three sons Jack, Kevin and Henry Mulherin and son-in-law Mr. H. Edmonds.
Source:
The Daily Mercury, Monday, August 5, 1957.
---
Other Sources:
Mount Bassett Cemetery Monumental Inscriptions, Mackay Family History Society.
Queensland Births Deaths and Marriages, Registry of Births, Deaths and Marriages, Brisbane; Births 1890-1894, Microfische Sheet No. 008, Page No. 2143, Registration No. 91/008137.
Moore, H.A. (1978). The Mackay Harbour Story. Mackay, QLD: Mackay Harbour Board. page 71.
Queensland Pioneers Index, 1829-1889
Queensland Federation Index 1890-1914.
---
If you can supply any further information or photographs on the above please contact us by EMAIL
Glen Hall
---
---
© Glen Hall 2001-2017.
page created 08 July 2004.
last updated 17 July 2017 .
Site maintained by Glen Hall.