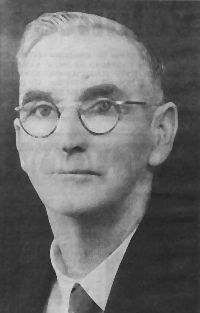 Born: 28 January 1890 at Mackay, Queensland, Australia.
Died: 8 July 1975, Westwood Hospital, Rockhampton, Queensland. Aged 85 years.
Buried: 15 July 1975, Mackay Cemetery, Methodist Section No. 1, Row No. 1, Plot No. 30.
Parents: Son of George William BINNINGTON and Annie Mary WALSH.
Marriage: to Ruth ?
Religion: Methodist.

---
Jack Binnington had the honour of holding the Mayorality of Mackay for five successive terms from 1952 to 1967 when he retired.
Jack was born in Mackay on 28 January 1890. He attended the Mackay Infant's School and Mackay Boy's School. He left at the age of 14 years. Due to failing eyesight plaguing his schooldays, Jack Binnington was not a brilliant scholar. He always had difficulty reading the blackboard and it was not until a few months before he left school in 1904 at the age of 14 that he obtained his first pair of glasses.
His first job was that of an assistant to Mr. Ebenezer Staines who conducted a mixed drapery business. Four years later he began a carpentry apprenticeship with Mr. Albert Scott, trading as Scott and Hasenkamp for wages of 6 shillings and sixpence a week. Those were the days when apprentices qualified for full pay purely on ability and it took Jack Binnington less than three years to become a tradesman.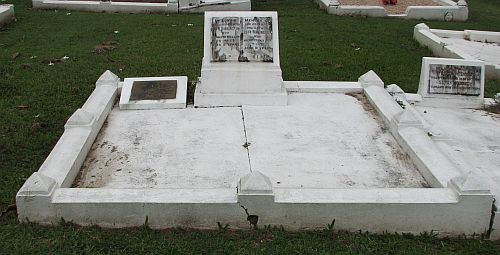 The Binnington family grave in Mackay Cemetery.
(Glen Hall Collection, March 2008)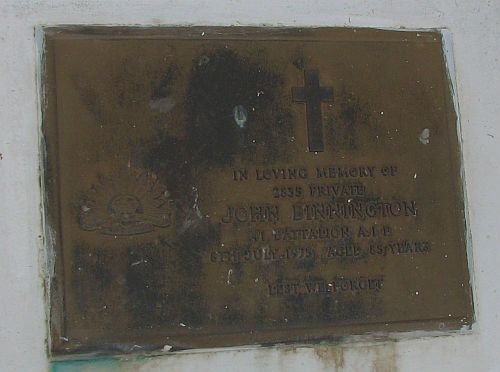 Jack Binnington's Commonwealth supplied headstone.
(Glen Hall Collection, March 2008)
With the outbreak of World War I, he enlisted for service with the A.I.F. but was rejected on medical grounds. He was successful in enlisting the second time around and on 21 October 1916 he sailed overseas. For a time he was with the Sixth Regiment of the Fourth Pioneers at the No. 1 command depot at Perham Downs in England. He later saw active service in France and Belgium with the 15th Platoon of the 42nd Battalion.
After he returned to Australia he resumed his carpentry trade and in 1921 he joined the Department of Public Works.
In 1924 when he was the Secretary of the Carpenter's Union he stood with the Australian Labor Party team and gained a position on the Mackay City Council as an alderman for the south ward. On an Australian Labor Party ticket he won the mayoralty from the Citizen's team candidate Ian Wood in 1952.
Jack Binnington was well known to locals as the "bicycle-riding mayor". He rode his bicycle everywhere and did not even have a driver's licence when selected by the Queensland Road Safety Council as Mackay's first member of the safe driving circle. In 1954 he had the honour of welcoming Queen Elizabeth and the Duke of Edinburgh on their visit to Mackay.
Major works undertaken during his term as Mayor include the reconstruction of Mackay's sewerage scheme, the development of the water supply including the construction of the Mount Oscar reservoir, and the construction of the Memorial swimming pool in Milton Street.
Jack moved to Gracemere where a daughter lived for a number of years after his retirement before returning to Mackay. He resided at the Good Shepherd Lodge . He died in the Westwood Hospital in Rockhampton on Saturday, July 8, 1965. He was survived by a married daughter, Mrs. C.E. Newman of Gracemere, near Rockhampton and a sister Mrs. A.M. Lawrie of Shakespeare Street. His wife and first daughter pre-deceased him.
Binnington Esplanade in East Mackay was named in honour of him.
---
Information Sources:
Daily Mercury, City of Mackay Centenary Edition, Friday, April 6, 1962.
Daily Mercury, Thursday, July 10, 1975.
Mackay Cemetery Burial Register, Mackay City Council Library
Mackay Cemetery Monumental Inscriptions, Mackay Family History Society.
Queensland Pioneers Index, 1829-1889
Queensland Federation Index 1890-1914
---
If you can supply any further information or photographs on the above please contact us by EMAIL
Glen Hall
---
---
© Glen Hall 2001-2017.
page created 08 July 2004.
last updated 17 July 2017 .
Site maintained by Glen Hall.