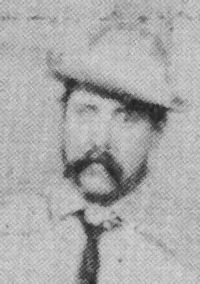 Born: 31 October 1844 (Canterbury, Kent, England)
Died: 18 February 1885 (Farleigh, Queensland, Australia) aged 40 years.
Buried: 20 February 1885 at Mackay Cemetery, Church of England Section.
Parents:
Marriage:
Religion: Church of England

---
We regret having to record the death of Mr. Robert Walker of Farleigh, one of the pioneers of the sugar industry in the district. For some months Mr. Walker had been suffering from an attack of illness brought on by the arduous public and private duties which had engaged his attention during the many years he has been in the district, and it was thought that a change would restore his impaired strength. The care and anxieties caused by the recent depression of the sugar industry with which he has been long and intimately connected, no doubt augmented the illness from which he was suffering, and on Wednesday last he expired at his residence at Farleigh.
Mr Walker was recently Chairman of the Divisional Board, and contributed to a large extent towards the general prosperity of the district.
Source:
The Daily Mercury, Saturday February 21, 1885.
---
DEATH
WALKER - On the 18th inst. at Farleigh, Robert Walker after eight weeks' illness, aged 40 years.
Source:
The Daily Mercury, Saturday February 21, 1885.
---
Other Sources:
Daily Mercury, The jubilee of Mackay, August, 1912
Kerr, John. (1980). Pioneer Pageant. Mackay, QLD: Pioneer Shire Council.
Mackay Cemetery Burial Register, Mackay Family History Society.
Queensland Pioneers Index, 1829-1889
---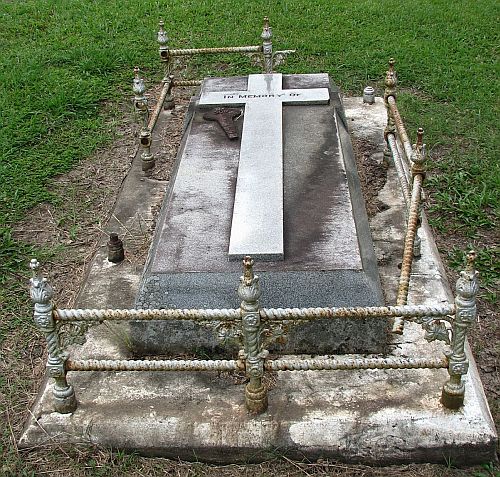 The Grave of Robert Walker at Mackay Cemetery.
(Glen Hall Collection, March 2008)

Inscription on the side of the grave.
(Glen Hall Collection, March 2008)
---
If you can supply any further information or photographs on the above please contact us by EMAIL.
Glen Hall
---
---
© Glen Hall 2001-2017.
page created 24 May 2004.
last updated 19 July 2017 .
Site maintained by Glen Hall