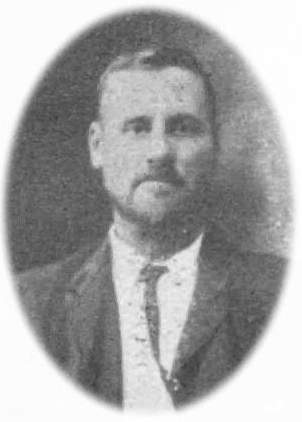 Born: about 1865
Died: 13 March 1933 (Mackay, Queensland) aged about 67 years.
Buried: 15 March 1933 (Toowong Cemetery, Brisbane, Queensland. Portion 16,
Sect. 24, Grave 9)
Parents: William KIRKUP and Margaret SULLIVAN
Marriage: 26 September 1894, Mary Elizabeth GRAY
Religion:

---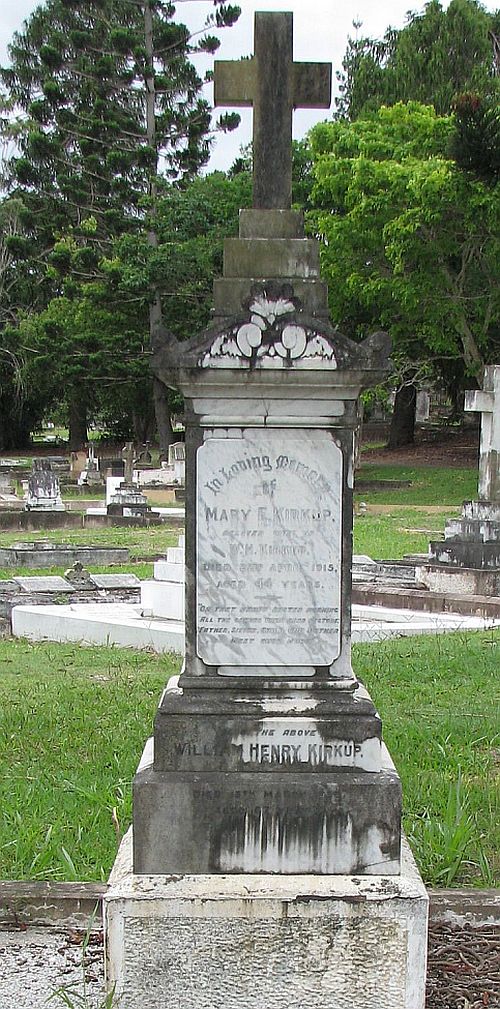 Headstone of William and Mary Kirkup in Toowong Cemetery, December 2007.
(Glen Hall Collection)
OBITUARY
Mr. W.H. KIRKUP
An old and highly respected citizen of Mackay and Walkerston, in the person of Mr. William Henry Kirkup, passed away somewhat unexpectedly early yesterday morning. He had been an inmate of a private hospital for about a fortnight but was making good progress and expected to be out in a few days.
Deceased who was 67 years of age, was a native of South Queensland, and came from Brisbane to Mackay about 38 years ago. He was then a single man and entered the employ of Sharp, Dellar and Co's drapery establishment in Sydney-street and remained there several years. He then bought out J.F. Burke, storekeeper and baker at Walkerston, and has been there ever since.
Mr. Kirkup was recognised as a good business man. He also was a philanthropist, ever willing to lend an attentive and a willing hand to those in need and he loved to do good quietly, and if possible secretly. He took an active part in all public matters in Walkerston, and was a prominent member of the Oddfellows and Masonic Lodges.
Mr. Kirkup was elected to the Pioneer Shire Council in 1901 and was soon afterwards appointed Chairman, a position he occupied several times during the 25 years he was a member of that body. He was Chairman during the construction by the Council of the railway line from Benholme to Kungurri and from Pinnacle to Finch Hatton. Deceased also represented the Pioneer Shire on the Mackay Harbour Board from 1901 to 1911. In all Council deliberations, Mr. Kirkup showed sound judgment and his remarks though comparatively few, were to the point and practical.
As a Justice of the Peace, Mr. Kirkup frequently sat on the Police Court Bench at Walkerston, and in the dispensation of the law the milk of human kindness was ever mixed with justice.
Deceased was married in Brisbane, his wife coming from the Metropolis. She died in that city some years ago and left seven children: Garnet, the eldest son is a chemist in Bundaberg; John is in Finney Isles, Brisbane; and Victor and Bob are in the Walkerston business. The daughters are Mrs. Sault, who is in charge of the Post Office at Pleystowe; and Misses Connie and Elsie, who are residing in Brisbane.
The body of deceased will be placed on the mail train this morning for interment in Brisbane.
Source:
The Mackay Daily Mercury, Tuesday, March 14, 1933.
---
WALKERSTON ESTATE
The Registrar of the Supreme Court, Townsville, has issued a grant of probate in the will and codicil of William Henry Kirkup, late of Walkerston, near Mackay, merchant (deceased), to Henry Roberts Kirkup, of Walkerston, clerk and Constance Evelyn Kirkup of Annerley, Brisbane, spinster, son and daughter of the deceased, respectively, the executors named. Realty sworn under £2449, personalty under £5788.
(Messrs. S.B. Wright & Wright, Mackay, solicitors for executors).
Source:
The Mackay Daily Mercury, December 8, 1933.
---
Other Sources:

Grave Location Search, Brisbane City Council Online Services, http://www.brisbane.qld.gov.au , downloaded 13 November 2004.

Kerr, John. (1980). Pioneer Pageant. Mackay, QLD: Pioneer Shire Council.

Registrar General, Registry of Births, Deaths and Marriages, Department of Justice and Attorney General, Queensland Government. Queensland Births Deaths and Marriages, Deaths 1930-1934,[Microfische] Sheet No. 004, Page No. 898, Registration No. 1933/ 000611.

Lees, Wm. (1907). Mackay Illustrated, Special Issue of Queensland Country Life. Brisbane, QLD: Outridge Printing Co. Ltd.

p23.

Queensland Pioneers Index, 1829-1889

Queensland Federation Index 1890-1914.
---
If you can supply any further information or photographs on the above please contact us by EMAIL.
Glen Hall
---
---
© Glen Hall 2001-2017.
page created 24 May 2004.
last updated 19 July 2017 .
Site maintained by Glen Hall