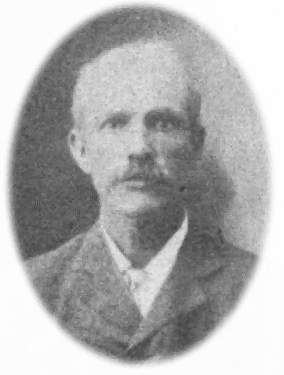 Born: 25 May 1857 (Aberfeldy, Perthshire, Scotland)
Died: 22 July 1938 (Mackay, Queensland), aged 81 years
Buried: 23 July 1938, (Mackay Cemetery, Presbyterian Section)
Parents: Alexander KIPPEN and Susan MENZIES
Marriage: 15 December 1882, Christina McDONALD (Walkerston, Queensland)
Religion: Presbyterian

---
OBITUARY
ROBERT KIPPEN
Widespread regret and sympathy for the family were expressed yesterday when it became known that Mr. Robert Kippen had passed away. Deceased, who had reached the grand old age of 81 years, also was a grand old man, respected by all, held in high esteem, and admired for his noble characteristics.
Born in Aberfeldy, Scotland, he came to Australia in the early 80's by the Ruddlebay on what is thought to be the only voyage of that ship to Australia. After a brief stay in Brisbane he travelled to Mackay, and in his early activities was engaged as a carrier and plantation supervisor. He was closely associated with the agricultural development of the district upwards of 50 years ago and more. Later his interests were chiefly centered in the Coningsby (now Wundaru) district, where he was in business as a storekeeper, and also engaged in dairying and canegrowing. Also he conducted the hotel at The Leap.
He was a man of foresight, resource, determination, and had the capacity for hard work when necessary. Imbued with a public spirit he served on the Pioneer Shire Council for many years and held the position of chairman. Also he was a prominent member of the Harbour Board and on both these local authorities he performed splendid community services. In this regard his son Alex has carried on this public-spirited work with the enthusiasm displayed by his father.
Deceased lost his wife in 1917 and shortly afterwards he retired from active farming, which he had pursued for many years. About eight years ago his eyesight began to fail, and it was known to the family that this caused him to worry considerably. Of late he had not been in the best of health, and as stated another grand old pioneer passed on yesterday morning.
Deceased is survived by five sons and four daughters, on son (Robert) being killed in action during the Great War. The sons are: Alex, Ivan and Les, (Wundaru), William (Glenella), Cyril (Warwick), the daughters being Mesdames R. Robinson (Wundaru), P. Cameron, T.M. Robertson (Mackay), F. Gaenshirt (Kingsthorpe). Deceased was an old member of the Oddfellows and Druid lodges, and also was a member of the Masonic fraternity. The funeral will take place this afternoon at 3 o'clock.
Yesterday Mr. A. Kippen presided at a special general meeting of shareholders of Mackay Cooperative Meat and Bacon Association during the morning. It was not until the meeting had terminated that he learned of his father's death. In the afternoon the directors of the association met to carry out formal business. Before proceeding with this, sympathetic reference was made to the loss sustained by Mr. A. Kippen and family, and a motion of condolence was carried by those present standing. Tributes were paid to the splendid work performed by the late Mr. Kippen in the interests of the community.
Source:
The Mackay Daily Mercury, Saturday, July 23, 1938.
---
Other Sources:

Kerr, John. (1980). Pioneer Pageant. Mackay, QLD: Pioneer Shire Council.

Lees, Wm. (1907). Mackay Illustrated, Special Issue of Queensland Country Life. Brisbane, QLD: Outridge Printing Co. Ltd.

p23.

Mackay Cemetery Burial Register, Mackay Family History Society.

Queensland Pioneers Index, 1829-1889

Registrar General, Registry of Births, Deaths and Marriages, Department of Justice and Attorney General, Queensland Government. Queensland Births Deaths and Marriages, Deaths 1935-1939, Microfische Sheet No. 004, Page No. 1025, Registration No. 1938/003274.

The Church of Jesus Christ of Latter Day Saints,(n.d.). FamilySearch Internet. Retrieved November 13, 2004, from http://www.familysearch.org/Eng/Search/AF/family_group_record.asp?familyid=7885391
---
If you can supply any further information or photographs on the above please contact us by EMAIL.
Glen Hall
---
---
© Glen Hall 2001-2017.
page created 24 May 2004.
last updated 19 July 2017 .
Site maintained by Glen Hall