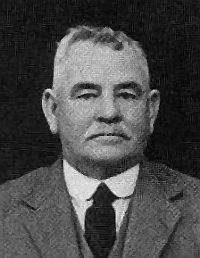 Born: About 1869 (Maitland, New South Wales, Australia)
Died: 19 December 1964 aged 95 years.
Buried: 21 December 1964 (Mackay Cemetery, Roman Catholic Section)
Parents:
Marriage: 22 April1896 to Josephine O'MALLEY
Religion: Roman Catholic

---
Former publican served dual Pioneer, Mirani Role.
Pioneering stalwart of Pioneer Shire Council, Edward "Ned" Hannan, had the rare distinction of serving as a councillor of Mirani Shire while still a member of Pioneer Shire Council.
Cr. Hannan was first elected to the Pioneer Shire Council in 1905 and was one of the foundation councillors elected when the Mirani Shire was inaugurated on January 16, 1916, and continued as a Mirani councillor until May 1933.
In the meantime he had served two separate terms on the Pioneer Shire from 1905 to 1914 (being chairman in 1908 and 1909), and then from 1920 to 1927. He had a further term from 1930 to 1946 on the Pioneer Shire to complete a remarkable record of local government service to the district.
Distinguished in bearing and unfailingly correct in attire, Ned Hannan typified the pioneering spirit which was characteristic of the Pioneer Shire in its first 50 years.
Pioneer Shire councillors from the days of John Ewen Davidson, their first chairman, were from the nation-building mould, and their forthright approach to their responsibilities laid the solid foundations on which the dramatic progress of the modern era was built.
Cr. Hannan was a shire councillor who practised as a private citizen what he preached in the council chambers. When proprietor of the Mirani Hotel in the early 1900's he was a leader in opening up the land and encouraging new settlers into the district.
His advocacy led to the extension of a tramline to The Gorge district and later, after becoming established at North Eton, he made a gift of the land on which the North Eton hall was built.
Originally from Maitland, New South Wales, he first saw the Mackay hinterland when as a youth of 18 he brought a mob of horses to Oxford Downs. He worked at Oxford Downs for some years, and then at the invitation of Jerry Michelmore became a sales representative for J. Michelmore and Co.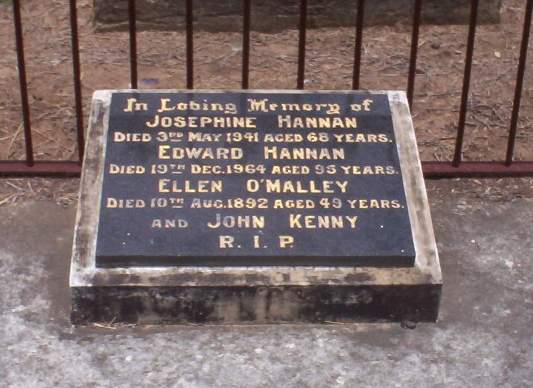 Headstone of Ned Hannan in the Roman Catholic Section of Mackay Cemetery.
(Glen Hall Collection, Nov. 2004)
He ventured into the hotel trade, and in addition to operating the Mirani Hotel, he built a hotel at Marian and also once held the lease of Wills' Hotel in Sydney Street.
He became a cane farmer with the purchase of Mt. McGregor in 1902, and in 1910 bought George Ironside's cane farm, Aberdeen, at North Eton. Aberdeen, then held half of the shares in North Eton Mill.
He acquired several pastoral properties in the Collinsville and Nebo districts. Some together with Aberdeen are now operated by his grandchildren Valda, Mora, Ted and Bill Mason.
Valda Mason recalled that nothing would keep him from a council meeting. There were many occasions when the car would not start and all members of the household were recruited to give it a push. When the motor fired he would drive off in style, leaving them all behind.
He had a lifelong interest in horse racing, owning several horses well remembered by the veterans, the grey, "Sar King", being one of the best. He was a committeeman of the old Tattersalls Club which later amalgamated with Mackay Turf Club.
He was patron of the Mackay Turf Club for many years up until his death in December 1964, at the grand old age of 95. He was a good supporter of Eton racing, often officiating as judge, and also acted as a steward at Mackay Turf Club meetings.
He was a stalwart of the Mackay Show Association as an exhibitor and committeeman, and for many years as trustee.
Since his retirement in 1946 there have been several councillors noted for their individuality in character and thought, but it could be said of Ned Hannan that when he attended his final meeting he was the last of the pioneers.
Source:
The Daily Mercury, Thursday, March 3, 1994; Supplement "Pioneer Shire 1880-1994, We Salute You", page 8.
---
Other Sources:
Kerr, John. (1980). Pioneer Pageant. Mackay, QLD: Pioneer Shire Council.
Lees, Wm. (1907). Mackay Illustrated, Special Issue of Queensland Country Life. Brisbane, QLD: Outridge Printing Co. Ltd. p.23.
Moore, H.A. (1978). The Mackay Harbour Story. Mackay, QLD: Mackay Harbour Board.
Mackay Cemetery Burial Register, Mackay Family History Society.
Mackay Cemetery Monumental Inscription.
Queensland Federation Index 1890-1914.
---
If you can supply any further information or photographs on the above please contact us by EMAIL.
Glen Hall
---
---
© Glen Hall 2001-2017.
page created 24 May 2004.
last updated 19 July 2017 .
Site maintained by Glen Hall