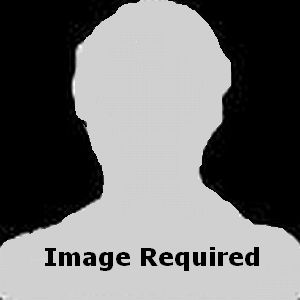 Born: 14 August 1861, Sidmouth, Devon, England.
Died: 6 August 1943, Mackay, Queensland, Australia; aged 81 years.
Buried: Aft. 6 August 1943, Hampden Cemetery, Queensland Australia.
Parents:
Marriage: 8 March 1890, Ellen KEEP
Religion:

---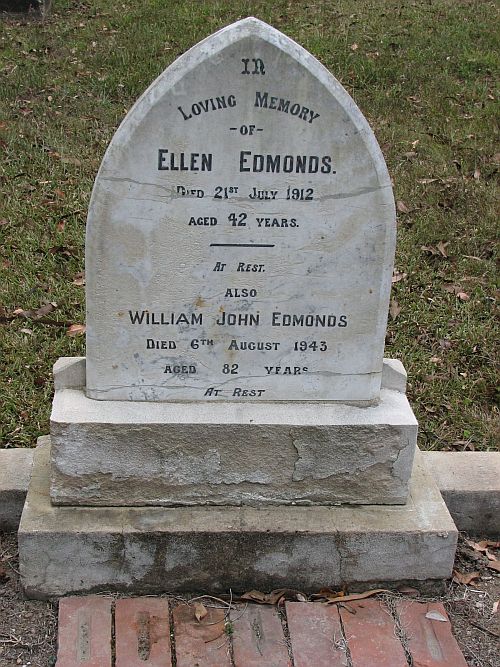 William Edmonds headstone at Hampden Cemetery, October 2006. (Source: Glen Hall Collection)
Obituary
On August 6 one who bulked largely in the public life of Mackay and district, in the person of William John Edmonds, passed on, at the advanced age of 82. He was born at Sidmouth (England) on August 14, 1861, and at the age of 21 took ship for Mackay, arriving here on March 17, 1882.
Shortly after landing, being a baker by trade, he secured employment with the late Mr. Tideman who owned a store and bakery at Hill End (now Glenella) and later with the late John Burke at Walkerston. After leaving the latter position he was cook to one of the road gangs of the old Pioneer Divisional Board, when the workmen received 4/- a day and a meagre ration for a 52 1/2 hour week.
About this period he took up a selection and built his home on Constant Creek, Hampden, having in the meantime married Ellen Kemp.
In those early days canegrowing was nothing like the lucrative enterprise it is today and in order to secure the construction of a tramline from Marian to Hampden, Mr. Edmonds and other farmers surrendered the deeds of their property to the Government as security for building of the line, which has proved a very valuable asset to the Marian Mill.
He was for over twenty years closely associated with the mill and held the position of chairman for ten years. Mr. Edmonds also took an active interest in local authority affairs, being a member and chairman of Pioneer Shire Council and the Mackay Harbour Board.
He considered Seaforth an excellent seaside resort for the country folk of Mackay district and was a prime mover in persuading the Government of the day to proclaim this beautiful foreshore a public reserve. For some years he was chairman of the committee which attended to the reserve and the later years of his life were spent in quiet retirement in a neat and comfortable cottage overlooking Seaforth Bay, the place he loved so well.
He leaves a family of four sons, two daughters and 18 grandchildren; his wife predeceased him by 21 years. The members of the family are Messrs. - William, Charles, Thomas, Lawrence; Mesdames Archer (Mackay) and Howell (Sydney).
Source:
The Mackay Daily Mercury, Wednesday September 1, 1943.
---
Sources:

Department of Justice and Attorney General, Queensland Historical Index Search, http://www.justice.qld.gov.au/bdm/home.htm , downloaded 19 August 2007.
Kerr, John. (1980). Pioneer Pageant. Mackay, QLD: Pioneer Shire Council.
Mackay Courthouse Death Register.
Queensland Pioneers Index, 1829-1889
Queensland Federation Index 1890-1914.
---
If you can supply any further information or photographs on the above please contact us by EMAIL.
Glen Hall
---
---
© Glen Hall 2001-2017.
page created 24 May 2004.
last updated 19 July 2017 .
Site maintained by Glen Hall