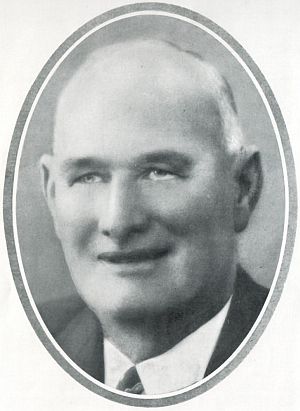 Born: 11 October 1885, Glasgow, Scotland
Died: 6 June 1958 (Brisbane, Queensland)
Buried: 9 June 1958 (Mackay Cemetery, Presbyterian Section)
Parents: George HAMILTON and Janet Strang STEVENSON
Marriage: 10 May 1913 to Margaret Glendaragh GAYLARD
Religion: Presbyterian
Education:
---
DEATH OF MR. A.S. HAMILTON
Long service to sugar industry
The death occurred in a private hospital in Brisbane yesterday morning of Mr. Alexander Stevenson Hamilton, chairman of Mackay Harbour Board and of Racecourse Mill board of directors, in his 73rd year.
Mr. Hamilton was admitted to hospital nine weeks ago, following a heart attack, and had been in a serious condition ever since.
Born in Scotland, Mr. Hamilton was only a year old when he was brought to Mackay by his parents, the late Mr. and Mrs. George Hamilton, who were among the pioneers of the district.
Mr. Hamilton worked actively for the district's development for more than 30 years. He first emerged as a public figure when the Racecourse Co-operative Sugar Association was formed in 1927 to take over the assets of the old Racecourse Central Mill Company Ltd.
In April 1936, he was elected to Pioneer Shire Council and to the Harbour Board as a shire representative. He was soon a leading figure on both bodies.
In August 1940, he was appointed deputy chairman of the shire council and in June 1947, chairman. He continued as chairman until June 1949, when he was succeeded by Cr. H. Woodyard.
From the start of his association with it, Mr. Hamilton showed a particular interest in the affairs of the Harbour Board. In September 1937, he was appointed - with Messrs. C.F. Bagley (the then chairman), J.A. Love and D. Fison (supervising engineer) - to a special works' committee to control the construction of Mackay Harbour.
Chairman
On the death of Mr. C.F. Bagley, in July 1949, Mr. Hamilton became Harbour Board chairman and held that position continuously till his death.
As a leading sugar industry figure, Mr. Hamilton had early realised the necessity of bulk handling to enable Australia to compete with other sugar producing countries on the world markets.
In October 1951, he spent several days showing Mr. F. M. Chapman, the technical adviser of the big English firm of sugar exporters and refiners Tate and Lyle Ltd., over Mackay district mills and the port. His discussions with Mr. Chapman confirmed Mr. Hamilton in his belief that bulk handling facilities were practicable at Mackay and would bring immediate benefits to the sugar industry.
At this time also agents for the Sugar Board and the Colonial Sugar Refining Company were conducting preliminary investigations into the feasibility of bulk handling at Mackay.
Meanwhile, the first vessel to take sugar in bulk at Mackay - Artemesia - was satisfactorily loaded by wharf labourers, who emptied bags of sugar down wooden chutes into the ship's hold.
Offer to build
Following this, Mr. Hamilton had several consultations with the late Mr. W. Forgan Smith, former Premier of Queensland and the then chairman of the Sugar Board, and with other industry officials. He offered on behalf of Mackay Harbour Board, to have a bulk loading terminal constructed at Mackay. As a result of this offer the Sugar Board recommended to the Queensland Government that a bulk loading terminal be constructed at Mackay with the Harbour Board the constructing authority.
The Harbour Board then, in conjunction with the Sugar Board, engaged Messrs. Macdonald, Wagner and Priddle, consulting engineers to design the terminal and supervise its construction.
In May 1954, plans and specifications for the first section of the work were completed and tenders were called. In October 1954 - three years from the time the first positive moves were made by Mr. Hamilton - the project was started. The terminal was completed and officially opened in June last year. During the building of the terminal Mr. Hamilton worked countless hours guiding the project to its on-schedule completion.
Apart from his success with the sugar terminal, Mr. Hamilton was also a prime mover in having the Caltex oil terminal established at the harbour in 1954.
Mill board
When Racecourse Co-operative Sugar Association was formed in 1937, Mr. Hamilton, as a Homebush grower, was elected to the first board of directors.
He became chairman of directors in June 1930, and had held that position continuously ever since. He was also one of the two Mackay district Australian Sugar Producers' Association vice-presidents. He had been a canegrower for 50 years. He first took up cane farming on the Palms Estate late in 1908.
Mr. Hamilton was well known in bowling circles. He was a life member of Suburban Bowling Club and a foundation member of that club, which was formed in 1942.
He was also a member of City Club, president of Mackay District Bowling Association and country senior vice-president of the Queensland Bowling Association.
He had attended every State Bowling Carnival in Brisbane for the last 10 or 12 years and was a member of the Australian team which visited the British Isles. Due to ill health he was forced to abandon the game in recent months.
Mr. Hamilton is survived by his wife, two sons, Messrs. G. Hamilton and A. S. Hamilton junr., three daughters, Mrs. A. A. Schaper, Mrs. J. Lancaster, and Mrs. H. Reilly, all of Mackay, three brothers, George and Jack, of Mackay and Arthur, of Brisbane, and three sisters, Mrs. W. Bauer and Mrs. M. Phillips, of Mackay, and Mrs. A Hansen, of Brisbane.
Mr. Hamilton's body will be flown to Mackay for burial. The funeral will take place at 11 a.m. on Monday.
Source:
The Daily Mercury, Saturday, June 7, 1958
---
Sources:

Kerr, John. (1980). Pioneer Pageant. Mackay, QLD: Pioneer Shire Council.
Mackay Cemetery Burial Register, Mackay Family History Society.
Queensland Federation Index 1890-1914.
Scott, Molly , STEVENSON Family History,Published by "Words & Pix", 1992.
Email from Lorrae Johnson

---
If you can supply any further information or photographs on the above please contact us by EMAIL.
Glen Hall
---
---
© Glen Hall 2001-2017
page created 24 May 2004.
last updated 19 July 2017 .
Site maintained by Glen Hall