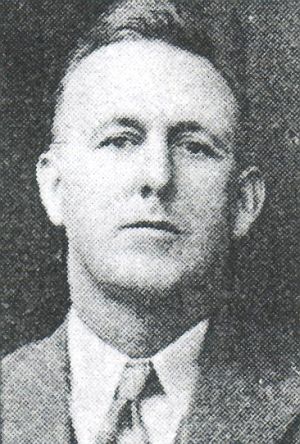 Born: 6 March 1892 (Killarney, Queensland)
Died: 28 February 1965 (Brisbane, Queensland, Australia) Aged 72 years.
Buried: Mount Bassett Cemetery, Mackay.
Parents: Joseph EVANS and Harriet MURPHY.
Marriage: 31 October 1914 (Christ Church, Bundaberg) to Winifred Ellen CRONIN.
Religion:

---
Ernest Evans was born at Killarney, Queensland. He was the son of Joseph Evans, a sawyer and Harriet nee Murphy. He received his education at Spring Creek and Killarney state schools.
He became a cane-cutter, timber worker and shearer in the Cairns district. He was tall and heavily built. He was an active member of the Australian Workers' union and earned the nickname of "Firestick Ernie".
In 1920 he took up a cane farm at Little Mulgrave, near Cairns and organised the local farmers into a company which built and operated a tramline to carry their cane the the Mulgrave sugar mill.
He moved briefly to Southport and then returned to sugar-farming at Nindaroo, near Mackay.
A tradition of family service which contributed to Pioneer Shire's progress over 60 years was founded by Ernie Evans, chairman from 1934 to 1947 and again from 1955 to 1957.
Ernie Evans' own service with the shire began when he was elected as a councillor in 1930 and continued until his retirement in 1947 after being elected to Queensland Parliament as the Member for Mirani.
Ernie Evans was also a director and chairman (1935-1957) of the Farleigh Co-operative Sugarmilling Association Ltd.
By then his son, Ernest, who had joined the council as a junior clerk, had risen to the position of shire clerk, being appointed to that role in 1958. Ernest Evans retired from January 14, 1981, in his 45th year of service, broken only by four years of wartime army service.
Meanwhile Barry Evans, the son of Ernest and grandson of Ernie, had joined the council clerical staff in 1965.
When Pat Crompton succeeded Ernest Evans as shire clerk, Barry Evans was appointed deputy shire clerk and held the position until becoming Mirani shire clerk in 1989.
Between them, Ernie, Ernest and Barry Evans achieved 88 years of service to Pioneer Shire.
Just before his retirement in January 1981 Ernest Evans spoke of the "farmer councillors" under whom he had served. In his early years with the shire such men were the majority on council.
"They were fellows who were self-made men," he said, "and they were not short of material from which to make it. They were good old-time farmers who had made a go of it on their own farms."
He could have been speaking of his father for it was that background which Ernie Evans brought to his work on the council. Even before his election to the council he had earned a reputation as a public-spirited citizen who had a flair for organisation and leadership.
Cr. Snow Wright remembered Ernie Evans from the early days when his father broke in horses for Mr. Evans who sold them to the Maltese community.
"I trained a couple of racehorses for him. He was a good punter," Mr Wright said. "If he thought something, he would tell you straight in the face. He wouldn't stab you in the back."
Cr. Wright said Mr. Evans was approachable and helpful as shire chairman and would have made a good Queensland premier if given the chance.
As it was, Ernie Evans did achieve eminence as a member of the Queensland Parliament. He won the seat of Mirani from the then Deputy Premier and Treasurer E.J. Walsh at the 1947 election and was allotted the Mines and Main Roads portfolio in the 1957 Frank Nicklin government.
His death in Brisbane on February 28, 1965 drew tributes from all sections of the Queensland community. The Premier Mr. Nicklin said Mr. Evans had played a major part in putting Queensland on the world industrial map.
He was survived by his wife, daughter and three sons.
Sources:

Kerr, John. (1980). Pioneer Pageant. Mackay, QLD: Pioneer Shire Council.
Ritchie, John & Cunneen, Christopher, (1996), Australian Dictionary of Biography, Volume 14, 1940-1980, Di-Kel. . Melbourne University Press, p.105-106.