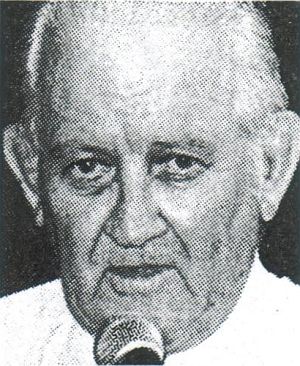 Born: 22 April 1920 (St. Lawrence, Queensland)
Died: bef. 16 December 1993 (Mackay, Queensland)
Buried: 16 December 1993 (Mount Bassett Cemetery, Mackay)
Parents: Alexander and Edith MOOHIN
Marriage: (1)1949 (Mackay, Queensland) to Beryl SOMMER
(2)1984 to Hazel BARRETT
Religion:

---
Former Pioneer Shire Chairman dies at 73
FORMER Pioneer Shire Council chairman and Mackay businessman Mr. Michael Moohin has died, aged 73.
Mr Moohin was born to Russian parents on April 22, 1920, in St. Lawrence. His parents, Alexander and Edith, elder brothers Jack and Nicholas and sister Ann were all born in Russia.
Mr Moohin, brothers Alex and Peter, and sister Mary were born in St. Lawrence.
The Moohin family then moved to Habana when his father purchased a cane farm there.
Mr. Moohin completed his primary schooling at Habana and attended Rockhampton Boys Grammar School for his secondary education.
He worked on the family farm for some time after his father died before working at Michelmores (then in River Street) and the Stevedoring (shipping) Commission in Mackay.
He opened his own real estate and second-hand business in the early 1950's in Britannia Hall (formerly situated on the carpark beside the City Cinema).
In the late 1970s Mr Moohin's business moved to 52 Victoria Street where he carried on the second-hand business until his retirement in October 1991.
He also had second-hand businesses in River Street and Brisbane Street. All are still operating.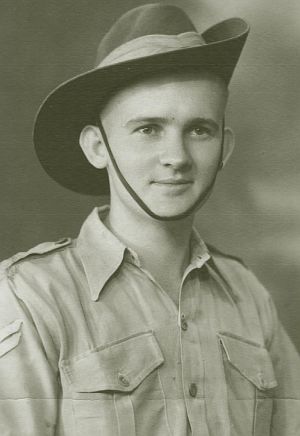 Michael Moohin in Uniform with the 2nd A.I.F. during World War II.
(Source: Wendy Moohin)
Mr. Moohin served in the Australian Army during World War II in New Guinea and Borneo.
He married Beryl Sommer, of Walkerston, in Mackay in 1949. She died in 1976.
He re-married in 1984 to Hazel Barrett. His second wife died in 1991. He had no children.
Mr Moohin was elected Pioneer Shire Council chairman for a three year term in 1970.
Mackay Mayor Ald. Greg Williamson presented Mr. Moohin with the Citizen of the Year award at the 1992 Australia Day Awards.
He was founding member of the Mackay branch of the Australian Natives Association, being an office bearer and member since 1940.
He was also a member of the Bicentennial committee, the Society for the Prevention of Cruelty to Animals and the RSL.
Mr. Moohin is survived by brothers Alex and Nicholas and sisters Ann and Mary.
His funeral will be held tomorrow at St. Joseph's Catholic Church, North Mackay at 1 p.m. The cortege will then leave for Mt. Bassett Cemetery.
Source:
The Daily Mercury, 15 December 1993.
Sources:

Emails from Wendy Moohin.
Kerr, John. (1980). Pioneer Pageant. Mackay, QLD: Pioneer Shire Council.
---
If you can supply any further information or photographs on the above please contact us by EMAIL.
Glen Hall
---
---
© Glen Hall 2001-2017.
page created 24 May 2004.
last updated 19 July 2017 .
Site maintained by Glen Hall