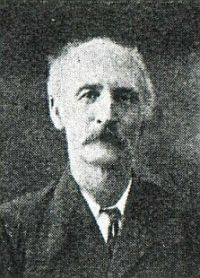 Born: June 1855 (Stafford, Staffordshire, England)
Died: 11 August 1922 (Mackay, Queensland) aged 67 years
Buried: 12 August 1922 (Mackay Cemetery, Church of England Section)
Parents: John HODGES and Mary LONG
Marriage: 27 February 1884 (Queensland) to Lydia Spragg CUMMING
Religion: Church of England
---
W.G. Hodges
William George Hodges was born in 1855, in St. George's Barracks, Stafford, and is a "freeman" of the city of Stafford. He was apprenticed to a firm of architects in Belfast, but the failure of the firm threw the subject of our sketch out of an occupation. He had had a good education, and therefore he decided to try Australia, previously qualifying himself for entrance into the Queensland Education Department. He reached Mackay in September 1874, and at once took up the position of assistant teacher in the Mackay State School, where he remained till 1882, when he became Town Clerk. This latter position he held till 1886, when he resigned and purchased the Mackay "Mercury," and entered in partnership with the late Hon. J. V. Chataway. These two then carried on, besides the newspaper business that of auctioneers and estate agents for a number of years. Mr. Hodges is now in business on his own account. First joined the Defence Force as Lieutenant in 1880, and is now a Lieutenant-Colonel on the Unattached List. He is the only officer in the north holding the "Volunteer Decoration"
Source:
Daily Mercury, 31 December 1906.
---
William George Hodges died August 1922 at Mackay.
Mr Richard Atherton states:-
The Hodges were Belfast Folk, though his father Captain Hodge was Quarter Master and Barrack Master at Preston, Lancashire England. His uncle filled the Professor's chair in Queen's University, Belfast.
W.G. Hodges studied at the University with Dr. McBurney. Dr. McBurney and W.G. Hodges came out to Australia together (from Belfast). Dr. McBurney was 26 and W.G. Hodges 24.
Dr. McBurney called at Broadsound on his way up to Mackay and stayed with Dr. Gilder. W.G. Hodges came on in the "Tinonee" the Dr. coming on to Mackay on the boats next trip. W.G. Hodges had no sister and only one brother. His mother died when he was a baby.
Source:
Greenmount Historic Homestead Archives, Record No. 84-4777
---
Other Sources:

Queensland Births Deaths and Marriages, Registry of Births, Deaths and Marriages, Brisbane; Deaths 1920-1924, Microfische Sheet No. 003, Page No. 738, Registration No. 1922 / 002871.
Queensland Pioneers Index, 1829-1889