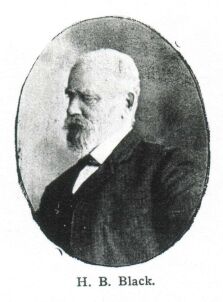 Born: 27 August 1844 (London England)
Died: 9 June 1925 (Mackay, Queensland) aged 80 years.
Buried: 10 June 1925 (Mackay Cemetery, C. of E. Sect. 1, Row 3, Plot 25)
Parents: Alexander BLACK and Marianne HUME
Marriage: 13 September 1879 (Queensland) to Bessie KNOTT.
Religion: Church of England

---
0BITUARY
The death occurred yesterday afternoon of Mr. Henry Bowyer Black, in his 81st year, at the residence of his daughter, Mrs. J. S. Ferguson, Brisbane Street.
Born in London on August 27, 1844, he was educated at the City of London Public School, and the North London Collegiate School, gaining at the latter institution some boners as a classical student.

His father, Mr. Alexander Black, was a man of high literary attainments, and was for many years closely associated with Mr. Glover, who was private librarian to the late Prince Albert, who was a great enthusiast in the study of the literature and languages of the early ages.
Mr. A. Black assisted in collecting, restoring, and classifying many documents, manuscripts, etc., of historic and literary value, to add to the already large collection in the private library of Prince Albert. Mr. Black, senr., was a distinguished German scholar, a graduate of the University of Leipzig, where he was a fellow student, and subsequently became the lifelong friend of Sir Julius Benedict, the famous musician; and it was there he acquired that perfect knowledge of the language of the country which enabled him to publish "Black's German-English Dictionary," a work which for many years was the text book of the schools in Great Britain and Germany.
Mr. H. B. Black's mother was a Hume, of Montrose, niece of Joseph Hume the famous political economist. Mr. H. B. Black had five brothers, and one sister, now all deceased. One of his brothers, Mr. Hume Black, represented this district in Parliament for thirteen years and was a member of the Cabinet for some years.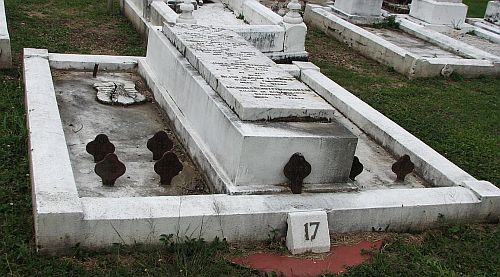 The Black Family Grave at Mackay Cemetery.
(Glen Hall Collection, March 2008)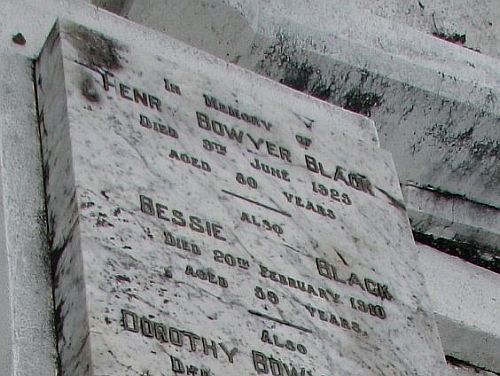 Close-up of Monumental Inscription.
(Glen Hall Collection, March 2008)
Coming to Australia in 1862, Mr. H. B. Black landed in Melbourne, whence, after a stay of a few weeks, he proceeded to the Riverina district (N.S.W.) and found his brothers, Hume and Fred, in business; but after a short time he left the Lower Murray, and reaching Albury, went into agricultural work, leasing a vineyard from Mr. J. T. Fallon.
In 1872 he came to Queensland at the invitation of his brother Hume and became one of the band of pioneers of the North side of the Pioneer River. He engaged in the opening up of the Cedars plantation, which his brother had then recently taken up. He thus became intimately associated with such men as Cummings and McCready, of Richmond; McBride and Finlayson, of Glenalbyn; Macdonald Bros., of Inverness; Paget Bros., of Nindaroo; E. Denman, of Etowri; H.J. Jane, of Glendarragh; Carrol and Avery, of Miclere; and Armitage and Gladstone, of Eimeo and with them contributed his share in the work of developing that part of the district.
In, 1875 he took charge of The Cedars mill, which was erected just in time for the crushing season. Owing to an accident which befell the sugar boiler, Mr. de Koch (a French engineer who had erected the mill, and was engaged to take off the crop); Mr. Black, with only a fortnight's experience, had to undertake the duties of sugar boiler, and owing to the close study which he had made of Mr. de Koch's methods he successfully continued the crushing to its conclusion.
During the five years that he retained the management of The Cedars, he contributed letters and articles to the Melbourne "Argus" and the Brisbane "Courier', on the sugar industry, and the progress of the Mackay district, and it was doubtless the hereditary literary instinct which, reasserting its influence, led him to leave The Cedars, at the invitation of Mr. Gresley Lukin, editor-in-chief of the Brisbane "Courier," who offered him an appointment as agricultural editor upon the staff of the paper he controlled in the place of Mr. Angus Mackay, who was then in America, representing the 'Courier'' at the Philadelphia Exhibition, and was not expected to return. Mr. Mackay, however, did return, and resumed his former place on the staff, and Mr. Black remained in Brisbane for some months as a freelance on the "Courier."
He returned, to Mackay later in the year in order to give a thoroughly exhaustive trial of the Easte's process of sugar clarification on behalf of a syndicate of which Mr. Lukin was the chief member. Mr. Black's report was unfavourable, and the process was abandoned. Shortly after this a proposition to start a new paper was submitted to him, and finally, in conjunction with Mr. Edwin J. Welch, the Mackay "Standard'' was started, its first number, an unambitious four page weekly, appearing on December 11, 1877. Within a few months Mr. Black bought his partner out and for upwards of thirty-three years, continued to control the paper, which had established for itself the reputation of being an excellently well-printed journal, the literary contents of which were always of a high standard.
Mr. Black married Miss Bessie Knott and shortly after began to take a very active part in public affairs, becoming a member of the Municipal Council, thrice, occupying the Mayoral chair. He joined the Harbour Board, and from time to time was a member of the District Hospital committee and School of Arts. He was also closely associated with the Ambulance Brigade, being its first President, a position to which he was annually re-elected for many years until he left Mackay to reside for a few years in the South. He was also the first President of the Mackay Bowling Club, and it was during these years of active participation in public affairs that he twice became a candidate for the representation of the district, after his brother's retirement from that position. In those days Mackay had two representatives in the Assembly, and his opponents, on each occasion, were the two sitting members, Messrs. D.H. Dalrymple and J.V. Chataway, both Cabinet Ministers. Among flotations Mr. Black carried out were Plane Creek and Proserpine sugar mills. He was responsible for and drafted the bill for the Sugar Works Guarantee Act and the Sugar Works Association Act.
For some years past he has resided with his, only child, Mrs. J. S. Ferguson, his wife having predeceased him fifteen years. In February he had an illness from which he never fully recovered, and passed away yesterday full of years and honor. The funeral will leave the residence of Mrs. J. S. Ferguson at 3 o'clock today.
Source:
The Daily Mercury, June 10, 1925.
---
Other Sources:
Mackay Branch Genealogical Society of Qld. Mackay Cemetery Burial Register.

Mackay Branch Genealogical Society of Qld. Mackay Cemetery Monumental Inscriptions.

Queensland Births Deaths and Marriages, Registry of Births, Deaths and Marriages, Brisbane; Deaths 1925-1929, Microfische Sheet No. 001, Page No. 137, Registration No. 1925 / 002291.

Queensland Pioneers Index, 1829-1889
Queensland Federation Index 1890-1914.
---
If you can supply any further information or photographs on the above please contact us by EMAIL
Glen Hall
---
---
© Glen Hall 2001-2017.
created 10 January 2003.
last updated 17 July 2017 .
Site maintained by Glen Hall.