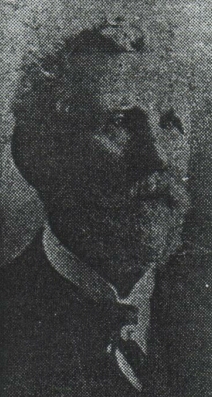 Born: 12 November 1846(Brechin, Angus, Scotland)
Died: 16 June 1926 (Mackay, Queensland) aged 79 years.
Buried: 18 June 1926 (Mackay Cemetery, Presbyterian Sect. 1, Row 7, Plot 38)
Parents: Alexander PIRIE and Margaret GRAY
Marriage: 23 April 1867 (Dundee, Scotland) to Jane HILL
Religion: Presbyterian

---
Alexander Pirie, a shipwright by trade, arrived in Brisbane with his brother John in 1882.
His first job in the colony was on the Sandgate Pier then being erected by Brisbane contractor, Mr. John Watson.
When Mr. Watson secured the contract for the erection of a retaining wall in the Pioneer River, he sent Alex Pirie and his brother John to Mackay. The wall extending from near East Point to Cremorne, allowed for a deepening of the river channel.
Jane Pirie and her six children followed her husband to Australia aboard the "Merkara" in 1883. The family including Alexander, Lilias (married James McGinn), James, Margaret, Robert and baby John.
He served as an alderman between 1889 and 1898, and as Mayor in 1892.
Alex Pirie joined the newly formed Harbour Board as Acting Engineer and Foreman of Works, a position he held from 1904 to 1913. He later became engineer for Pioneer Shire Council, before returning again to the Harbour Board from 1922 to 1924 as Acting Engineer and Overseer of Works.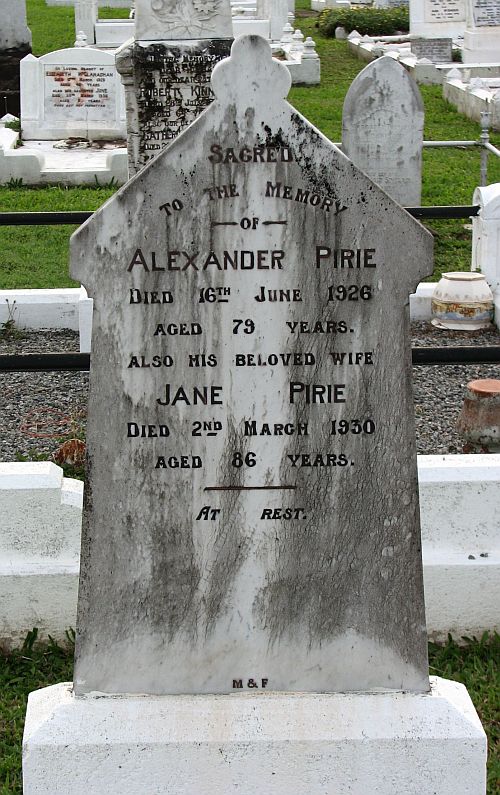 Headstone of Alexander Pirie, Mackay Cemetery.
(Glen Hall collection, March 2008)
He was a prominent Freemason, and founder of the Caledonian Masonic Lodge.
Sources:

The Daily Mercury, (1983, October 22)
Moore, H.A. (1978). The Mackay Harbour Story. Mackay, QLD: Mackay Harbour Board. page 71.
---
Other Sources:
Queensland Births Deaths and Marriages, Registry of Births, Deaths and Marriages, Brisbane; Deaths 1925-1929, Microfische Sheet No. 006, Page No. 1401, Registration No. 1926 / 001977.
International Genealogical Index, Church of Jesus Christ of latter day Saints, http://www.familysearch.org/Eng/Search/AF/family_group_record.asp?familyid=7894213;
downloaded 14 October 2001.
Mackay Branch Genealogical Society of Qld. Mackay Cemetery Burial Register.

Mackay Branch Genealogical Society of Qld. Mackay Cemetery Monumental Inscriptions.
Queensland Pioneers Index, 1829-1889
Queensland Federation Index 1890-1914.
---
If you can supply any further information or photographs on the above please contact us by EMAIL
Glen Hall
---
---
© Glen Hall 2001-2017.
page created 3 August 2003.
last updated 17 July 2017 .
Site maintained by Glen Hall.