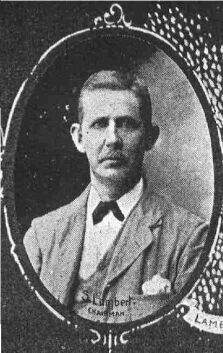 Born: 26 February 1858 (Harrogate, Yorkshire, England)
Died: 21 June 1911 (Mackay, Queensland) aged 53 years.
Buried: 22 June 1911 (Mackay Cemetery, Presb. Sect.2, Row 6, Plot 23)
Parents: James LAMBERT and Martha NEWALL
Marriage: 20 August 1888 (Queensland) to Esther WHITEHEAD
Religion: Presbyterian

---
Samuel Lambert was born in Harrogate, Yorkshire, England in 1858. He learned the draper's trade in Oldham and soon emigrated to Queensland in 1881 on the ship S.S. Chyebassa at the age of 23 with his good friend John Henry Thornber. He was soon employed by Steel and Co. Drapers of Brisbane.
In 1883 he came to Mackay and worked as an accountant with Mr. Thomas Pearce in Victoria Street. He then worked for Byrne Brothers before joining his friend Mr. J.H. Thornber in establishing general storekeepers, under the title of "Thornber and Lambert" which opened for trading on 12 March 1887.
On 20 August 1888 he married Esther Whitehead the daughter of William Whitehead who later travelled from England to visit his daughter and her family. Sadly he died on 1 January 1892 whilst in Mackay and is buried in the Mackay Cemetery.
In March 1890 he bought out Thornber's share of the business. He went into partnership with Mr. E.J. Marryatt (15 percent), Mr. W. Parnicott (15 percent) with himself holding the remaining 70 percent of the business.
Headstone of Samuel Lambert in Mackay Cemetery.
(Glen Hall Collection, March 2008)
In 1905, he decided to retire from the direct control of his firm's affairs and converted his business into a limited liability company, Lamberts Pty. Ltd., bringing in several of his senior employees with Mr. E. J. Marryatt as managing director.
Samuel Lambert was a very civic-minded person who championed deserving public movements and financially supporting them. He was a supporter of the waterworks proposal as well as promoting financially the developers of the Cattle Creek Sugar Company in Finch Hatton. He was a director of the Company and helped finance the purchase of the mill's first boiler in 1906.
He served on the Mackay Town council as an alderman and was Mayor for one term in 1899. He also served on the Mackay Harbour Board from 1909 to 1911 as the "Payer of Dues". He regularly attended Chamber of Commerce meetings and other public bodies. He was a founding member of the Mackay Bowling Club in Wood Street (was located on site now occupied by the Canegrowers building). He also chaired the St Paul's Presbyterian Church Committee.
Sam Lambert died on 21 June 1911 and his death shocked many townspeople who admired him. He was due to travel to England for the Coronation ceremonies for King George V but the trip had to be cancelled when he had a seizure which made him very weak. The cause of his death was diagnosed as Bright's Disease.
His legacy of Lambert's Department Store continued to survive being managed by his children and later grandchildren until competition saw the business fold in 2001 after 114 years service to the people of Mackay.
Sam Lambert's grand family home "Grainbeck" was located on the site presently occupied by the Shakespeare International Motel in Shakespeare Street. The grand home was sold and relocated to Alligator Creek in 1973 but subsequently was destroyed by fire.
Lambert's Beach in the suburb of Slade Point was named so after the Lambert's Company picnics that were regularly held there in the early part of the 20th Century.
---
Information Sources:

Hamilton, Ian. (2003). Lamberts - The Economic Stores. Mackay, QLD: Ian Hamilton.

Lees, Wm. (1907). Mackay Illustrated, Special Issue of Queensland Country Life. Brisbane, QLD: Outridge Printing Co. Ltd.

p.17

Mackay Cemetery Burial Register.

Mackay Cemetery Monumental Inscriptions.

Moore, H.A. (1978). The Mackay Harbour Story. Mackay, QLD: Mackay Harbour Board. page 71.

Registrar General, Registry of Births, Deaths and Marriages, Department of Justice and Attorney General, Queensland Government. (2000) Queensland Pioneers Index 1829-1889 – Index to Births, deaths and Marriages in Queensland 1829-1889. [Computer Program]. Brisbane, QLD: Queensland Government.

The Daily Mercury, Thursday, October 8, 1987.

Queensland Pioneers Index, 1829-1889

Queensland Federation Index 1890-1914.
---
If you can supply any further information or photographs on the above please contact us by EMAIL
Glen Hall
---
---
© Glen Hall 2001-2017.
page created 07 July 2004.
last updated 17 July 2017 .
Site maintained by Glen Hall.