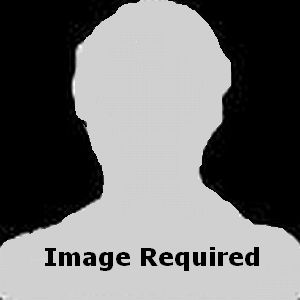 Born: 1880 (North Molton, Devon, England)
Died: 1 June 1919 (Mackay, Queensland) Aged 38 years.
Buried: 2 June 1919 (Mackay Cemetery, C. of E. Sect. 1, Row 5, Plot 5.)
Parents: James MOULE and Elizabeth Ann PROUT
Marriage: 18 November 1903 (Queensland) to Eliza BURTON
Religion: Church of England

---
DEATH of MR. J. P. MOULE
The first death from pneumonic influenza was reported last night, the victim being our highly esteemed townsman and ex-Mayor, Mr. J. P. Moule.
When the shipping trouble commenced recently and held up a number of people in Mackay who had urgent reasons for returning south Mr. Moule consented, with other car proprietors, to take a party overland. The weather at the time was not favorable, as the rain had been almost continuous for weeks, and the roads were known to be in a bad condition.
The journey proved as unpleasant as it was feared, and was completed with difficulty and at great personal discomfort to the driver, who had to frequently enter the mud and slush to get the car out of sticky places. The journey both ways was equally disagreeable, and when he returned to Mackay he was so unwell that he felt it his duty, knowing how prevalent influenza was becoming, to report to the local health officer, Influenza symptoms were already very pronounced, and Mr. Moule cheerfully submitted to the quarantine regulations.
He was attended at his own house until Saturday, when his condition had become so serious that it was thought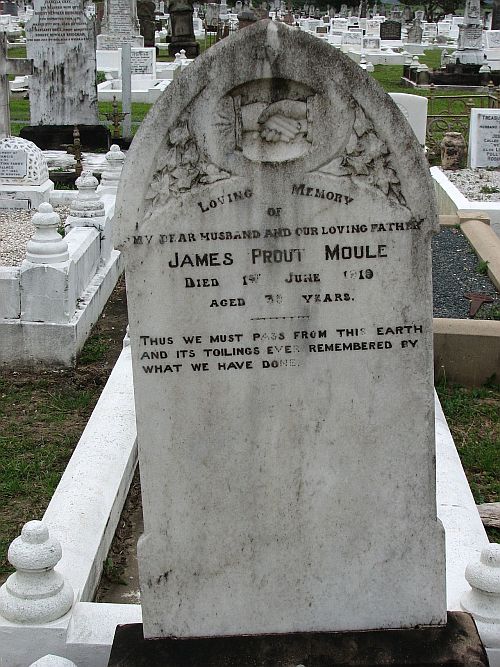 Headstone of James Prout Moule in Mackay Cemetery.
(Glen Hall Collection, March 2008)
advisable to remove him to the District Hospital. The disease, however, which proved to be true pneumonic influenza, continued to make in-roads upon the sufferer, and he passed away about 9 o'clock last night. The death of such a useful member of the community will be received with general sorrow. He was not only a useful citizen, but very popular with all classes in a community with whom he had lived from the first year of his birth.
Born at North Moulton, Devonshire, England, he came to Mackay with his parents in 1882, being then a year old. His first occupation was at Mr. W.H. Kirkup's store in Walkerston, and afterwards he commenced his career as a farmer with his father, Mr. James Moule, who had a farm and was so successful that he was able a few years later to purchase Thornhill, in the Oakenden district, when Mr. Moule senior decided to retire. Being thorough in all that he undertook, he made a success of the Thornhill property, and only retired when attacked by rheumatism so severely that a change was found to be absolutely necessary. After a trip to the south he sold his farm and came to town to live, and shortly after accepted the management of the Mackay Motor Garage Co., which he subsequently purchased. He disposed of the business quite recently.
Mr. Moule was a keen sportsman, as a young man he was fond of military exercises, and was one of the best rifle shots in the district. He took a keen interest in racing also, and was the owner of several racehorses, among them being such well-known performers as Bedil, Cobweb, Caspitua, Flavonus, Soldier Lad, Lord Hosper, and others. He was an active member of Tattersall's Race Club, and was a member of committee at the time of his death. In everything that promised to benefit canegrowers he was to the fore. For a long time he was secretary of the Show Committee, and gave valuable help in each case.
He married Miss Robb of Charters Towers, and to the widow and seven young children - three boys and four girls - the sympathy of the community is extended. The deceased was a good citizen, but he was a still better husband and father; he had a deep and abiding affection for his wife and nothing gave him greater satisfaction than to get through his work and return to his home. His father and mother still reside here, Mr. Moule, senr., being well known a proprietor of the farm implement shop at the corner of Wood and Victoria streets. The funeral will move from the District Hospital at 1.30 to-day.
Source:
The Daily Mercury, Monday, June 2, 1919.
---
Other Sources:

Kerr, John. (1980). Pioneer Pageant. Mackay, QLD: Pioneer Shire Council.
Mackay Cemetery Burial Register, Mackay Family History Society.
Mackay Cemetery Monumental Inscriptions
Queensland Pioneers Index, 1829-1889
Queensland Federation Index 1890-1914.