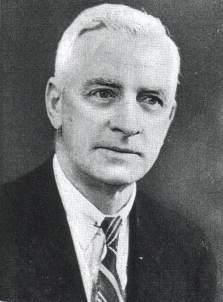 Born: 10 August 1878 (Green Plains, South Australia)
Died: 8 July 1965 (Mackay, Queensland) aged 86 years.
Buried: 10 July 1965 (Mackay Cemetery, Methodist Section)
Parents: Irvine WEIR and Anne CRAWFORD.
Marriage: (1) 5 December 1907 (Holy Trinity Church, Mackay) to Myra Elizabeth
WALKER
(2) 1930 to Maria Edith FROST
Religion: Methodist

---
William Crawford Weir was born in South Australia, son of Irvine and Ann (nee Crawford) Weir. William's father was a minister with the Primitive Methodist Church.
Irvine Weir arrived in Portland, Victoria in October 1860 aboard the ship "Morning Light". He eventually left Portland and went to Adelaide where he took up his first Ministry at Penola, South Australia in 1871.
He met and married Anne Crawford on 6th April 1874 in Adelaide. They had five sons and 1 daughter who died in infancy. Sons were Henry Irvine born 1875, Albert Antliffe born 1876, William Crawford born 1878, Edwin Ernest born 1880, Fred Caldwell born 1882 and Letitia born 1884 died 1886.
The family moved around quite a lot up until 1890 and towns they lived in included Penola, Wallaroo, Broughton, Narracoorte, Salisbury, Orroroo, Arkaba, Kapunda, Laura and Saddleworth. In 1890 the family travelled to Queensland to Charters Towers where Irvine was the Primitive Methodist minister in charge of that circuit. This was followed by a move to Mackay in 1892 until 1895. Three of the boys Ernest Edwin, Fred Caldwell and William are mentioned as being enrolled at Mackay Boys School.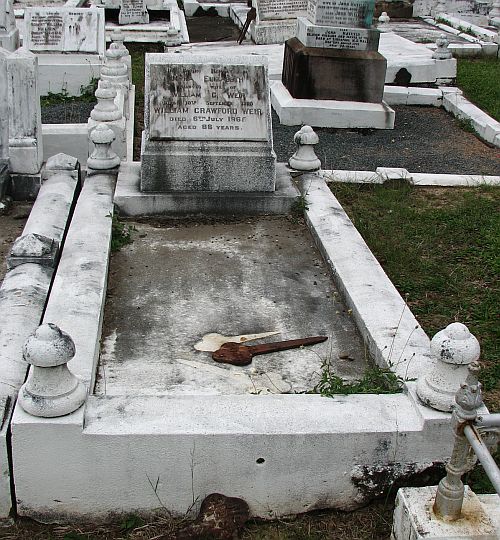 The grave of Bill Weir, Mackay Cemetery.
(Glen Hall Collection, March 2008)
About 1893, his parents sent William back to Adelaide to attend Way College to complete his education. Returning to Mackay, William secured an appointment in the laboratory of Habana Mill and qualified as an analytical chemist. After 5 years there he accepted an appointment with the A.U.S.N. Co. but soon afterwards resigned to join the staff of the "Mackay Mercury" which was then a tri-weekly newspaper and privately owned. William became the first secretary when the company was floated as a public company, later becoming Accountant and later Manager.
In 1917 he was invited to stand as an alderman, was elected and the following year became Mayor of Mackay. William was instrumental in having Mackay raised to the status of a city. He later resigned the Mayoralty to become Town Clerk, a position he held for 15 years.
William took a keen interest in sport, especially cricket and at one time was known as one of the best batsmen in North Queensland and had the distinction of being the captain of the Mackay Eleven for 22 years.
During 1934 the Mayor and Aldermen were dismissed from office on the 20th of January and William took office as Administrator until such time a new election was held on 17th February that year. The cause of the dissolution of the council was due to internal division within the council with aldermen divided over the use of day labour or contract labour in the scheme to sewer Mackay. William was mentioned in the "Mercury" as follows "as being the first "Dictator of Queensland" in the history of Queensland and his function was to control the affairs of the city in their entirety, "to carry on all works" and "to pay all expenses" while the Mussolini dragnet clause of the Order-in-Council which installs him in the role of dictator reads as follows"....and exercise all the powers of the said Local Authority". The Governor's Order in Council dismissing the City Council and appointing Mr Weir as Administrator reached Mackay in Saturday's mail."
About 1943 after 25 years at City Council, William Weir retired as Town Clerk due to ill health. Probably one of his most outstanding years in Mackay would of been when he was the last Mayor of Mackay as a town, the first Mayor of the city, and Town Clerk all in the one year.
William Crawford WEIR was married firstly to Myra Elizabeth WALKER on 5th December 1907 at the Holy Trinity Church, Mackay. The couple had four children, Dorothy May, Thelma, Albert Antliff and Helen. William's first wife died in 1925 and he later remarried Maria Edith FROST in 1930. William Crawford WEIR passed away on 8th July 1965 and is buried in Mackay Cemetery. The family lived at 129 Bridge Road, Mackay.
Sources:

Email, 25 July 2002, from Ann Morse (Great Grandniece).
Mackay Revisited, by K.H. Kennedy, Mackay, (2002), page 230.
Mackay Cemetery Burial Register, Mackay Branch Genealogical Society of Qld.
Men of Queensland 1937, (1937), Brisbane.
---
UNIQUE RECORD FOR BILL WEIR
Mr. William Weir, who served a record 28 years as town clerk of Mackay, had a unique distinction in 1918.
In this year Mr. Weir was the last Mayor of Mackay as a township, the first Mayor of Mackay as a city, and town clerk.
In August 1918, together with Sir Arthur Fadden, who was then town clerk, Mr. Weir had been instrumental in having Mackay declared a city.
1892 arrival
Born at Green Plains, South Australia in 1878, Mr. Weir came to Mackay with his parents in 1892. He went to school in Adelaide and on his return he spent a period apprenticed to E. M. Long, a sugar chemist at Habana.
He spent time on the staff of W. H. Paxton & Co. Ltd. before joining the "Daily Mercury" in 1902 where he became a qualified accountant and business manager.
Mr. Weir became Mayor about the middle of 1918 on the death of Ald. J.M. Moule.
He had only a short term as Mayor, resigning later in the year to become town clerk. He resigned from this office and retired on May 29, 1946.
Mr. Weir was one of Mackay's leading sportsmen. He captained the Mackay XI in representative cricket for 22 years. He was a prolific opening batsman and for many years headed the aggregates and averages.
He was also a keen player of Rugby Union, golf and tennis. He served a term as president of Mackay Golf Club.
Mr. Weir, now 84 years of age, lives in retirement with his wife in Bridge Road, West Mackay.
Source:
The Daily Mercury-City of Mackay Centenary Edition, Friday, April 6, 1962.

---
Late Mr. Weir's advice valued
"There are not a few who can look back on the words of encouragement and advice this man has given".
The Rev. R. L. Barnes of the central Methodist Church, said this at the funeral service on Saturday of Mr. William Crawford Weir.
The late Mr. Weir was a former mayor, town clerk and administrator of the city of Mackay. He was well known and active in sporting fields and in lodge associations.
Tribute
Mr. Barnes, speaking in a tribute to Mr. Weir, said, "We are glad that right to the end he kept that clarity of mind and thought which had been with him through the years."
He said, "While conceding all his attributes, I suggest our thoughts should be looking back and be thoughts of great thankfulness and appreciation of his achievements in giving as he did, in serving as he did, and in being known and loved as he was in this community right through the years.
"In spite of our sense of loss, let us take hold of this sense of what he was and what he did."
Mr. Barnes said the late Mr. Weir came to Mackay when his father was appointed here in 1892 as the minister in charge of the church in which the funeral service was being conducted.
He made a great contribution in the friendship and encouragement he gave to others.
Experiences
"On this morning we look back and share together these experiences of memory and we pay this tribute," he said.
The cortege moved to the Mackay Cemetery where Mr. Barnes again conducted the service.
Funeral services were also conducted at the graveside by Mr. G. E. Reid on behalf of the Caledonia Masonic Lodge and by Mr. H. Macklin, on behalf of the Foresters.
Pallbearers were Messrs. L. A. Payne, H. Macklin, W. J. Bickmore, K. McKerihan, R. Williams and G. Reid.
Source:
The Daily Mercury; Monday, July 12, 1965; page 3.
---
If you can supply any further information or photographs on the above please contact us by EMAIL
Glen Hall
---
---
© Glen Hall 2001-2017.
page created 26 July 2003.
last updated 17 July 2017 .
Site maintained by Glen Hall.