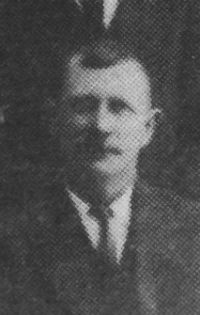 Born: 15 April 1865 (Derbyshire, England)
Died: 14 July 1935 (Mackay, Queensland) aged 70 years.
Buried: 15 July 1935 (Mackay Cemetery, C. of E. Sect. 3, Row 5, Plot 1)
Parents:
Marriage: 23 July 1906 (Queensland) to Alice Lyons
Religion: Church of England

---
Obituary
MR. ROBERT HAGUE
One of Mackay's most widely known and highly esteemed identities and one who had taken an active part in the progress of Mackay over a period of 52 years - Mr. Robert Hague - passed to the Great Beyond yesterday morning at the fine old age of 70 years.
Born in Derbyshire in 1865, the late Mr. Hague came out to Australia when18 years of age in the "Duke of Westminster" which probably was one of the first steamships to make the voyage. The vessel took the Torres Strait route and Mr. Hague landed at Mackay, when the town was in its infancy.
One of his first positions was t the old Pioneer sugar mill formerley situated on North Side. Later he was engaged at North Eton mill. Even at this early stage his indomitable spirit asserted itself and he used to make a practice of walking in to Mackay each week-end. The old train services in those days were intermittent but they permitted of Mr. Hague returning part of the way to North Eton by train each Monday morning.
After a time the Mackay-Mirani railway construction work was commenced and the late Mr. Hague obtained employment on the first section. Quickly recognising his worth, the contractor persuaded him to remain in his service and in this way Mr. Hague took part in the construction of the Brisbane -Wynnum and the North Coast railways. When Mr. Hague left this service he had progressed so far as to be engine-driver on the bridge construction section of the contracts.
Returning to Mackay, the late Mr. Hague decided to go into business and shortly afterwards he founded the pioneer transport service of Mackay. Among his early patrons was the Duke of Yarmouth. Through a keen business sense, his enterprise flourished and he was enabled to extend it from time to time until his transport services were widely known.
In 1905 he married, and his wife, together with their only son, Thomas, survive him.
During the years of the war Mr. Hague took a very prominent part in patriotic work in Mackay and was an untiring helper in practically every movement for the welfare of the troops. Such a material aspect did his patriotism take, that, finding he was unable to devote his whole time to this work as well as to private affairs, he sold his transport business so as to be able to devote all his energies towards war work.
Gaining municipal honors first in 1915, he acted in an aldermanic capacity for the following nine years and the welfare of Mackay was always one of his first considerations. When Mr. W. Weir was appointed town clerk in 1918, after resigning from the mayoralty, the late Mr. Hague was appointed to the vacant mayoral chair, a position he held for the balance of the term.
In the early days he brought a number of blood horses to Mackay and raced them under his own colors. "Harvester", "Little Sam", which won a Charters Towers Cup. "Prospector", "Chorister" and "Daniel O'Connell" were all owned by Mr. Hague in their racing days in the North. His interest in racing did not fade when he relinquished ownership of horses - he remained a very active supporter of Mackay Turf Club.
The late Mr. Hague did not confine his sporting activities to horse-racing. At one part of his career he held the amateur lightweight boxing championship of the district, and the late Charles Armstrong, husband of Madame Melba, offered to take him abroad to receive expert training which would fit him for the fighting career which was predicted for him by exponents of ringcraft. Family ties, however, held him back.
In addition to numerous other activities in the public life of Mackay, the late Mr. Hague was a committee member of the town band for several years. It might wel be said, that his life was given to the betterment of the district in which he lied - the mark of a fine and genuine citizen. Two years ago he developed serious illness and though, from time to time, he rallied, he never recovered completely, passing to rest peacefully shortly after 11 a.m. yesterday.
The funeral will move from the Holy Trinity Church to-day at 2.30. p.m.
Source:
The Mackay Daily Mercury, Monday, 15 July 1935, page 5.
---
Other Sources:
Mackay Cemetery Burial Register, Mackay Branch Genealogical Society of Qld.
Mackay Cemetery Monumental Inscriptions, Mackay Branch Genealogical Society of Qld.
The Daily Mercury; Thursday, December 1, 1994.
Queensland Pioneers Index, 1829-1889
Queensland Federation Index 1890-1914.
---
If you can supply any further information or photographs on the above please contact us by EMAIL
Glen Hall
---
---
© Glen Hall 2001-2017.
page created 27 July 2003.
last updated 17 July 2017 .
Site maintained by Glen Hall.