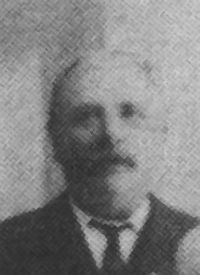 Born: Abt September 1869 Bleadon, Weston-super-Mare, England
Died: 9 January 1941, Mackay, Queensland, Australia aged 70 years.
Buried: 10 January 1941 , Mackay Cemetery, Meth. Sect 1, Row 14, Plot 24)
Parents:
Marriage: 29 March 1893 (Queensland) to Alice SOANES
Religion:

---
OBITUARY
----------
ARTHUR HUCKER
----------
The death occurred yesterday morning of Mr. Arthur Hucker, an old and estimable resident of Mackay. Possessed of an amiable disposition and qualities that won him well deserved respect and esteem.
Deceased who was 70 years, was born at Bleadon, Weston-super-Mare, England. He was a son of the soil, his parents having farming interests in England, and at an early age he followed the plough in furrowed field.
Within his spirit was the call of adventure and when comparatively a youth he came to Australia with his elder brother, Albert. They made their way to Mackay where Albert remained only a few years and then journeyed to Brisbane where he still resides. Deceased carried on, following various occupations, and eventually was employed for many years by Mr. Richard Neill, who conducted the Imperial Hotel. Following that he entered into the transport business and as a commercial carrier he was an identity of Mackay. This business he relinquished a few years ago and since then he lived in retirement.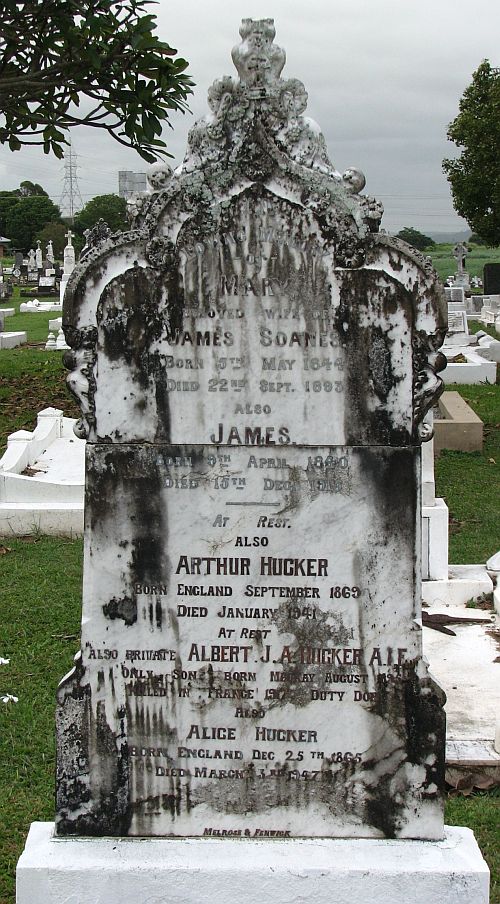 Headstone of Arthur Hucker and Alice Hucker in Mackay Cemetery.
(Glen Hall Collection, March 2008)
For some time he had not enjoyed the best of health and about five weeks ago a stroke confined him to his bed. From this affliction he never recovered completely and his condition gradually weakened until he passed away yesterday morning.
About 48 years ago deceased married Miss Alice Soanes, eldest daughter of the late Mr. and Mrs. Jas. Soanes. There was one son, who gave his life in the service of the Empire in the Great War of 1914-18, having been killed at Pozieres in 1918, after three years of campaigning.
During that war period the late Mr. Hucker was an energetic worker in the interests of the Empire. He was actively associated with the Royal Society of St. George and for a number of years he was in public life as an alderman and Mayor of the City Council. He was one of the representatives for South Ward on the council continuously from 1914 to 1919.
The Mayors and Town Clerks during that period were: 1914 (Mr. G. B. Fay, Mayor; Mr F. Morley, Town Clerk); 1915 (Mr G. B. Fay, Mayor; Mr. F. Morley, Town Clerk); 1916 (Mr. V. Macrossan, Mayor; Mr. F. Morley, Town Clerk); 1917 (Mr. J. P. Moule, Mayor; Mr. A. W. Fadden , Town Clerk); 1918 (Messrs. W. Weir-- R. Hague, Mayors; Messrs. A. W. Fadden--W. Weir, Town Clerks); 1919 (Mr. A Hucker, Mayor; Mr. W. Weir, Town Clerk).
Aldermen during the term of Mr. Hucker as Mayor were: Messrs. A. Hasenkamp, J. P. Moule, G. M. Cameron (West Ward); Messrs. C. Froggatt, A. F. Williams, R. Hague (East Ward); Messrs. A. Hucker, J. McDonald and R. Hamilton (South Ward). The Mayor at that time was elected by the aldermen.
Deceased is survived by his widow, his brother Albert in Brisbane, and a brother in England. One brother was killed in the Sudan War. The funeral will move from the family residence this afternoon at 2.30 o'clock.

Source:
The Mackay Daily Mercury; 10 January 1941.
---
Other Sources:
Mackay Cemetery Burial Register, Mackay Branch Genealogical Society of Qld.

Mackay Cemetery Monumental Inscriptions, Mackay Branch Genealogical Society of Qld.
Queensland Federation Index 1890-1914.
The Daily Mercury; Thursday, December 1, 1994.
---
If you can supply any further information or photographs on the above please contact us by EMAIL
Glen Hall
---
---
© Glen Hall 2001-2017.
page created 29 July 2003.
last updated 17 July 2017 .
Site maintained by Glen Hall.